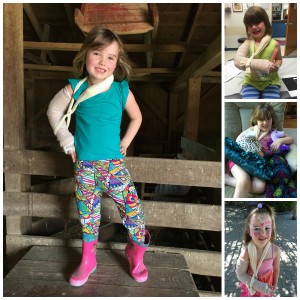 The Friday evening of Memorial Day weekend, I drove home from work with visions of cookouts, time at the swimming pool and summer fun dancing through my head. Zoe had just graduated from preschool the evening before and we were still in a celebratory mood – I was thinking maybe we'd head out for ice cream after dinner.
Little did I know that within one hour of arriving home, Zoe and I would be relaxing on our swing set, swinging together on a warm summer evening, when our world and summer would be turned upside down by a fluke accident.
While I was literally three feet from her and giving her helpful and supportive tips on how best to complete the "flying dismount" (aka jumping off the swing while it's still in motion), my beloved daughter accidentally lost control, flew off the swing toward the ground, thrust out her dominant hand to catch her fall, and managed to land in such a way that she broke both bones in her forearm.
Consider our world – and our summer – rocked. This girl lives for the pool and beach – she is a natural born mermaid most at home in the water. How on earth are we going to survive this summer in a full arm cast?!
Neither my husband nor I have ever broken a bone, and our natural instincts said she had probably just sprained it. We knew to get ice on it right away and have her rest, so we lay down with her on the couch and put a favorite movie on.
I hoped she would perk up and feel fine after a nap but instead, she slept fitfully and restlessly, moaning a little in her sleep. We knew it was bad – this was not her usual high volume, high drama reaction to a little bump or bruise. This seemed serious. Our wonderful neighbor, a former EMT, came over to check her out and said the words we dreaded: "you need to take her to Children's tonight."
So instead of heading out for ice cream that evening, we headed to the wonderful Nationwide Children's Close to Home Center in Westerville where Zoe was x-rayed, diagnosed with a double broken forearm and fitted with a temporary cast/splint and sling.
Her pain is pretty manageable with children's Motrin, but she's seriously impacted by the full arm cast – armpit/shoulder to fingertips – on her dominant arm. Guess who's learning to color with her left hand this summer?!
I'm trying to keep it positive and look on the bright side. As childhood injury accidents go, we got pretty lucky here – nothing too traumatic, no surgery needed and she'll undoubtedly heal swiftly and well like the strong healthy girl she is.
I've also read articles that tell me I did nothing wrong – that girls should be encouraged to take risks and be brave and fearless, just as boys should! But oy, the mom guilt. Especially when she tells everyone who asks "My Mom did this to me" or "I did this while my Mom was telling me how to jump off the swings" or "My Mom made me do this." Doh!
We've already gotten back on the swings and gently, carefully conquered the fear of the "horse that threw us." We will curtail her summer activities as much as we have to, but absolutely no more than that. She's still going to be our brave, strong, fearless girl and we will all get through the summer of 2015 as best we can with smiles on our faces.
I'm researching swim casts and cast covers and we're doing our best to think positive for Thursday, when she will have her temporary cast removed and get her permanent cast for the next six weeks. We're praying it can be a fiberglass cast with waterproof swim liner, since we're supposed to leave next Wednesday for our big, multi-generational family trip to Maui that has been planned for over a year!
Oy. Think good thoughts for us, will you? And if you have good summer cast stories, tips or pointers, I would love to hear from you as always in the comments below or over on Facebook.