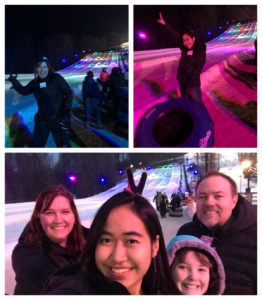 Last winter we realized that no one in our family had ever gone snow tubing. We loved water tubing in the summer so much that we knew we had to try the winter version. Then we thought, if we're going to do this, let's do it up big.
And so we didn't just go snow tubing… we went glow tubing at Snow Trails in Mansfield!
Nighttime glow tubing is fun, exciting and thrilling. It's also very cold; remember that the temperature drops when the sun goes down. So if you like the idea of snow tubing but not the idea of cold, you may want to go during the daytime so at least you'll have the benefit of some sun.
I don't know how Snow Trails is in the daytime, but the night we went it was like a rave with hype music blasting and neon lights glowing all up and down the hill. The neon reflects off the snow and ice and looks AMAZING! We got so pumped up. We grabbed four tubes (really more like a round, inflatable raft you sit on) and carried them to the people-mover.
The people-mover is like a very long, tall escalator without stairs. You just stand in one place on a carpeted conveyer belt and it carries you up the hill! It's pretty smooth for the most part, but does get bumpy in a few places so make sure you're standing with good balance and be prepared to get jostled. The people-mover alone was an adventure for me, since I don't like heights and I'm petrified about falling!
The night we went to Snow Trails, it was quite cold but we bundled up warm and figured we could handle it. Unfortunately, it hadn't been cold for long and there wasn't a ton of snow on the ground outside of the trails themselves, so we did encounter a bit of mud at the bottom of each run. By the end of the night, we were all pretty muddy!
Shooting down the ice and snow covered hill was exhilarating and terrifying. It was quite icy so you got going VERY fast – so fast everything around you was a blur. There was no way to slow down or control your speed, angle, direction or anything else – all you could do was hold on, laugh and scream!
Our group ended up separating with E and Z together and Napa and I together. We tried going down holding on to each other's tubes, and that was fun but it felt like that caused us to go further down into the muddy field at the bottom. My least favorite part of the experience was the mud at the bottom! I hate mud as a general rule.
The other thing that I didn't love is that Z got hurt. On one of their rides down the hill, her tube spun around and whacked her ankle right into one of the light poles. She was screaming and crying in pain all the way down, and E had to help her hobble over to the cafe to sit down and take a break. By the time I made it in there (Napa and I couldn't find them, so we went looking), she was drying her eyes and feeling a bit better.
The Snow Trails staff were very friendly and helpful and got her a baggie of snow to put on her ankle to help it feel better. Thankfully, she didn't break anything – just a bruise – but the pain took the wind out of her sails and she opted not to tube anymore after that. It was a bummer, but we had already gotten in a good hour or so of glow tubing so we figured we'd call it a night at that point.
Bottom line – any sport involving high speeds also involves risk. We saw plenty of younger kids wearing helmets and it made me regret not asking Z to bring and wear hers. Injuries can and do happen – but the risk is part of the fun, right?! Just know what you're getting into and when you're bundling up for warmth, consider that you're also padding yourself to help in case you slam into something, or someone, at top speeds.
I'm sure we'll go snow tubing again. Next time, I'd like to go during the day and get some great daytime photos of a laughing, smiling Zoebelle shooting down a snowy white hill in the sunshine. Can you tell that sometimes, my favorite part of an activity is making the most of photo opps?!
Have you been glow tubing at night, or snow tubing by day, and did you have a great experience? I'd love to hear all about it in the comments below or over on Facebook.