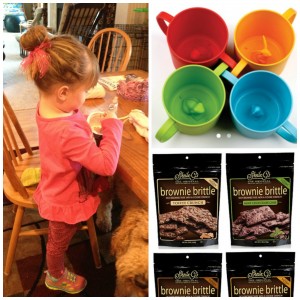 Welcome to my elusive, effervescent Friday Favorites series. If you like this post, check out the others that came before!
I have been finding some very cool new stuff lately – so here are my latest fun finds. Hope you enjoy them as much as Zoe and I do! Not all of these are necessarily Valentine's day related, but some are – and all would be fun to share with your big or little Valentines.
Cuppies. I am obsessed with cups and mugs that have little animals built into the bottom. Have you seen these? When I was a kid, one of my closest friends had a mug like this and I remember she and her dad surprising me with it while having hot cocoa at their house one day. I saw animal surprise mugs at Pier 1 a few years ago and bought a couple, but alas only one survived Zoe's hands-y, grabby toddler years. We love our ceramic zebra mug (with tiny ceramic zebra at the bottom) but we reserve it for special occasions. Now, thanks to Cuppies, we can drink with critters in our cups every day. Cuppies are not just adorable and functional, they are also BPA free, made 100% from plants and dishwasher safe. I love having a nice, matched set of drinkware for when Zoe entertains her fabulous neighbor friends – and it's so much fun to surprise them with a hidden critter at the bottom of a cup of milk or juice! These are not cheap but they are gorgeously designed and well worth the cost. Also, we got fantastic customer service from JJRabbit – when our orange cup broke (the tips of the bunny's ears broke off during handwashing after use), they sent me a replacement cup for free. LOVE.
Brownie Brittle. Do you like your brownies crunchy? I usually don't – I prefer chewy and gooey, myself – but I still adore these new brownie crisps. I discovered them thanks to a free sample via Klout Perks. That first bag disappeared from our house faster than a hairball in a high wind. Everyone in my family gives these a huge thumbs up – and the best part is, they're not the diet-buster that a whole pan of brownies would be. I think these would be absolutely amazing made into ice cream sandwiches with Jeni's ice cream in between a pair of Brownie Brittle thins… and when you get to the end of the bag, I'll bet the leftover crumbs would likewise be delicious sprinkled over ice cream. Definitely pick up a bag next time you're in the mood for a sweet, crunchy snack that won't cost you a fortune in calories.
Hair Donuts. Okay, so I admit I am totally late to this party – these bun stuffers are not new. But they are new to us, and they are fabulous! Little Zoe has been walking out the door looking like a princess headed to the ball every day this week thanks to our treasured new $2 purchase. If you have a kidlet with long hair, this is an absolute MUST buy (we got ours at Five Below – I'm sure the dollar store likely has them too, or any corner drugstore for that matter!). My favorite thing about the hair donut is that it's so easy, even I can do it (I'm fairly hair challenged). Also, it's so fun, my daughter actually leaves her hair up (as opposed to ripping it down and letting her hair hang in her face, shaggy caveman style, all darn day). She's actually been sleeping with a bun in to minimize tangles, and it's super cute if you put it up while hair is wet – comes down all kinds of crazy-wavy. I love this thing! I have yet to try it on myself, not sure if my hair is long enough, but I'll try if she ever gives me a chance.
Hedgie in a Bucket. It's too late for this Valentine's day, but if you want to plan ahead for next year, this is an adorable gift for kids of any age. I got this for Zoe for Valentine's day this year and I am so excited to give it to her. It's absolutely adorable! It comes with a bag of Jelly Belly "conversation beans" and the bucket with her name on it is super cute. It was originally priced at $29.99 but they dropped it down to $19.99 – and you can ALWAYS find coupon codes for Personal Creations if you do a little savvy googling. There are many stuffed animals out there and many Valentine's day gifts that look cute in the catalog but end up being cheap or shlocky when you get 'em home. This is a really nice, high quality, super soft stuffed hedgie and I know the personalized bucket will come to good use for holding miscellaneous treasures. I am happy enough with this purchase that I wanted to share my good find!
See's Candies Dark Chocolate Raspberry Heart. If this treat were available year-round, it would be dangerous. It is absolutely the most divine chocolate and raspberry creation imaginable. See's handmade raspberry buttercream isn't super sweet – it has a tart, fresh raspberry flavor that is absolutely unmatched. I was a big See's fan long before the blogger event they treated me to, but since then I'm borderline religious about these chocolates. And yes, I'm trying to eat healthier and get more exercise and lose weight – but you know what? Everyone needs a sweet treat now and then! With dark chocolate for antioxidants and raspberries for yumminess, this is a perfect combo of sweet, tart, dark and fruity. If you don't get one for your Valentine, then get one for yourself – you'll be glad you did. And stop by the See's store at Easton after Valentine's Day to catch this and other seasonal treats on sale for half off. Yum!
And that's it – my latest favorites! Hope you enjoy them, and I hope you'll let me know what your favorite treats and treasures are this week in the comments below.