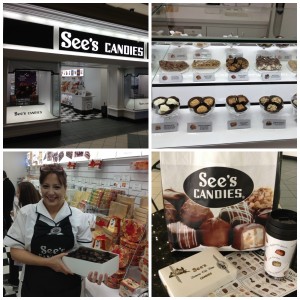 Disclosure: this chocolate fantasy is brought to you by the sparkling new See's Candies at Easton Town Center, where I attended a VIP blogger event last night. Enjoy. I know I sure did.
I had the most wonderful dream last night.
In it, I dreamed that I welcomed a wonderful sitter, kissed a happy child goodbye and set off gloriously alone for my favorite chocolate shop where I was set loose to sample ANYTHING I liked, got to go behind the counter and fill a fancy box with as many chocolates as I could fit, and then was sent on my way with a massive swag bag full of more sweet goodies.
But you know what, it wasn't a dream. It was the BEST blogger event ever and it really happened!
Pinch me. I may still be dreaming. I'm not even sure how I got home last night, still buzzed on See's chocolate with Flo Rida's "Club Can't Handle Me" playing at full blast in my head and a ridiculous grin on my face.
In all seriousness though, I love See's Candies and have ever since my folks moved to LA in the mid 90s. That's when I started getting a box of See's milk chocolates in my Christmas stocking every year. Their chocolate is hands down the best in this country. I've written before about how partial I am to UK sweets, but See's changes all that – especially having a gorgeous, sparkling new See's Candies right here in Columbus at Easton Town Center.
I blogged back in June about how excited I was to hear that we'd be getting our own See's at Easton. Never did I dream I'd be invited to attend their VIP grand opening preview with a select handful of other Columbus mom bloggers – and basically have all of my chocolate dreams come to life!
It was a true Charlie and the Chocolate Factory moment for me and definitely one to cross off the bucket list.
Here are some reasons See's Candies should be the next place you go when you want chocolate:
The taste is unbelievable. See's chocolates are made fresh on the West coast of the USA and meant to be eaten promptly. There are no preservatives or additives – just the goods. The difference between this chocolate and mass-produced chocolate meant to live on store shelves for months or even years is like night and day. Try one piece of See's chocolate and you will know what I mean. For example, their Scotchmallow is made with butterscotch and marshmallows from scratch. See's makes their marshmallows from honey that comes from bees that live near a sage patch, so the candy actually has a faint honey and sage flavor. Truly delicious – I got to try one last night!
As we learned at the event, See's has always been committed to the highest quality ingredients and processes. Founded in 1921, the candy maker has a rich heritage. During war rationing in the 1940s, instead of cheapening their ingredients or using less sugar or cream, See's simply made fewer chocolates. People stood on line for blocks to get access to the small batches See's was making. I know the feeling because before this store opened, Easton used to host a small See's kiosk around the holidays and it would always sell out of my favorites before I realized it was there! Thankfully, that won't happen anymore now that we have our own See's shop.
For close to a century, See's has been big on friendly customer service and sampling. Walk into the shop and you can try a piece of anything you like! They usually greet you with a selection of one or two chocolates to choose from, but if you'd prefer to try something else, they will absolutely accommodate you. They know that once you have a taste, you'll be hooked. There honestly is nothing else that tastes even close.
We learned some other fun anecdotes last night from the company's sweet history – like that See's was purchased by Warren Buffet's Berkshire Hathaway in 1972 (Warren's favorite See's candy is the peanut brittle – and he eats a lot of it!). The already successful See's was made famous by a classic "candy factory" episode of I Love Lucy in which Lucy and Ethel tried to work at See's but became overwhelmed by the chocolates on the conveyor belt. And, following in Lucy's footsteps, Ellen DeGeneres also had a fun (and hilarious!) time at the See's factory in LA a few years back.
It's good stuff, people! And since we got so many wonderful goodies in the generous blogger gift bag from See's that I can't possibly eat it all, I'd love to share some of my See's Candies with you. If you leave me a comment about your favorite See's candy (or visit the See's website and let me know which one you'd most like to try), I'll have Zoe pick a winner at random and we'll send you a box of See's Candies yumminess!
I can't wait to read your comments – and I honestly can't wait for you to taste See's Candies and let me know what you think.