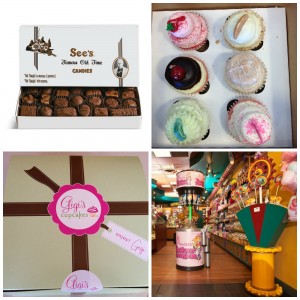 My fellow sweet tooths in Columbus need look no further – Easton Town Center now has ALL the sweet treats. Whatever your sugary pleasure or dessert dream, Easton's got it as of 2013. And since I'm a self-avowed sugar monster, and I happen to work smack-dab in the middle of Easton, it's going to be a sweet, sweet summer indeed.
Here's the low-down on Easton's sweet new tenants:
Jeni's Splendid Ice Creams – Although Easton's always had Graeter's ice cream (in the inside part of the mall near the movie theatre), a gorgeous little Jeni's scoop shop has opened up just outside the mall building next to the Lego Store. Is there anything that says summer in Columbus better than a cone or cup of Jeni's? I don't think so – and I'm so glad I can now get Jeni's fresh-scooped anytime I want it during the work day. Those in the know have had access to Jeni's pints for a while thanks to Celebrate Local, the fabulous local goods store at Easton which just recently moved to a new location between Panera and Restoration Hardware. But to have access to all of Jeni's flavors, plus a cute little outdoor patio at which to sit and eat 'em? Heaven.
Gigi's Cupcakes – Yes, that's right, we now have cupcakes at Easton. CUPCAKES! There is no one happier about this than me. I tried a couple on Friday from the new Easton Gigi's kiosk (near the movie theatre in the mall building – just outside of Foot Locker) and they were delish. This is Gigi's second location in town, and the Polaris location is great too. These cupcakes come in spectacular flavors and have a high frosting to cake ratio, if you're into that sort of thing. I reviewed Gigi's Dayton location last summer as part of this post. Oh, and did I mention? CUPCAKES!
See's Chocolates and Le Chocoholique – For those who need chocolate the way most of us need air, Easton is adding two new fixes for your addiction. We already had Godiva, which is great (join their VIP club for free to get one free piece of Godiva chocolate every single month. Yum!). But soon, we'll also have See's, a personal favorite of mine which is synonymous for me with Christmas in LA because I always get a box of See's in my stocking. If Godiva is fancy and fabulous, then See's is down-home and delicious – like chocolates your Grandma made at home, if your Grandma happened to be a West coast chocolate wizard. As for Le Chocoholique, it's a chocolate cafe with cute outdoor patio for total sensory indulgence; you may have been to their Short North location, which is also delightful.
Fuzziwigs Candy Factory – What if you're a little kid at heart (like me) and you need a complete candy store experience in order to really satisfy your sweet tooth? Look no further than Fuzziwigs, which is a little like stepping into Willy Wonka land in real life, only without the OompaLoompas. Every type of candy, plus fun gifts and toys, will make this a hit with the kids. Or the adults who wouldn't dream of taking their three year old to a candy emporium like this one, but who plans to hit it sans kid at least once a week on lunch break. Yes, you know – that adult. 🙂
Craving sweets yet? And to think, even before these new additions, Easton already had the Cheesecake Factory, Cheryl's cookies and Sugardaddy's famous brownies. See what I mean? This place has your sweet tooth surrounded. Resistance is futile. Choose your sugary poison, and enjoy. Come on, say it with me… SWEET.
What's your favorite type of sweet treat? What additional sweetness would you like to see at Easton?