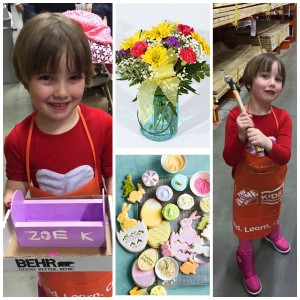 Raise your hand if you're going stir-crazy and are in desperate need of spring. Or at least spring break. That's me in a nutshell right now!
Fortunately, we've found several fun, free family activities that are getting us through the doldrums of winter. Yes, even though we're having an unseasonably mild winter, it still drags on – so some extra free fun outside of the house is always a bonus.
Check your local stores or websites to be sure these classes are offered near you, too – and note that most of these require you to sign up in advance rather than just dropping by.
Junior Chef Classes at Williams-Sonoma. I haven't been to any of these kids cooking classes yet, but my friend Christine raves about them. Coming up this weekend is an adorable Easter cookie decorating class for kids. Mom and Dad can shop while junior has fun decorating cookies worthy of the Easter bunny – and you know if it's at W-S, it's going to be fancy. This is definitely on my list to check out.
Kids Workshops at Home Depot. E and Z went to the February workshop and made an adorable Valentine's Day mailbox complete with a moveable flag that goes up and down. It was big enough to hold all her Valentine's, just not all the random treats and junk that also come along with that day (when did giving out Valentine's goodies become a thing, anyway?!). Highly recommend these free Saturday morning workshops where registered kids get a Home Depot apron, a pin for each class they attend and all the supplies to make their own little wooden creation and paint it.
Kids Club at Connells Maple Lee. A friend just told us about these floral arranging workshops for kids 5-12, so I haven't been to one yet – but Z is all signed up for the next one. Kids get all the flowers and other supplies to create a beautiful seasonal arrangement. The March one (see pic above) looks absolutely adorable! I'm hoping they'll let me stay and learn a trick or two about floral arrangement, too.
Kids Dream movies at Marcus Crosswoods. Courtesy of Marcus Theatres and American Family Insurance, use this link to download and print two free tickets to several family friendly, kid-approved movies. This was a winter program I hope they will repeat again next year – but you still have time to get in on a few remaining March showtimes. Maybe we'll see you there!
I love it when companies offer free activities or events for kids, and these seem like the cream of the crop to me. If you go, please let me know what you thought! And if you know of other events and activities like these for families, please let me know in the comments below or over on Facebook.