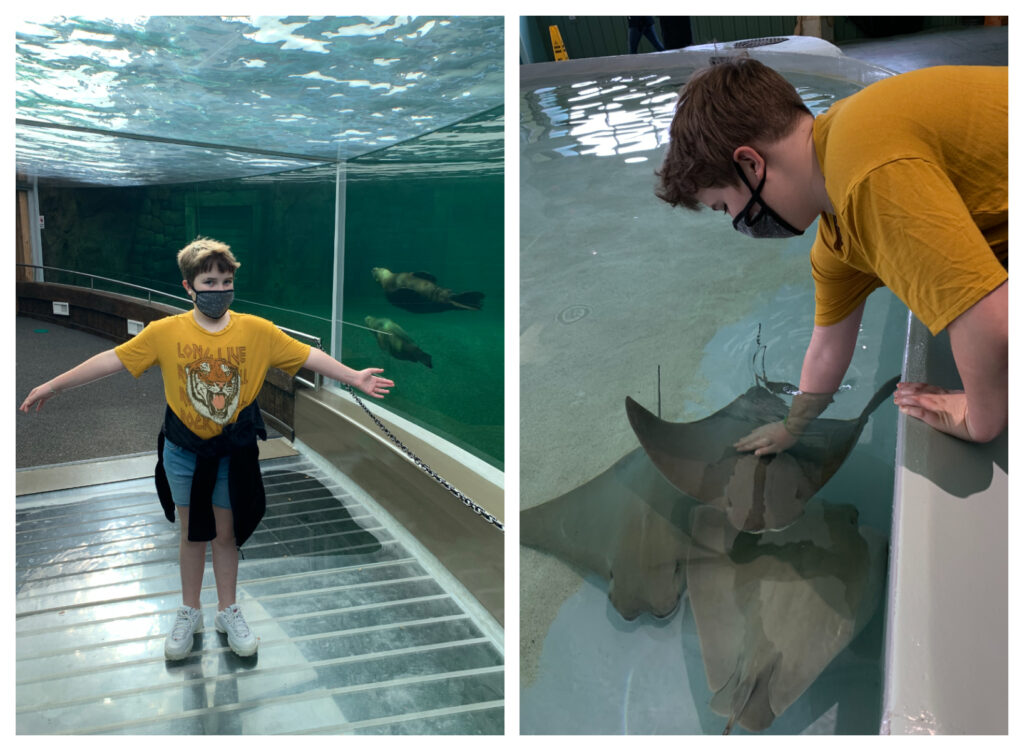 I once wrote that November is a "family fun doldrums" because there doesn't seem to be much to do in between the fall family fun farms of October and holiday festivities of December.
The fact is, right now is a terrific time to hit the Columbus Zoo & Aquarium. In fact, November may be my favorite time to visit the zoo.
Z and I went recently on one of her at-home school days. That's the beauty of this new hybrid schedule – we have the flexibility to take advantage of good weather and get outdoors.
It was cloudy on our chosen zoo day, but I didn't mind. I've found the animals tend to be more active when it's cooler – and even better, the human crowds tend to stay away. We like the zoo best when we have it to ourselves!
Walking from the car to the main entrance, Z and I compared notes on what we'd most like to see and came up with a game plan. Every time we visit the zoo, we try to switch it up and head in a different direction. Also, take note, the zoo no longer hands out maps at the entrance, so you may want to print a map from home before you go.
The plan for our zoo visit was thus: first the sea lions, then up to the manatees, repiles and aquarium, then all the way up to the gorillas and "night animals" house (aka the Nocturnal Roadhouse).
We walked in with just a few other families and I knew right away this would be a perfect day at the zoo. There was hardly anyone there!
We headed straight for the incredible new sea lions exhibit, Adventure Cove. We had visited the zoo once during the summer, when the sea lions exhibit was very crowded. It was actually super stressful – ugh, thanks COVID – so we left super fast and didn't get to enjoy it.
This time, we had the sleek, gorgeous California sea lions and harbor seals all to ourselves – and best yet, it was one baby sea lion's first time out in the exhibit. He stuck very close to his mama and they were adorable swimming and dancing together in a beautiful underwater ballet.
The underwater viewing tunnel in the sea lions exhibit may be our favorite spot in the zoo now. The graceful sea lions can swim over, under and around the tunnel so you have 360 degrees of gorgeous, athletic sea mammals zooming all around you. It's a wonderful spot for photos.
Before leaving Adventure Cove, we were sure to visit the all-new Jack Hanna's Animal Adventure Village, where you can get up close with some very cool animal friends. Here, we saw a sloth, cheetah, snuggly otters and an adorable tiny spotted Geoffrey's cat.
We also hit Stingray Bay since we were right there and petting slippery, slimy, stinky stingrays literally never gets old. Z loved it when she was two and she still does! At this point, I should add that another reason the zoo is great in November is that the rides in the former Jungle Jack's Landing are closed, so we can actually go see animals instead of just doing rides all afternoon.
From there, we headed up through the tunnel to the reptile house and manatees. We admired the two tiny new orphaned baby manatees, one of whom was stuck to foster mama Stubby like glue. So adorable! There were quite a few people in the manatee house, but that was basically the only time we ran into a crowd and it was still pretty manageable.
Next, we hoofed it all the way up to the Congo Expedition region to see the leopards and primates. I'll tip my hat again to the cooler November weather – by this time in the summer, we would have been sweating and looking for water.
Unfortunately, right about the time we got to the Congo trail, poor Z started having major tummy troubles and we had to cut our visit short before seeing our beloved gorillas. I know for sure that we'll be back before November ends.
While many people are waiting to hit the zoo during Wildlights, which starts November 20, we will be sure to go before the annual holiday festivities start. That way, we can maximize our animal viewing and minimize human crowding!
Do you have a favorite time to go to the zoo, or any favorite animals there? We'd love to hear your zoo stories in the comments below or over on Facebook.