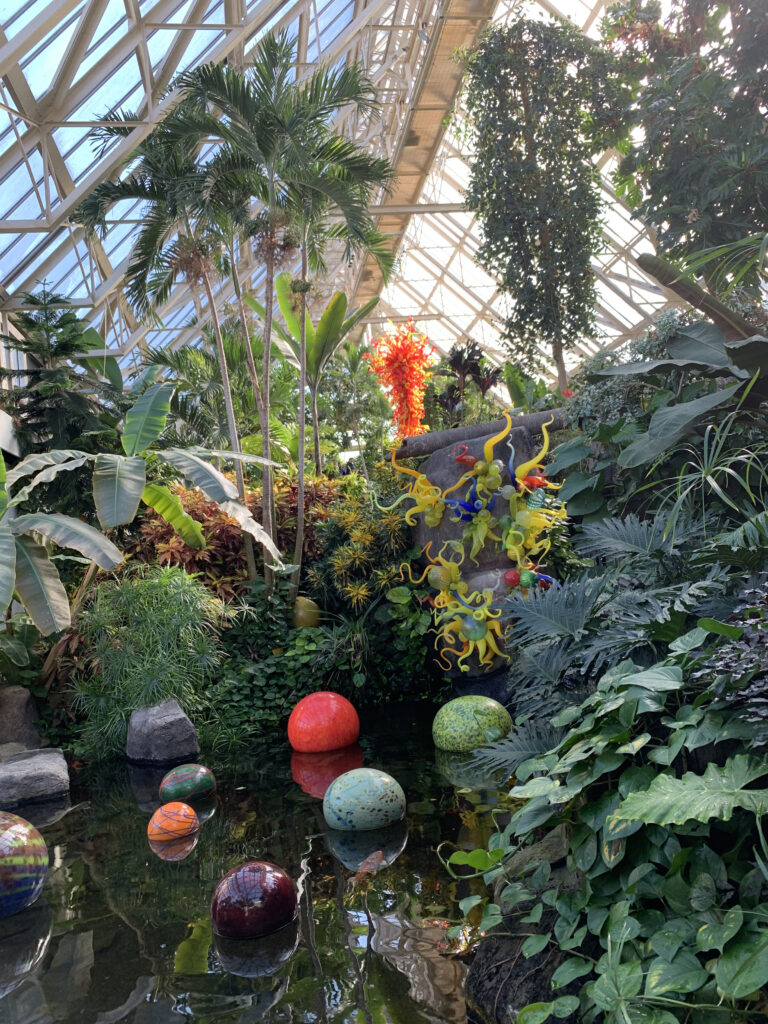 Do you consider yourself a good tour guide in your own home town?
I do – and likely because of this blog of mine, others do as well.
If there's a question I get asked more than any other, it's variations on this one:
"I have friends/family coming into town for a weekend. What would you recommend for first-timers to Columbus? What are the must-do highlights?"
It's actually surprising to me that I haven't created a best of Columbus round-up post yet. So, here it is at long last. And yes, I'm assuming that your visit will take place in the warmer months!
Top Columbus destinations
The Short North, North Market and German Village. Downtown Columbus is a treasure trove of restaurants, shops, public art, museums, parks and other fun things to see and do. Park at the North Market and enjoy lunch there, or walk to nearby Goodale Park for a picnic. Then stroll through the Short North to enjoy street art, galleries, shops and Jeni's Splendid Ice Cream. Hop back in the car and drive further downtown to German Village, then park and enjoy the Book Loft, a 32-room book shop and historic treasure. Take home some treats from nearby Pistacia Vera as the perfect gift to thank your hosts.
Columbus Zoo & Aquarium. Visitors of any age will love our zoo, and kids especially will enjoy a day here. There's a lot to do, so decide up front whether you will do just the zoo, zoo plus all the rides (summertime only and for a separate cost), or zoo plus rides plus Zoombezi Bay, the adjacent water park (summertime only and another considerable cost). You could easily spend a full day at the zoo and rides area, and another full day at Zoombezi Bay. Even if you've been to the Columbus Zoo before, it's still worth a visit because of so many great new attractions.
Franklin Park Conservatory. At any time of year, this botanical garden and conservatory will delight visitors of all ages. It offers both indoor and outdoor attractions that add up to a day of pure magic, including an award-winning Children's Garden and permanent exhibitions of dazzling glass art by the master Dale Chihuly. I've often noted that we couldn't make it through Ohio's long winters without our membership to Franklin Park Conservatory; it is equally enchanting in the spring, summer, fall and holiday season.
Columbus Commons and the Scioto Mile. Think of Columbus Commons as a miniature Central Park – a lovely, family-friendly green space in the heart of the city. Ours boasts convenient garage parking, a delightful carousel, great lunch offerings and a superb food truck selection on summer Thursdays. Walk down to the river, and you'll find yourself at the Scioto Mile and Bicentennial Park, home of an amazing, interactive splash fountain. Walk along the gorgeous riverfront promenade to enjoy swings, sculptures, fountains and splendid city views.
COSI (Center of Science and Industry). Another can't miss for families with kids, COSI is both a beloved Columbus historic institution and award-winning children's science and discovery museum. Enjoy a day exploring and learning inside COSI, but be sure to wander around the grounds outside as well. Stone steps down to the river boast unparalleled views, and a walk around the green spaces and bridges nearby will reveal three wonderful, iconic and quirky deer statues to pose with and photograph.
A nature walk at Alum Creek dam – or down through the forest trails and along the beach. We're spoiled to have Alum Creek lake so close by, where one can rent a boat, take a hike, splash at the beach, explore forest trails, play on multiple playgrounds and enjoy gorgeous waterfront views. Whatever your pleasure, there is much outdoor fun to be had on a pretty day at Alum Creek state park, lake and dam. Bonus tip: catch a sunrise or sunset here to be truly enchanted.
An utterly unique and unforgettable experience such as Otherworld or Dreamscape. For an evening of adventure, laughs and thrills, escape to the immersive, walk-through art experience known as Otherworld. For a similarly otherworldly experience in the virtual realm, visit Easton Town Center's Dreamscape VR adventure. Both are exciting, fun and likely best suited for older kids through adults.
There you have it – now you'll be prepared next time you have guests visit from out of town. And, if you're a local who hasn't made it through these experiences yet yourself, then you need to make it happen this year!
What else would you add to a "best of Columbus" list like this one? I'd love to hear your additions in the comments below or over on Facebook.