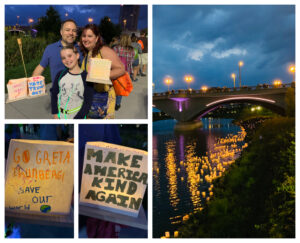 Did you love the floating lanterns scene in Tangled?
Get weepy over the ancestral lanterns in Kubo and the Two Strings?
Or just love a beautiful evening downtown and the idea of writing memories, messages of love and other positive sentiments on a floating lantern, then launching it into the Scioto river?
Whichever category you fall into above – and I'm actually all three – you will love the Columbus Water Lantern Festival when it comes back around in June 2022.
I got tickets for the 2019 Water Lantern Festival online in advance without checking with darling hubby and daughter first, as I was that sure they'd be as wild about the idea as I was.
Alas, this is not always the case, and I should have checked with them first. I usually do, but I was super stoked for this one so I let my excitement get the better of me.
Thankfully, despite their initial misgivings at being dragged downtown on a Saturday night when both of them would have preferred to stay home (have I mentioned they can be homebodies at times?!), they both ended up enjoying themselves and making the most of the experience. It was an absolutely perfect night weather-wise – which is a good thing, because I'm sure they would have insisted on bailing if there was even a hint of rain!
Side note: if you're someone who stays in the suburbs and never goes downtown, you're missing out on some remarkable family fun. We love Columbus Commons with its lovely carousel, Bicentennial Park with its one-of-a-kind play fountain, and the Promenade area with its swinging benches overlooking the riverfront. It's all gorgeous – and a perfect setting for a magical event like the Water Lantern Festival.
We left home about 6 pm and headed downtown. We parked in the lot near COSI, then walked across the bridge to the riverfront area where the event was taking place. We probably could have found closer parking (the Columbus Commons garage is another favorite, well-lit and safe parking place downtown), but we enjoyed the walk across the bridge and knew it would be especially picturesque on the way back later that evening, once the lanterns had been loosed.
It was easy to spot the white tents that marked Water Lantern Festival headquarters. There were people sitting and lying on blankets on the grass, decorating lanterns, so we knew immediately we were in the right place. A musician was performing on a small stage and kids were playing all around on the sloping lawn. I stood in a fairly long line to check in and get our packets, while E and Z headed to the lawn area to listen to the musician and relax on the grass.
Before too long, I had our Water Lantern Festival packets, which came in cute pouch-style backpacks for easy carrying. We found a bench (not one of the swinging ones, as those were all taken!) to park and decorate our lanterns. This is when E and Z really got into it – Z with positive messages about things she cares about (girl power, snake appreciation and the environment) and E with political messages on his lantern. I decorated mine with messages of love about our family, including our pets, as well as general positive sentiments I wanted to send out into the world.
There were food trucks parked nearby, the sun was setting and it was a lovely evening. As the time grew close for lantern launching, they opened the mic to anyone who wanted to say a few words about their lanterns or why they're participating in the launch. Some adults and a few kids got up to tell meaningful stories about why they were here – and Z of course headed down to get on stage and grab the mic for her moment in the spotlight! That's our girl.
At 7:30 pm, they announced that it was time to head to the launching area down by the river under the bridge. A long line began to snake towards the launching area, but it moved fairly quickly and we passed the time by taking photos, admiring other people's lanterns and enjoying the lights and sights of downtown Columbus. When we got beneath the bridge, a crowd of people were heading across big and small rocks to get down to the river.
There were no signs saying to keep going, so we followed the crowd across the rocks. Footing was a bit unstable and I was in flip-flops, so it was rough going. In fact, I didn't end up going all the way down to the river – I gave my lantern to E and Z and they launched it for me while I took pics and video. Turns out, we were supposed to walk under the bridge and launch our lanterns safely and securely from the boat ramp on the other side of the bridge – the perilous journey over the loose rocks was unnecessary after all! Perhaps they should make that a bit clearer with some signage next year.
Still, we had a successful launch and the lanterns looked absolutely exquisite as they began to drift down the river in bunches. Z took some of the gorgeous photos you see here, and our friend Laurie took the one at the top. It was like a sight out of a movie and felt very Harry Potter-esque to me – that's how magical it all looked! We headed back to the grassy slope to lie on our blanket and relax. I enjoyed a late dinner of Hawaiian street food from Aloha Aina, my favorite food truck.
Thrifty tip: if you are interested in checking out the Water Lantern Festival next September but don't want to cough up the $25 per adult/$12 to 16 for kids to decorate and launch a lantern, just make note of the date (yet to be posted for 2020) and head to the Columbus downtown riverfront to picnic and watch! There's no cost to observe. Then again, I do think decorating and launching the lanterns was pretty awesome – and the Water Lantern Festival company does ALL clean-up of the river, making sure absolutely no waste is left in the area – so that's worth the event cost in my mind.
What's your favorite event or activity in downtown Columbus, and do you enjoy the riverfront area as much as we do? I'd love to hear your stories in the comments below or over on Facebook!