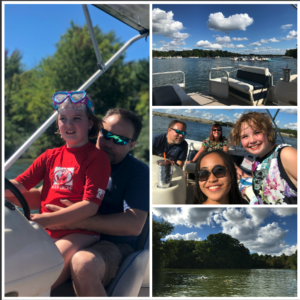 Just when I thought life in the LC couldn't get any better, we spent a sunny Saturday afternoon lazing around on Alum Creek Lake on a rented pontoon boat. Yes, it was pretty much exactly like this very not-safe-for-kids (but hilarious!) video from Lonely Island, except we didn't have T-Pain.
Did you know you can just stroll right into Alum Creek Marina and rent a boat for the day?! Well, you can – and you should, because it's awesome!
My number one piece of advice to you, if you'd like to rent a boat and spend the day out on the water, is to gather up all your stuff and family members (including dogs, if you think they'd like it!) and head to the marina. Don't call first. They don't answer the phone! Seriously, they don't – I've called them multiple times on multiple days and never once have they answered the phone OR called me back. Just go there in person and all will be great!
On the Saturday in question, we packed some goodies and headed to the Alum Creek Marina unsure what the day had in store. The marina itself is beautiful on a sunny day, so we had a great feeling right from the start. Soon we were walking down the dock to board our boat! We rented an 18-foot pontoon boat, which is a slow, sturdy vessel just perfect for newbies to the lake scene. We could have rented a larger, faster boat – and a tube to pull behind it for some aquatic fun! – but we figured we'd start out small and go big next time.
The marina guys were very helpful and Brandon gave us some pointers about the lake, a quick lesson, life preservers and tips about where to swim. Then, we were cast loose (quite literally) and were on our way. All four of us had huge smiles on our faces – we couldn't believe we were out on the water. It was quite an adventure!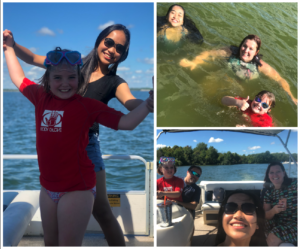 The water was clear and green, the sun was bright and the breeze out on the water felt amazing. We motored along in Alum Creek Lake, crossed under the Cheshire Rd. bridge and then found our way to the swimming cove, where we dropped anchor to rest for a while and enjoy a swim. The water was cool at first (and hard to get into!) but once we jumped in, it felt fantastic! Our girls spent over an hour in the water and loved every second. Jumping off the boat, then swimming around and climbing back on to do it all again, was a huge hit.
There's a whole life out there – the lake life – where people are relaxed, happy and tan. I loved being part of it for a day! After about three hours of relaxation and sunshine, we were ready to motor back to the marina. All went well and we paid $200 plus tax and a little for gas – money well spent for such a fun, enjoyable day out on the water. We definitely hope to do it again before this warm weather ends! My one regret is that I wish we'd brought our dogs along – dogs are welcome at the marina and on the rental boats. I know they would love it and they're definitely coming next time!
Although I'm a salt water and beach girl for life, I have to say that I adored our lake day and can't wait to do it again. The whole family relaxed and had fun… there was no technology involved… and being immersed in that much nature and out on the water is truly soothing for the soul. It's amazing to think that we have such a beautiful treasure so close to home, right here in Lewis Center!
When was your last day out on a boat – and have you ever spent a day at Alum Creek lake? I'd love to hear your own boating adventures in the comments below or over on Facebook.