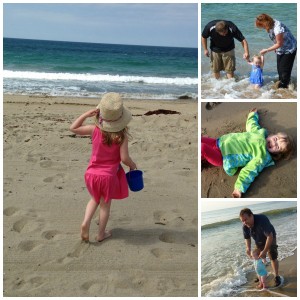 I miss the beach. Somehow, it's just not summer without a visit to the ocean – salt water, sand, seagulls, shells and waves.
I'm a bit spoiled, having grown up on Long Island with the beach as my back yard. Of course I didn't truly appreciate it as a kid – I wanted a pool instead!
But I sure did enjoy growing up with horseshoe crabs, minnows and mussels as neighbors. What a wonderful, natural playground it was. And now, as a mom, I wish I could give Zoe more frequent access to the beach.
Zoe absolutely loves the beach. She's a natural born beach baby!
She loves to feel her toes in the sand, dance in and out of the water, make "sand angels" (her invention at age two and a half), race the surf, collect shells and wade or swim in the waves.
And we have been blessed to travel to and visit many gorgeous beaches with our girl, from Virginia Beach at 15 months to Maui at 18 months to many gorgeous beaches in Florida and California during annual visits to see her grandparents on the two coasts.
But right now, I'm missing the beach. We traveled to California in March and will be visiting Florida in October – so I'll get my beach fix this fall. But I'm vowing here and now that we'll never again spend a summer without some sort of beach vacation.
We'll comfort ourselves in the meantime with visits to our nearby Alum Creek beach and with planning imaginary or future beach vacations.
Maybe I'll make this adorable beach sand pudding dessert I found on Pinterest. I'll watch Blue Crush again one night soon after Zoe goes to bed.
And, of course, I'll drool over photos from all our past beach vacations until I can get my toes in the sand again.
Where's your favorite beach for a family vacation, and what do you do when you're in between beach fixes and you're craving salt, sand and sea air? I'd love to hear in the comments below.