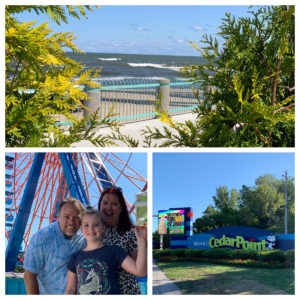 It's still crazy to me that our schools in Ohio start back up mid-August. When I was a kid on the east coast, we didn't go back to school until September, usually right after Labor day!
When Z returned to school while the weather was still hot and summery, it didn't seem fair to me – and that made us want to plan an end of summer getaway to Cedar Point to keep the good times of summer going a little longer.
We booked one night at Cedar Point's Castaway Bay indoor water park resort, plus two days' admission to Cedar Point and its adjoining water park, Cedar Point Shores. We never made it over to the Shores, but we had two fun and full days at the amusement park, plus two wonderful afternoons at the Castaway Bay indoor water park where we somehow got a second wind that allowed us to keep having fun!
Saturday
We arrived in Sandusky about 11 am after an easy two hour drive from Lewis Center. We checked in at Castaway Bay but our room wasn't ready yet, so we dropped off our bags, picked up our tickets and headed to the park. It was an absolutely gorgeous day, so crowds at Cedar Point were at about max capacity. We were hungry so we headed to Johnny Rockets for a quick sit-down lunch, then started hitting rides.
Z and E go on almost all the big rides together – they are a dynamic and daring duo. I sit many rides out because heights and terror are not my favorite thing, but sometimes I spell E if he doesn't feel like going on something. In general, he does heights and loops while I do the spinning things – although as she gets older, Z often skips the spinning things altogether in favor of bigger thrills. While E and Z hit MaxAir, I met up with our coaster king and queen niece and nephew who joined us for several more rides.
At Cedar Point, I didn't mind skipping rides (and the long lines that precede them!) because the Lake Erie views are so gorgeous. Anytime I was able to find a bench with views of ocean-like waves like the one above, I was a happy camper. I felt like I got my beach and ocean fix even though we were lakeside! What a beautiful location for a park – and what amazing, scenic views there are from many of the rides and from the edges of the park in general.
That first day, I didn't ride any rides – but E, Z, Nick and Emily had a blast on Wicked Twister, Gatekeeper and a few others despite super-long lines. We ended up having an early dinner at Hugo's Italian Kitchen. It wasn't that good. People had warned us that you don't go to Cedar Point for the food, and they were correct. It was just mediocre at best (though we didn't get to try the new barbecue place, BackBeatQue, and it smelled awesome).
Another note about dining at Cedar Point: we tried the All Day Dining plan on Saturday and I do NOT recommend it. We were sorely disappointed when we realized it only covers select entrees with sides and not the things that most people typically want at an amusement park (like snacks, ice cream, etc.) Yes, you can eat every 90 minutes on the plan – but only things like a hot dog and fries or a burger and fries. Who wants to eat that and only that all day? We literally saw an ad for it that said "snack all day with our dining plan" and we were like LIES. You can't buy snacks at all on it! Thumbs down from our family. We were glad we had only bought the plan for our first day.
After dinner, we headed back to Castaway Bay, took some photos with Charlie Brown in the lobby and then got into our room and commenced admiring our gorgeous lakefront views. We were pretty exhausted but Z really wanted to go down to the water park – and I'll admit, I was hot and sweaty so it sounded good to me, too.
We headed down and hit the wave pool for a while, then ended up in the grotto spa (awesome oversized hot tub with both inside and outside sections, plus a tunnel in between). Boy, did that hot tub do wonders for my aching feet after getting more than 15K steps all day at the park. E soon joined us and went on a bunch of the tube slides with Z, and we both took turns going with her on the water coaster, Rendezvous Run – a family favorite!
By the time we got back to our room around 9 pm, all three of us were exhausted. And starving! We had some room snacks from the Castaway Bay lobby shop and then crashed hard. We knew we wanted to be well rested for our fun second day at Cedar Point.
Sunday
We woke up around 7 and got ready quickly, then packed up our stuff and checked out. We left our bags with the front desk staff and enjoyed delicious muffins at Ebb and Eddy's, the coffee shop in the lobby. We also had a fun encounter with Snoopy himself! Then we headed back to Cedar Point for day two. The weather was gorgeous once again, but this time we got to enter the park an hour earlier than it opened so we were able to get some big rides in before the lines started.
E and Z hit Valravn twice with minimal wait time, then we hightailed it all the way up to Steel Vengeance. They hit that twice too – but with some wait time. We all went on Maverick, which Nick had told me I'd love – and he was right, it was my favorite coaster ever! Gorgeous Lake Erie views, not too tall and a great mix of loops, twists and speed. Wish I could have ridden it again but the lines were pretty long by then!
Z drove E and I around on the Antique Cars track and then Z and I rode the super fun racing derby carousel, Cedar Downs. I'm fairly certain those two rode another big ride or two, but by this time we were winding down our day because we had a two hour drive back home – and it was a school night!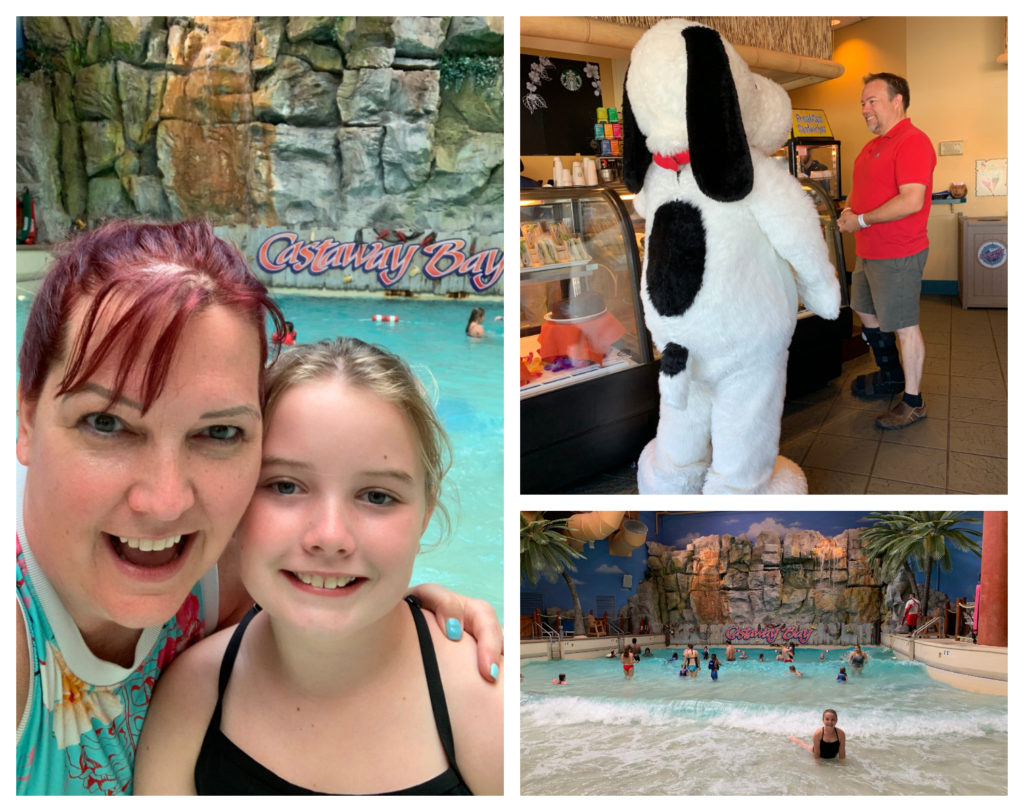 We headed back to Castaway Bay to pick up our stuff, and that's when Z asked with big eyes, "are we still allowed to go to the indoor water park today?" And when we nodded, she managed to persuade us that it would be a great way to cool down before our drive home. And it was! She and I did the wave pool and grotto for a while before getting dressed again and joining up with E in the lobby to head home.
All in all, it was a very fun weekend and just the perfect amount of time at the park and at Castaway Bay. We've stayed at Castaway Bay twice now and both times had a good experience – but I must admit, I've heard so many great stories about Great Wolf and Kalahari that I think I'm tempted to try one of those next time we head to Sandusky.
Where's your favorite place to stay when you go to Cedar Point, what's your favorite ride at the park – or what's your favorite indoor water park in Ohio? I'd love to hear your stories in the comments below or over on Facebook!