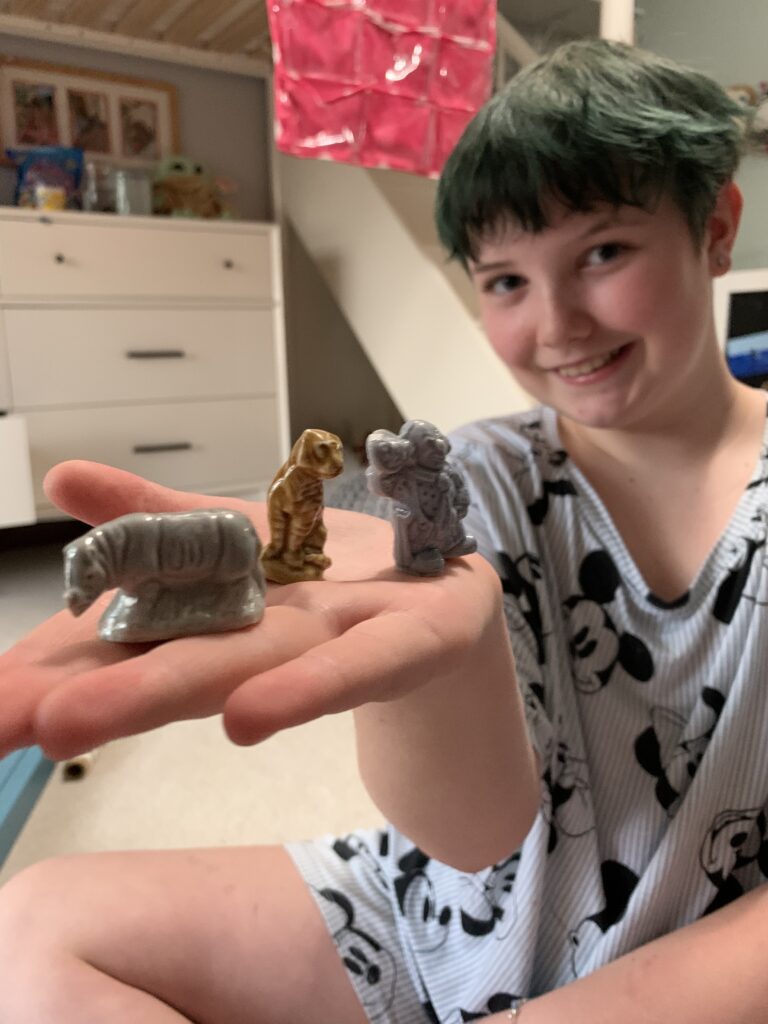 When I was a kid, one of my favorite things to play with were little miniature china or ceramic animal figurines. I played with them from early grade school up into my tweens.
These particular figurines are known as Whimsies and were made by Wade of England. They gained popularity on both sides of the Atlantic beginning in the 1950s, long before I was born.
My introduction to Wade Whimsies figurines occurred because they began to be included in boxes of Red Rose tea in England and the U.S. as a promotion all through the 70s and 80s.
Those figurines were a staple of my childhood! My parents loved that brand of tea so every time they bought a box – which was probably at least monthly – I got a new Whimsy for my collection. I adored them.
I got some of my vintage Whimsies in England, too, because we spent quite a bit of time traveling back and forth across the pond in those days. Once my grandparents found out how much I liked them, I seem to recall they saved me all of their Whimsies figurines, too. And English people drink a ton of tea!
When my parents sold my childhood home in the late 90s, my Mommers asked me if I wanted the box of Whimsies figurines she found in my old room. Heck yes, I replied. I had totally forgotten about my Whimsies, but was so happy to have them back in my possession.
For a long time, those vintage Whimsies stayed in the box in a closet. When Z was about three, I took them out and blew her mind with my little animal figurine collection. It tickled me that she adored them as much as I had!
(For the record, I probably wouldn't have shared them with just any three year old, but Z has always been incredibly careful with fragile things.)
While we were cleaning out Z's room and closet recently, we rediscovered my old Whimsies figurines once again. I thought for sure she wouldn't want them anymore but, on the contrary, Z remembered them and got super excited to display the vintage Whimsies on her shelves.
So, it looks like we're back in the Whimsies collecting game. I showed Z how many different varieties of the figurines there are on sites like Ebay, and she got super excited about adding some new ones. And it turns out, we're not the only ones still collecting them!
I love Wade Whimsies figurines because they remind me of my childhood and feel like a bridge between England and the U.S. (kind of like me).
Whimsies are also a tangible reminder of my parents' and grandparents' tea habit – and how much fun it was every time they got a new box of Red Rose tea. I recall excitedly peeking under the tea bags for my new Whimsy figurine. I remember hoping that it would be a new one for my collection and not a duplicate… and the joy of realizing it was in fact a new animal I didn't have yet!
It gives me so much pleasure that Z is now enjoying my Whimsies figurines. I really ought to show her how I used to play with them, creating personalities and family units and entire lives for the figurines – often in my room, but sometimes outside in the yard or on the beach.
I think Santa might be bringing some new Whimsies to our house this Christmas! Crafted of porcelain and china, Whimsies seem so much more meaningful, timeless and collectible than some of the plastic and rubber junk that kids play with and collect these days. (And yes, I realize I totally sounded like an old lady just then.)
How about you – do you have still have things that you used to collect as a child, and do your kiddos appreciate them too? I'd love to hear about your collections in the comments below or over on Facebook.