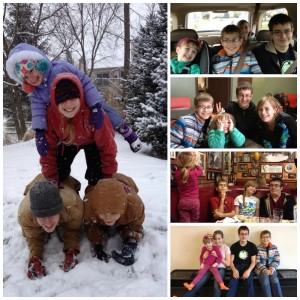 By now, I've gotten pretty good at the little kid thing – I know where to take Zoe to let some energy out and have a blast doing it. But right after Christmas this year, two of our nephews and one of our nieces came to stay with us for a week over their winter break. Suddenly, I had a house FULL of kids – Zoe plus a tween and two teens – so I knew I'd have to hit the Internets hard to come up with a plan to entertain them all.
I put together an agenda for our week together that included fun activities for the Crazy 88s (my new nickname for Zoe's cousins, who are all highly trained martial artists) that Zoe could also enjoy. We discovered many new things to do in Columbus and our little one enjoyed several firsts. It's safe to say the kids all had a fantastic, pleasure and leisure filled week – so, mission accomplished for this mom/aunt. (Pardon me while I high five myself!)
Here are my best tips for how to entertain a preschooler, teen and tweens for one week of wintertime fun in Columbus, Ohio.
Day 1 – swimming and sweet treats. We kicked off the week with a splash, spending a lovely snowy Monday afternoon inside in the warmth of Westerville Community Center's Watering Hole. We swam, vortexed, lazy rivered, hit the water slides (even Zoe could go down the smallest, although the two really big, fun ones are off limits to anyone under 48 inches tall) and enjoyed watching the snow globe action through the windows while we chillaxed in the giant pool. All that water play takes a lot of energy, though, so after jetting home for a quick dinner, we headed back out into the cold to hit up Krispy Kreme for some delicious hot donuts right off the conveyor belt. We only set foot in that place when the "hot donuts now" light is on in the window. Not only are those fresh donuts the most delicious, you also get one free warm donut per person anytime that magical light is on. Yum!
Day 2 – New Year's Eve day and night. We laid low during the day on Tuesday with a visit to Petland to snuggle the animals, then a delicious lunch at Flying Pizza. While we were in the Bethel Rd. area, E and Malachi also visited Micro Center to get their geek on. Then we headed home, suited and booted up, and went outside to play in the snow! We got some great photos. Once everyone was thoroughly chilled and rosy-cheeked, we came back in for a hot cocoa tasting party. I made five mugs of plain hot cocoa, then laid out supplies like peppermints, candy canes, caramel squares, marshmallows in two sizes, chocolate chips, milk chocolate balls and more. Everyone did their own thing and it all smelled delicious! Then most of us took disco naps to prepare for our big evening out. We ate dinner at home and then the three of us girls headed upstairs to get our sparkle on while the guys got ready.
Once everyone was suitably glittery and smelling great, we all hit First Night Columbus. What a fabulous event for a mixed ages group like ours! We started out at COSI enjoying the first floor attractions, especially the Oceans area. Then, when Zoe and I headed up to Little Kidspace, E took the older three across the street to Vets Memorial for concerts and other entertainment. Zoe and I hung out at COSI for most of the night, but we did cross over to check out the fun at Vets and she had a blast there climbing and sliding on the blow-up bouncy structures, dancing on the stage between acts, and jumping on the trampolines.
We all liked the variety of activities and entertainment throughout the evening, including the ice carvers stationed outside – the carved ice fireplace was particularly cool. Zoe especially loved all the music, activity and staying up so late! It seemed like there was a bit of a lull around 10 pm, though – next year, I hope they will put more focus into the 10 pm to midnight time slots. That's when everyone (I swear it wasn't just me) is starting to get tired, so the fun really needs to ramp up if they want people to stay for the fireworks! Our group was losing steam fast by 11 pm, and there wasn't enough going on to keep interest up, so we headed home to get into comfy PJs and watch the ball drop on TV. All in all, a great night – and well worth the cost at $8 per person (advance sale only at Giant Eagle – otherwise $10 each at the door).
Day 3 – New Year's Day (and night). I remember a time when the whole world closed down on New Year's Day, but that is certainly not true anymore. As soon as our group was up, showered and had eaten a late breakfast/early lunch on Wednesday, we headed out to Sky Zone, the nearby trampoline park. We started 2014 in high energy style! Everyone loved this activity and in fact it was voted the favorite event of the trip by all of the kids. As if hardcore bouncing in the main trampoline area wasn't enough fun, there's also a dodgeball court (which we avoided – seemed like kids were coming out of there upset and/or injured quite a bit) and the most fun area of all – the foam zone!
In the foam zone, you bounce along trampolines and then dive, flip or jump into a pit full of soft, multi-colored foam pieces. Zoe just about lost her mind in this area. She loved all the trampolines in general, but falling into the foam and "doing flips just like the big kids" (bless her little heart) became her new obsession. Although Sky Zone is fairly pricey ($18 per person for an hour, including the special Sky Zone socks which must be worn), it was worth it and we will definitely be back. It's such a great combination of fun and fitness – plus Zoe conked out in the car on the way home, she was so exhausted! I highly recommend bouncing for an hour, as it seemed like the first half hour was mainly spent figuring out the place and getting our bouncy selves into high gear. The best tricks, coolest flips and highest bounces definitely happened in the second half hour.
That evening, since everyone had worked up a big appetite with all that jumping around, we hit Buca di Beppo for an early dinner. We ordered two large dishes, everyone left stuffed, and we had enough food left over for a huge lunch the following day (plus I took the final remaining leftovers to work on Friday). Good value for a big group like ours!
Day 4 – Bowling, arcade and Mexican fiesta! As I've already posted, we hit Star Lanes on Thursday for some rockin' good times. I'm not going to lie, I think the kids enjoyed the arcade as much as (if not more than!) the bowling. It was pretty cold that afternoon, so we didn't do any more playing outside, but we watched a few movies and played games indoors, then headed out for my favorite dinner of the week at Fiesta Jalisco. The kids really enjoyed it, too.
Day 5 – Friday night roller skating! On Friday, I headed back to work and took Zoe back to daycare, since she was really missing her school friends and seemed eager to start getting back into her normal routine. The Crazy 88s hung out at the house all day with E, who works from home – and he even took them out to House of Japan for a super cool, live action lunch. Once Zoe and I got home in the late afternoon, we played for a while and then ate dinner at home before heading out for some Friday night roller skating at Sunbury Skate Club.
I had crowdsourced roller rink recommendations on Facebook, and I think we chose well. This was a pretty affordable activity ($5 per person plus $3 skate or blade rental) and everyone had fun. It was Zoe's first time on skates and she took a couple of hard falls before deciding that she'd rather ride a scooter around, instead. It's nice that they have that option available for little ones! They also let E walk around the rink in street shoes so he was able to assist her as needed (and keep her from scooting out in front of fast-moving skaters and bladers). I think her favorite part was the music (an odd mix of rap and country, but it worked) and the disco lights. We all left happy, warm and sweaty – a good antidote to this cold winter weather. This mama hadn't rollerskated in years and it felt good to use those muscles again!
So, that was our wonderful week with the Crazy 88s. Unfortunately Zoe's cousins left on Saturday after one final home-cooked meal, and we were very sorry to see them go. We are looking forward to more fun visit visits with them in 2014! And those are my top ideas for entertaining a preschooler, tween and two teens in Columbus should you ever find yourself needing some inspiration.
What about you – have you found other fun, new activities for little or big kids in central Ohio? We are always looking for our next big adventure! I'd love to hear your ideas in the comments below.