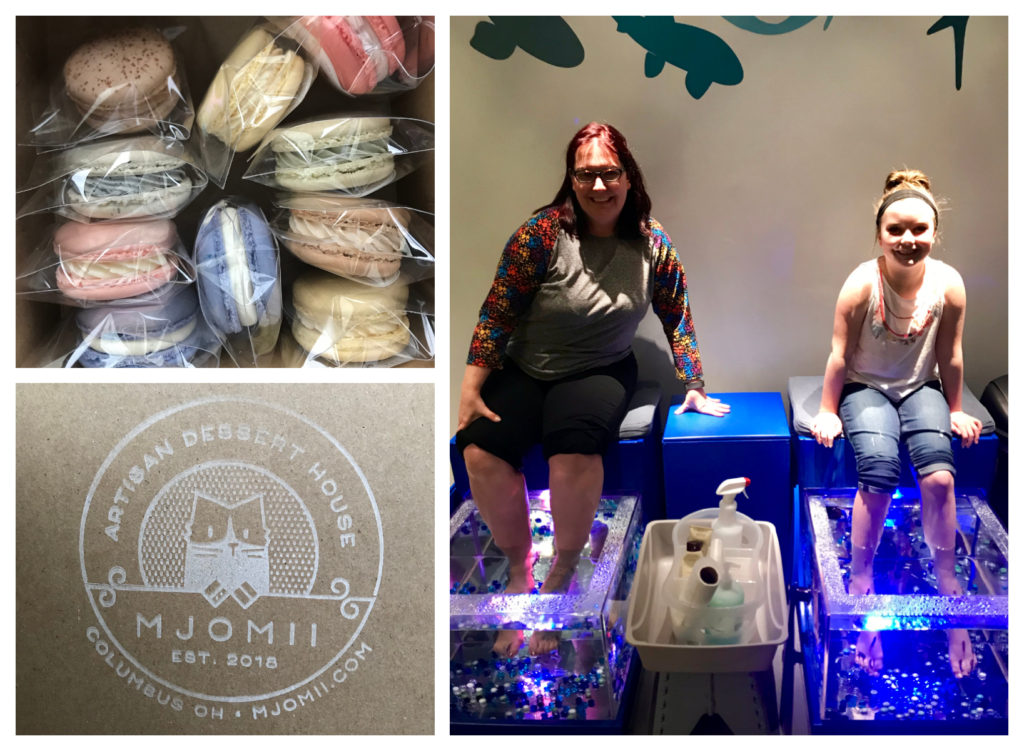 If you consider traditional shopping malls ordinary, familiar and even a little boring, you're not alone. Let's face it, unless you're a tween or teen, shopping malls aren't exactly rife with cool or unexpected experiences. Most malls haven't changed much in decades.
Polaris mall, however, is ready to change all that by serving up some truly incredible, even international, experiences for our shopping, dining and adventuring pleasure!
When my daughter and I got a day off to spend together on her actual birthday (thank you, random teacher work days!), I figured we'd head to Easton Town Center, our usual favorite spot for shopping and girl time together. We did that all morning, and we had fun – but then she asked if we could make one more stop before we headed home: Polaris Fashion Place. I agreed, and what resulted was one of the most fun and adventurous afternoons we've had in ages!
One-of-a-kind spa experience
What Z had in mind wasn't more shopping, but rather the unique fish pedicure experience at Garra Spas. It's located on the lower level near JC Penney and catches your eye with its pretty, tranquil colored lights and open, attractive space. I'd heard about fish nibbling pedicures but never would have considered it if she hadn't asked. We walked in and they were super friendly and happy to take us right away – walk-ins are always welcome.
We were assisted by Jacob, who was born to be in customer service because he has the most wonderful personality and put us right at ease. I'm also not going to say he's hot, because I don't want to objectify such a lovely person, but just imagine that Bruno Mars and the Weekend had a baby, and you'll get the picture.
Jacob got Z set up at one of the glowing tanks of garra rufa fish, cleaned off her feet and lower legs, and removed the tank lid. She began to lower her little tootsies into the crystal clear water, the fish surrounded her feet and then giggles commenced! She absolutely loved the feeling and her biggest concern was that she might accidentally "squish" one of the little guys between her feet. She told me to hurry up and get my feet in, so I sat next to her and followed suit.
Wow! It truly is an amazing and enjoyable sensation. The little garra rufa fish swarm around your feet – Jacob said they are attracted to the pulse in your ankles – and begin working their magic. They don't have teeth, but they gently nibble at your feet and remove the dry, dead skin. My feet were so much softer when we were finished, and we only did 15 minutes each – Jacob said 40 minutes is usually recommended for adults (and I would definitely have stayed longer!).
At the end of your time, you lift your feet out and they are then washed and moisturized by Jacob. He happens to give a fantastic foot massage and chuckled when I told him – apparently he hears that a lot. Go for the fish, stay for Jacob's foot massage! You're welcome. 😉
Exotic and delicious snacks
After our fun fish spa experience, we were hungry for a treat. We headed off down the mall in search of a little kiosk I saw a few weeks back selling a VERY interesting new type of treat: Nitro Puffs! Billed as the newest craze and "a next-generation, liquid nitrogen infused dessert," Nitro Puffs look like giant cereal balls with smoke coming out of them… and when you bite into one, you breathe out smoke like a dragon! Z was on board with the idea of trying them, but then we came across a different snack kiosk and went there instead.
Mjomii Artisan Desserts is a kiosk on the lower level of the mall near Saks. They create and sell the most exquisite little macarons I have ever seen or tasted – and that includes the ones we had in Paris and my prior favorite, Pistacia Vera! Mjomii (pronounced "mee-oh-mee") macarons are tiny, beautiful and absolutely delicious with flavors like black sesame (my favorite!), honey lemon, raspberry (Z's favorite) and lavender milk. I love supporting small, local businesses (they were funded by a Kickstarter!) and this one is truly special and worth a visit. So yummy!
So what do you think – did you know you could have fun, unique and special experiences like these at a traditional shopping mall? I'd love to hear your favorite mall stories in the comments below or over on Facebook.