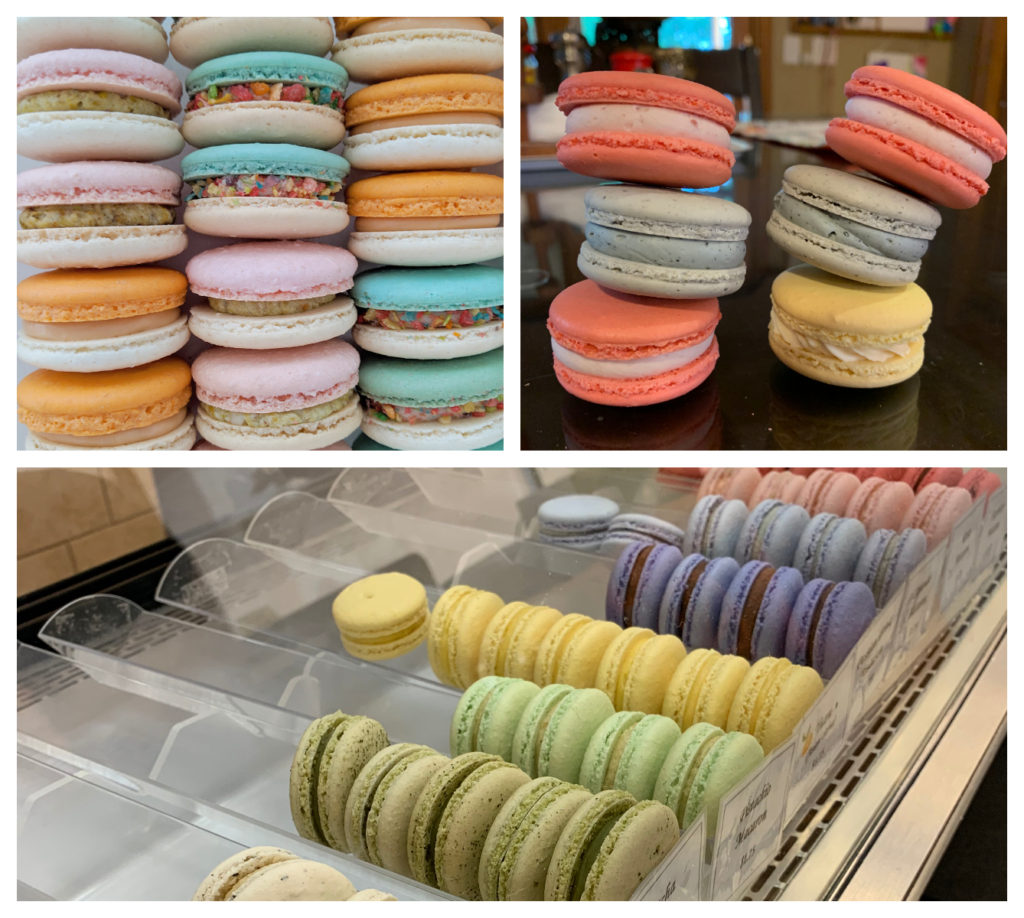 When Z was very small and I worked part-time, I used to take her on cupcake tours.
We loved cupcakes and it was a fun hobby for us to do together on my days off.
We would admire and sample a wide variety of cupcakes from a diverse selection of locations, and then I'd write about it.
One day, I just lost interest in sampling cupcakes – I felt like I had been there, done that. And for a while, we didn't have anything sweet and delicious to dream about and hunt for.
Until… well, I can't put an exact date on it but I'd say for about the past three or four years, I've found myself on a macaron quest. Yes, it seems that tiny, delicious and colorful macarons have somehow replaced my cupcake obsession and become my sweet treat du jour.
There's something about macarons' adorable appearance and delicate flavor, combined with that unmistakable mouth feel that is simultaneously crispy, chewy and creamy. It just does me in!
In recent years, Z and I have oohed and ahhed over magnificent macarons from French and Asian bakeries, mall-based bakery pop-up shops and even from petite, adorable patisseries in gay Paris itself. So which are our favorite macacons? Here's our top three list in central Ohio:
Mjomii Artisan Dessert House. Located in the Polaris mall not far from the California Pizza Kitchen entrance, this little Asian macaron kiosk sells our absolute favorites in Columbus. Tiny, perfect and packed with flavor, Mjomii macarons come in black sesame, matcha, earl gray, pistachio, lavender, rose milk and many other incredible flavors. Come for the flawless macarons, stay for the adorable packaging and overall aesthetic. We're hooked on Mjomii – so hooked that I've even blogged about them before.
Belle's Bread. Part of the amazing "Little Japan" shopping center on Kenny and Henderson Roads in Columbus, Belle's Bread is a Japanese bakery with a divine and diverse assortment of tasty treats – including some of our favorite macarons. Flavors here range from raspberry to yuzu (Asian lemon) to so many more. You'll have to get a box because the packaging here is adorable, too. Can you tell I am utterly crazy about Asian bakeries?!
Pida Patty. We first discovered macarons from Pida Patty at Bangkok Thai restaurant, where they provided a perfect after-dinner treat. They can be custom-ordered and come in unique flavors like Thai Tea, red bean, taro and fruity pebbles, and the macarons are both gorgeous and delicious! We ordered a box for Napa's birthday and had them brought to our table after a delicious feast at Bangkok – talk about a happy ending. Yum!
So, those are our favorite three – who knew that Asian macarons were so much better than French ones?!
You might be shocked to not see Pistacia Vera on this list, since I feel like they pioneered macarons in central Ohio. Well, I do still like Pistacia Vera's macarons and believe me, you will too if you try them – but I have simply fallen head over heels in love with the three bakeries mentioned above.
Have you tried macarons, and do you love them as much as I do? I'd love to hear about your favorite macaron flavors – and bakers – in the comments below or over on Facebook.
If you're still a diehard cupcake fan, this list from Columbus Navigator will hit your sweet spot. Also, for the record, I didn't realize until after I wrote and published this that it's a totally overused cliche to say that something is the new cupcake. Oops!