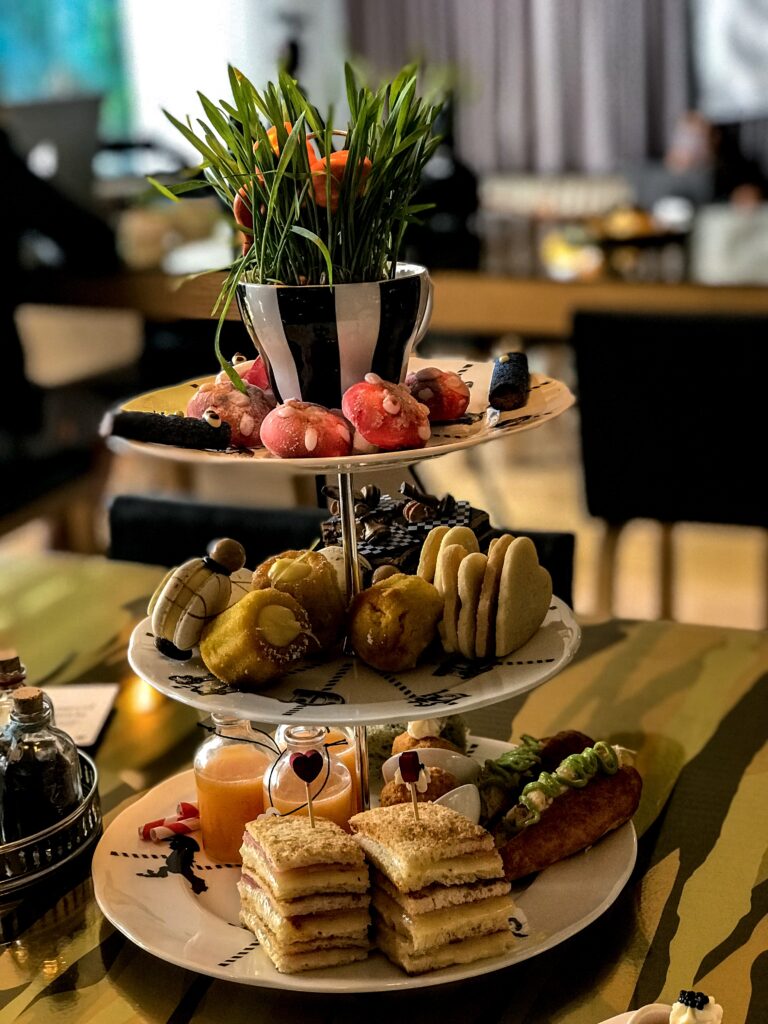 I'm fully obsessed with tea – not just the drink itself, but the entire fabulous tea party experience.
Owning a fancy tea cup and saucer, a selection of delicious teas, a classy tea pot from which to serve yourself tea and perhaps a triple-tier stand to hold delicious tiny treats and cakes are certainly on my list of necessities for living one's best life.
This tea habit of mine really can't be helped. I come from English stock; my parents were born in Great Britain and came here to start their family.
That mostly means my ancestors have little to no culture – beyond a terrible history of colonialism – EXCEPT for the glorious tradition of afternoon tea.
Ahh, England, where the food and weather mostly suck. But at least we had tea. Tea is our one saving grace as a people!
When E told us he was taking us to Europe in 2018, at the top of my must-do list was a real, proper English afternoon tea.
After doing some research, we sprang for the special tea at the fancy Sanderson hotel; an Alice in Wonderland themed Mad Hatters Tea Party complete with tiny "drink me" bottles, menu hidden in an old book and Alice-inspired tea infusions. 
E may not have loved it, but Z and I absolutely adored our fancy tea party experience and have tried to replicate it many times at home. Inspired by that experience, I've since collected the pieces and parts necessary for a glorious at-home tea, including this gorgeous triple-tier treat stand, a set of vintage, mismatched tea cups and saucers I bought second-hand, and a lovely Asian inspired tea pot similar to this one.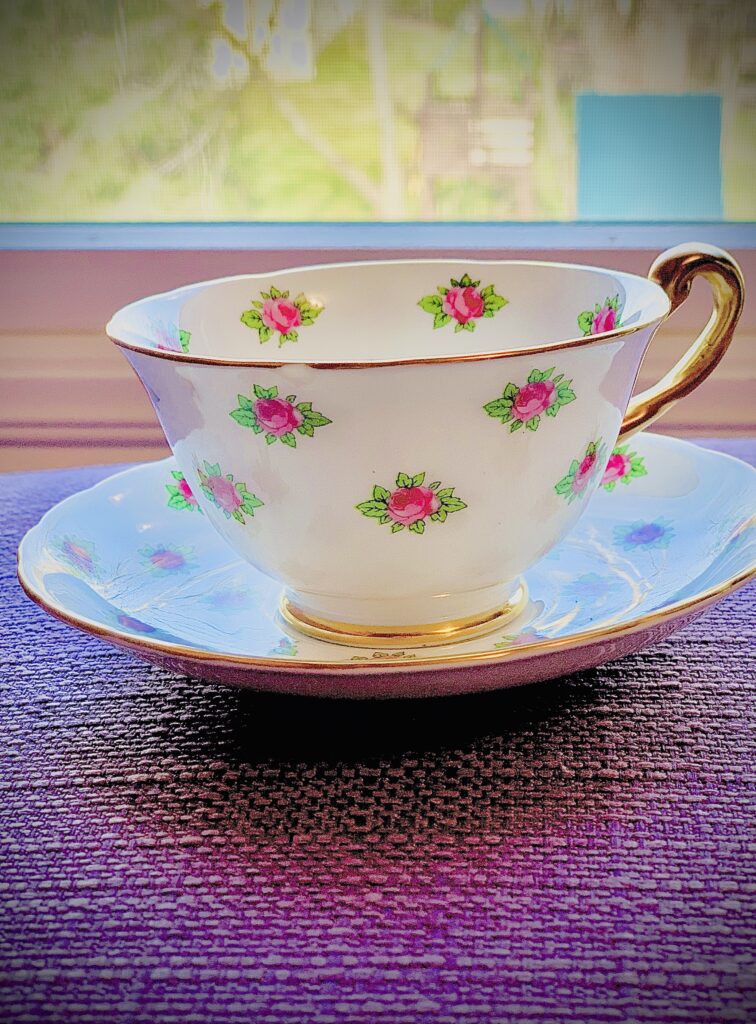 Z and I love my vintage tea cups and saucers so much, we sometimes take them out just to hold, admire and photograph them in perfect light. They really do elevate the experience of drinking tea to something bordering on self-care. I highly recommend finding something similar for yourself at a garage sale or second-hand store.
As for teas, while I truly enjoy going out for tea, I'm also a huge fan of keeping a tea cabinet stocked with an assortment to have on hand for impromptu tea parties at home.
Some of my favorites are Honeybush, Mandarin and Orange; magical, color-changing Butterfly pea tea; Madagascar vanilla Rooibos; and Raspberry Rose Hibiscus.
Aside from tea and fancy cups, to truly have the proper tea party experience, you'll need an assortment of tiny treats such as macarons, petit fours or other similar delicacies.
We like to bake mini muffins, pick up macarons from Mjomii or treat ourselves to a marzipan morsel from Mozart's. (The writer in me is positively thrilling over all the alliteration in that sentence!)
It may interest you to read more about the difference between afternoon tea and high tea (their definitions are probably the opposite of what you might think). And, did you know there are several places in central Ohio where you can have the full "fancy tea" experience?
Z and I would both like to try the afternoon tea service at Cambridge Tea House, Asterisk Supper Club and Koko Tea Salon's downtown tea shop. Anyone want to join us for a fancy tea party sometime this spring? Let me know in the comments below or over on Facebook!