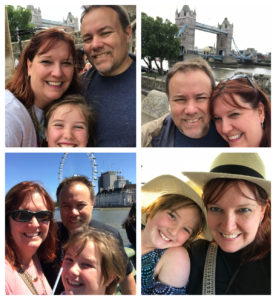 After a few days of sitting around the house, soaking up love and attention from our dogs, and sleeping as much as possible to get over our jet lag, I'm happy to share that our family is all firmly re-established back on Eastern time. That said, I definitely still have my head in the clouds from our recent family vacation of a lifetime to England and Paris!
I've recovered enough – and it's still fresh – so it's the perfect time to share the highlights from our unforgettable four days in London. My next post in this European travel series will cover our three days in York, England… and then I'll do a separate post about our memorable three days in Paris at the end of the trip. So if you're ready – London, here we come!
Redeye to London
After a pretty standard summer day, including swim practice for Z in the morning, we finished up our last-minute packing; walked, hugged and kissed the dogs goodbye; and headed for the airport for dinner and our evening flight to JFK, then redeye to London. We're old pros at long flights, so Z and I both had carry-ons filled with snuggly, nap-inducing items as well as things to play with and make the time pass.
Z played on her Kindle on the flight to NY and was ready to go to sleep once we boarded at JFK for the long flight. She slept sitting up for a while, then asked if she could lay down on the floor at her feet. E was asleep by this point so I let her, as I grew up sleeping on the floor of transatlantic flights! Turns out he didn't like the idea much, but it worked out great – she went out immediately and slept for practically the whole flight! Me, not so much, as I was too worried about accidentally kicking or stepping on her.
E and I don't remember much about our first day in London as we were in a sleep-deprived stupor – but fortunately Zoe, at least, was well-rested. We grabbed our bags – minus mine, which eventually made it a few days later – then hopped in a cab and let the adventures begin! We powered through that first day without a nap, thereby quickly getting ourselves onto UK time and not missing a beat with jetlag. The "powering through" method after a redeye always works well for us.
London highlights
Our four days in London were a joy. Highlights and favorite moments included:
Our home away from home, the Novotel London Tower Bridge (great, family-friendly hotel near Tower Hill tube station)
Riding the tube and hearing the constant, classic "Mind the Gap!" announcements
Sightseeing boat tour on the Thames from Westminster pier
The Natural Kitchen restaurant where we ate multiple times
The Tower of London: fortress, palace and infamous prison (our favorite parts: the crown jewels and the ravens!)
The iconic London landmark, Tower Bridge
Princess Diana's Memorial children's playground at Kensington gardens (well worth a tube trip to visit – so fun!)
A visit to Buckingham Palace to see the changing of the guard and visit the nearby children's garden (London is rife with them!)
Pedal cab ride through the heart of London (from Buckingham Palace to the Sanderson Hotel) – this was unexpectedly SUPER expensive, but so fun and such a great way to see the city
Mad Hatter's Afternoon High Tea at the Sanderson hotel
The gigantic London Eye ferris wheel
Spending time watching entertainers busking in various parks, including one where Z decided to start her career as an international street artist – and actually earned 8 pounds (just over $10!) drawing the portraits of two lovely girls from Holland!
We loved London – the mix of ancient and modern, how fabulously kid-friendly it is, how wonderfully pretty it is (gardens and flowers everywhere, plus so many playgrounds, parks and carousels) – and how clean and efficient the tube is. I guess I didn't realize how magical it would all be, and how familiar it would all feel to Z because of so many movies based in or featuring London (Harry Potter, Paddington, Peter Rabbit and so many more).
We had surprisingly great weather for our entire trip. The food was pretty typical British fare (I always say you don't really go to the UK for the food!), but we ended up eating at Italian restaurants often, which are plentiful and where Z could always find something she likes. Dining standouts were the banoffee (banana toffee) pie at the aforementioned Natural Kitchen, plus I know E always liked his fish and chips. But truly, who even needs to eat real food when you can pick up my UK faves, Maltesers and Ribena, at any corner shop!?
The other thing we loved about London – and it's a great segue to our three days in York which comes next – were the amazing train stations and being able to take a train to so many incredible places both within and outside the country! We traveled out of Kings Cross Station to York, and let me tell you that was a Harry Potter lover's dream come true. The station itself felt so familiar, having appeared in so many HP books and movies. And platform 9 and 3/4 is a real thing – we took a photo there. SO COOL! I can totally see why JK Rowling felt inspired to include this train station in her wizarding world – it's an absolutely gorgeous place and so enjoyable to spend time there.
If you liked this post, be sure to check out the other posts in my European trip series – and please share your London travel stories (with or without kiddos) in the comments below or over on Facebook!