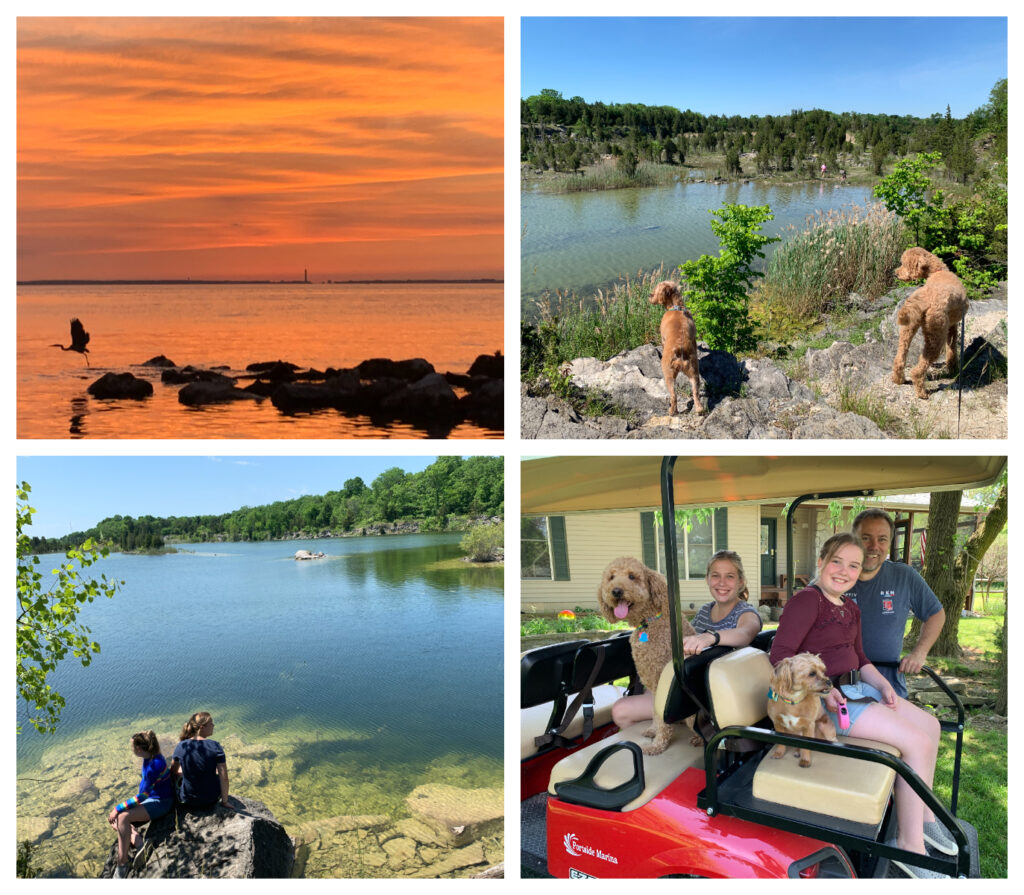 Our family, including one of our awesome nieces and our two dogs, just spent four incredible days and three nights in a cabin on Kelley's Island. Though it's just a few hours away by car and ferry, we truly felt like we got a real vacation in an island paradise.
And I feel I owe the island an apology. When I blogged about Kelley's Island after our day trip there a few years ago, I erroneously said that there wasn't much to do and that all you need is a day or even half a day to spend there. I want to state for the record how wrong I was. We just hadn't dived deep enough beneath the surface.
Kelley's Island is a fabulous place for a multi-day getaway, and we all agreed we could have stayed longer.
The beauty of the island is found in its ubiquitous lake views, stunning sunsets and most of all in the relaxed and leisurely pace here. Kelley's Island has a wonderfully lovely, slow vibe – there's no reason to hurry, worry, rush or stress while you are on the island. Miss the ferry back to the mainland? There's another in 30 minutes.
KI was also the perfect destination for our first post-Covid vacation, because it was within driving distance and everyone on the island clearly takes Coronavirus seriously. All staff at every bar, restaurant and store were wearing masks, masks were encouraged for guests (even mandated at one store in particular), and most dining took place outside on patios and lawns.
All in all, we felt safe there and had a spectacular time. Here are all the details so you can check out Kelley's Island, too.
Where to stay
We found a cabin we really loved on VRBO, the preferred site for most Kelley's Island rentals. We had a great experience choosing a cabin, locking in our reservation with a deposit and up-front payment, and communicating with the cabin owner all through VRBO. And, since our stay, we've received our deposit back promptly.
We opted for a cabin that was dog-friendly, in a lovely secluded location away from downtown and with amenities we desired such as a hot tub, screened in porch and shaded hammock. We were alerted by our cabin owner that flying bugs can be a nuisance on Kelley's Island, but we did not experience any insect issues in early June.
Some good friends of ours camp out on Kelley's Island every year – that would be another fun option if you love the tent life! The state park also has very cool-looking yurts you can rent.
How to get there
As I laid out in my other post about Kelley's Island, you can take the main Kelley's Island ferry which runs every half hour or so from Marblehead, or there are other options available from Sandusky. It's $10 per day to park, and then there are ferry costs for each vehicle plus each person.
In our new post-Covid world, you have to stay in your car on the ferry, which is a bummer. We used to love getting out and going up on the top boat deck to enjoy the lake views and throw snacks to the sea gulls racing the ferry. It also feels VERY strange to be sitting in your car, on a ferry, while traversing Lake Erie – possibly backwards. If you suffer from motion sickness, this may be a double whammy for you, so just be aware.
Where to eat
Upon arriving on the island, we typically head straight for Caddy Shack in the heart of downtown KI for some yummy pizza and hot subs. It's a great spot to relax and take in the island vibes.
We enjoyed dinner at West Bay, the perfect place to catch a gorgeous Lake Erie sunset. They even fire a real working cannon every night at sunset – it's a trip, and louder than you might think! We ate here our first night, then came back to their beach every night thereafter to watch the sunset and chuckle at the cannon making us jump out of our skin, even though we knew it was coming.
Our favorite breakfast spot was Captain's Corner in downtown, which is really a pub and also one of the only places where we had to eat indoors. Another favorite food and drinks spot was Dockers right down on the marina, where we had great sunset views over dinner and even got to see a couple of cool, rare Lake Erie swimming snakes.
We also loved our Mexican meal at KI Cantina, which is inland with colorful signage, pretty pastoral views and included a free visit with the friendly goats next door at the winery.
What to bring
We packed just about everything we own into our two cars, since we were taking both anyway for four people, three bicycles and two dogs. It's truly not necessary to pack so much – hubby was right. We brought our own bikes but could easily have rented them on the island. We brought a bunch of food and snacks, but ended up bringing much of it home with us as it was so fun to eat out on patios with great lakeside views.
Our cabin was fairly stripped down, so we had to bring all bed linens, towels, paper products, etc – and that was fine but I forgot to bring hand soap along, so that was one thing we had to run out to the island grocery and purchase.
I would say definitely bring sunscreen and bug spray, as there is so much to do outdoors on the island. Comfortable shoes are also a must, with so many gorgeous places to walk and hike.
It's worth noting that fresh produce is hard to come by on the island, as everything has to be trucked in – so bring your own fresh fruit if that's important to you!
And, don't forget your face masks because they are encouraged anytime you walk into a shop or restaurant, required at one shop for sure, plus it's a sign of respect and caring to the staff who all have to wear masks for their entire shifts.
What to do on Kelley's Island
Our favorite activities on Kelley's Island are biking or golf carting around the island, exploring and hiking at all of the gorgeous nature preserves, and relaxing or swimming at the two public beaches. We also loved hanging out at our cabin in the hot tub, lounging in the hammock or climbing and adventuring around at the quarry site nearby.
All of us loved our golf cart. I nicknamed it "Carty-B" and it stuck. She was a sassy little thing and trust me when I say there's no comparison between driving around the island in your own car, vs. bombing around in an all-sides-open golf cart as awesome as our Carty-B. Just do it!
This rental is about $180 for 24 hours and well worth the cost. Golf carts are part of the super fun island vibe that makes Kelley's Island such a unique and wonderful place. Even our dogs loved golf carting around every day!
Bicycling around the island is also a joy, as it's mostly flat with just a few very gentle hills. I really loved riding from our cabin down to the beach several days in a row, and we also rode over to the nearest quarry for some killer scenic views.
Kelley's Island is full of both active and retired rock quarries so there are beautiful water views from almost anywhere on the island – even inland. My hubby joked that soon the island will cave in on itself because they've dug out all the rock, and honestly it does seem possible from certain vantage points!
The island's main rock is limestone and it is chock full of fossils; just about everywhere you look on the island, you will find cool fossils. We learned too late that the Kelley's Island tourism bureau recommends leaving fossils in the wild where you find them (I'll admit, we brought a couple home before reading that – oops!).
Another type of rocks that are common on the lakeshore beaches of Kelley's Island are these unique, rounded, flat rocks which are bleached white by the sun and just perfect for skipping. I regret not bringing a few of these babies home, as they're also perfect for painting!
Then there are the nature preserves – at least five that we counted. All are said to be extremely beautiful, and some have lakeside views, but we fell madly in love with an inland hiking area called the East Quarry trail and Horseshoe Lake.
We visited the East Quarry trail once with the dogs, and loved it so much we had to go back the next day without the dogs so we could spend more time hiking and climbing on the awesome rock formations around the lake. We saw teens jumping in from one of the cliffs; it looked super fun but also a little dangerous and scary, so we took a more indirect route down to the water on foot.
At the East Quarry trail/Horseshoe Lake, Z fell in love with all the gazillions of tadpoles in the shallows. We hiked all the way around the lake and were treated to some amazing 360-degree views.
There are easy trails and paths here, but there are also more rugged, rock- and cave-strewn ways to get around the lake which involve more climbing and awesomeness. We enjoyed both, and spotted tons of fossils in our travels.
Down at the public beach at Kelley's Island State Park, the shore is sandy and easy on the feet. The water is clear, calm and shallow for a long time, so it's perfect for kids. There is a little shade and there are a few benches to sit on, plus a lovely shaded walk to the rocky promenade.
We loved walking and riding our bikes out along this promenade to the end, then climbing on the rocks and peering into the clear, deep water. Once we saw a fish right near the rocks that had to be two to three feet long – it was huge! The Glacial Grooves national natural landmark is right across the street, too and well worth a visit and walk through.
The other public beach is all the way at the other side of the island, near the marina on the far side of town (south side of the island). This beach seems more ocean-like as there are waves on windy days. We didn't swim here, but it looked beautiful every time we drove by on our golf cart jaunts. I'd love to spend more time at this beach next time we visit Kelley's Island.
There were at least four other nature preserves/hiking trails that we wanted to visit, too, but didn't have time. We left plenty to do next time we go back, which hopefully will be annually now that we know how amazing KI is!
Have you spent time on Kelley's Island, or are you new to the Lake Erie shores and islands? Let me know if you have other places in that area to recommend – we'd love to spend more time there this summer or even next.