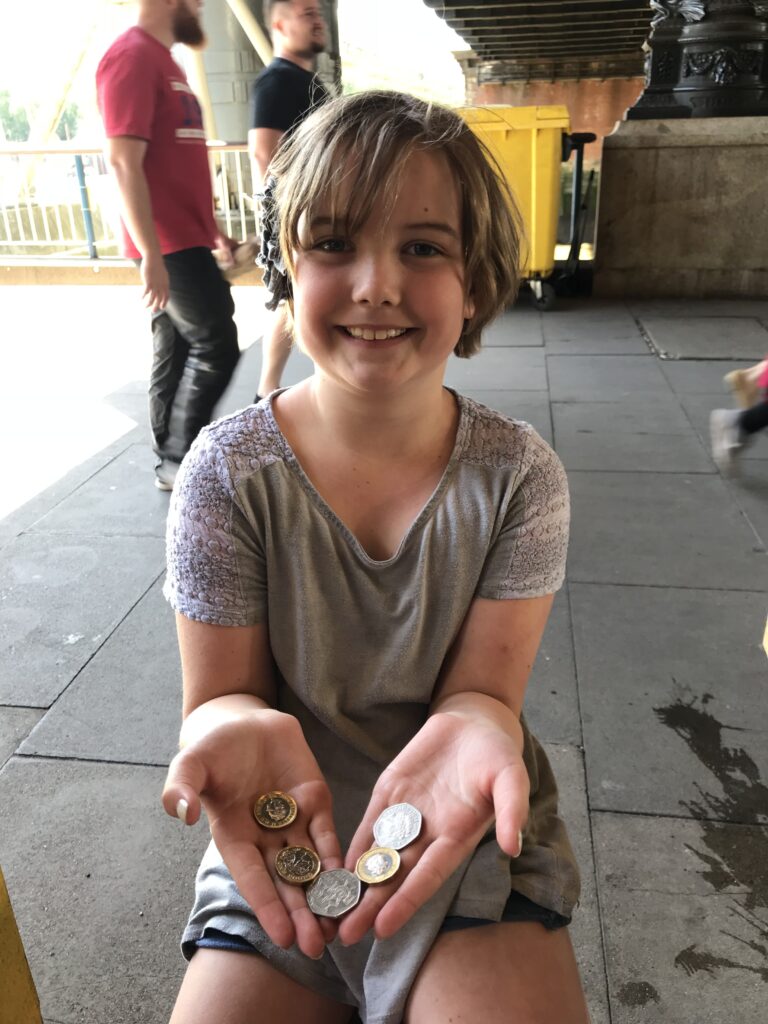 Have you ever busked or performed on the street for money?
I haven't personally – but we let our eight-year-old try it once.
When we visited London a few years ago as a family – back in the good old days when one could travel internationally and interact with strangers – our kiddo fell in love with the idea of creating street art for money.
Here in the US, as in Europe, you can find street artists in many big cities. I do think in this country, street performing is generally associated with begging and is somewhat frowned upon.
In Europe, however, on good weather days there are typically young backpackers everywhere performing various talents on street corners in order to raise funds for their next train ticket to another amazing country.
While walking to and from the tube (aka subway) and various destinations in England, we saw many street performers.
We listened to street corner singers and musicians, watched incredible performances by dancers and acrobats, stood mesmerized by a giant bubble-blower and saw many street artists drawing or painting. All of them collected coins and funds from admiring passersby – and Z really liked that idea.
I've always been a fan of supporting young street artists. I remember years ago, when I lived in NY and commuted into Manhattan every day, there was a rapper who went by "MC Homeless." He was truly talented and would freestyle clever, often hilarious rhymes about commuters rushing by. I would typically drop him a dollar or buy him a bagel when I saw him during my travels.
In London, when our little artist begged to set up shop on the street and draw portraits for donations, at first we laughed it off. But as Z continued to plead their case, we realized there was probably no harm and it could even be a good learning opportunity.
It was one of our final days in the U.K. and we didn't have a whole lot going on. So we sat for a while after lunch at Jubilee park in a well-trafficked area in London, and we agreed that Z could put a sign up and see if they got any takers.
I can picture it now – a shady spot on a hot June day, a bright-eyed American child with sketch paper and pencils, and a hand-drawn sign that said "FREE custom drawings." E and I loved Z's idea to draw for donations instead of setting a fixed price – we thought that was a great way to do it.
Wouldn't you know it, soon enough two lovely young travelers from Holland stopped and said they would like a drawing. Z spent about 20 to 30 minutes carefully drawing a portrait of the two girls as anime characters. They were delighted with the sketch and happily tipped Z four pounds, which equates to just over $6.
Needless to say, Z was delighted! They decided right then and there that a career as an international street artist was in their future. Although they didn't get any other takers while we sat there in that London park, I'm sure it's not the last time Z will do street art for donations.
Z has always been an avid painter, sketcher and artist across multiple media. They are currently creating jewelry and small sculptures in their first business, now known as Xage's Creations. Why not let a young artist make a little spending cash by creating art they love?
Some might think we're crazy for letting Z hang out her shingle in a London park, but it definitely created a few smiles and fun memories. I still love thinking that somewhere, two girls in Holland have a small piece of original custom art from our kiddo to remind them of a sunny day in London.
Do you have fond travel memories like this with your own kiddos? I'd love to hear your travel tales in the comments below or over on Facebook. Heck, if we can't travel right now, we may as well enjoy our travel memories!