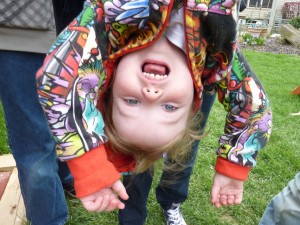 I'm taking a day off today. No, I mean really – I'm totally playing hooky from life. Not from work, because it's legitimately my day off from work (I work four days a week and Wednesday's my day off).
But today, because I felt badly in need of some down time, I decided to drop Zoe off at daycare around 11 am after spending a lovely morning together.
She didn't mind in the slightest – in fact, she got there during storytime and her friends gave her such a happy greeting, she ran over to them and never even glanced back at me (an ideal dropoff scenario). Likewise, I'll pick her up a little early, with a super-enthusiastic warm greeting, giving her another reason to get excited and feel like a queen.
But the four hours in between? They are ALL MINE. I need this. I refuse to feel even the slightest bit guilty about it. After all, taking care of me is pretty closely akin to taking care of Zoe.
You see, I've had to do the single parent thing a bit too often recently due to hubby's work schedule, and if there's one thing it has taught me, it's that I'm a MUCH better parent when I can share the responsibilities (and the joys).
Solo parents get all the props in the world from me – for real. Parenting a toddler is a tough job to do alone, day in and day out, evening after evening, and on weekends too. Single parents of young kids need a break! In fact, if you know one, offer right now to take their kid(s) and give them a few hours off!
When I'm solo parenting, I get stressed and frustrated more often than when I'm sharing the parenting role. When I'm on my own for too long with a toddler, all the mini battles start to add up and wear on me, and I find am not the best mom I can be. My parenting suffers – and I don't think that's good for anyone.
So, I needed a few hours of down time. No responsibilities, other than the puppy – to whom I've promised a super long, extra fast walk (my own bod will thank me for it, too).
Yes, when I cut my work hours and pay 20% two years ago, it was to spend time with Zoe – and my Wednesdays with her are sacred. I don't plan to do this often. But once in a while, when it's desperately needed, I plan to take a mommy mental health day. A blissful, solid chunk of four hours to myself. It's rare and hard won and well-earned, and I don't regret it one bit. And now, let me tell you how I've spent it so far – and share my LuluLemon story.
This is what a sponsored post would probably look like on my blog, if I had sponsors. But since I don't, this is just me raving like a lunatic over ridiculously expensive, yet ridiculously awesome yoga pants.
I'll start off by saying that I don't even do yoga. I aspire to do yoga. I long to have a lithe, lean body that is stretchy and supple and fit. I watch what I lovingly call "yoga porn" with Zoe sometimes, and she'll point to the video, point to me and say "Mommy, do it!!" I usually laugh and say I wish I could… or sometimes I do drop into a (crazy easy) yoga pose just to hear her burst into giggles and see her imitate me.
Doing yoga is definitely part of my long-term plan; I just haven't started it yet. I don't know what I'm waiting for. Maybe the right yoga pants? If so, I have NO excuses after this morning.
I dropped Zoe off at daycare, skipped back to my car whistling and thought "I have four hours. FOUR HOURS!" And of course, the first thing I thought of doing was going shopping. But not just any shopping – secret shopping. Shopping I could never justify doing on a weekend with E and Zoe. Illicit shopping I could only do alone, during my precious, rare four hours to myself. So I headed straight to Lululemon. Have you heard about this place? Home of the $100 yoga pants and laid-back yet fanatical hype.
The first person I knew to own these pants is actually my crazy-cool Mom, aka Mommers, aka Zoe's Gran. While she was visiting us recently from LA, I admired Gran's killer yoga pants – nice enough to dress up with flats and wear out to dinner, yet comfortable enough to roll around on the floor with a toddler all day. Basically the perfect pants for an active, involved mommy or grandmother… except that they had this annoying little shiny logo on the back of the calf that looked like a size sticker, and I kept bending down to try to peel it off her, only to remember it was just a jacked-up logo placement on her fancy-ass yoga pants.
Ever since my folks moved to the West coast, my Mom's neighbor has had a positive impact on her shopping choices – Mommers went from shopping at Kohl's to shopping at Nordstrom. Hence Zoe's Gran being super cool in a pair of Lululemon yoga pants, which is what first put this idea in my head.
The second thing that put the idea in my head (besides my long distance love affair with yoga, and wanting to have something appropriate to wear should I ever actually do some), was that one of my favorite dad bloggers wrote about splurging on expensive jeans and it's a philosophy I totally agree with. Sometimes a hefty price tag is just that, but other times it's the mark of superb quality, awesome service and incredible fit.
And sometimes you just want to treat yourself to something you wouldn't ordinarily buy. I am so sick of buying cheap yoga pants and  having them fall apart at the first wash, come apart at the seams, shrink or just disintegrate. I was ready to believe in the power of $100 yoga pants – but I had to try them on to see for myself.
Here's my best advice of the day: do NOT walk into Lululemon if you're dead set on not believing in the power of $100 yoga pants. If you think that's just not something you could ever get behind, then stay out. Because once you enter the store and try them on, you will be hooked. You will believe, beyond a shadow of a doubt, that you in fact NEED $100 yoga pants.
Dear readers, I wish that I could tell you I tried them on and decided "nah, they're not worth it," because then I'd still have $100 in my mad money account and a continuing excuse to put off beginning yoga.
But instead, I will tell you that store rocked my world, the staff were hip and friendly and awesome, the pants were generously sized and fit like a dream and gave me lots of choices, and I now have my very own pair of gorgeous, skinny-feeling, inspiring and motivating $100 yoga pants.
It was actually hard narrowing it down to just one, but trust me, not even I can justify owning more than one pair of these things. One is plenty. I will love them and cherish them and wear them and DO YOGA in them and maybe even get my butt back to running again. These pants make me feel like I can follow my dreams and work hard and sweat diamonds. Is that worth $100? To me, it is.
I just pray my husband never reads this.
So, what's your guilty little secret? Have you played hooky lately, treated yourself to some well-deserved me time… or splurged on a crazy ridiculous purchase? You can tell me in the comments below. It'll be our little secret.