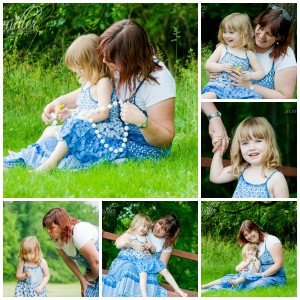 So, it turns out I'm ahead of my time, fashion-wise. A real trendsetter! (Okay, anyone who knows me well can stop laughing now). Seriously though, I've been obsessed with "mom and me" coordinating outfits for at least a year, and now this appears to be a hot trend for spring.
Last year, I cobbled together the outfits you see here so Zoe and I could have some gloriously coordinated mom and daughter photos taken between my birthday and Mother's Day. I got lucky and found a dress for her at Old Navy that closely resembled one I had gotten myself at H&M. I loved the result, although it's possible the dresses were a little TOO matchy-matchy.
Some time after that shoot, I found a designer on Etsy who custom designs adorable matching maxi skirts and dresses for mothers and daughters. We will likely wear these for this year's Zoe and Mommy photo shoot if spring ever gets here – so no sneak peaks yet. You can get a hint on this adorbs Pinterest board about mommy and me fashions.
More options in 2014
There have always been high-end brands who offer a few select coordinated outfits each year, namely Hanna Anderson's "Match with Family" feature and Gymboree's seasonal "Family Looks." But now, we have more choices! This spring, H&M is offering a lovely and affordable "Me & You" line for moms and daughters that I just adore. In addition, I just received a spring mailer from Old Navy that featured several dresses for women that coordinate loosely with similar dresses for girls (although they don't have them grouped together in a nice, neat "mom and me" section on their website. Get on that, Old Navy!)
I'll likely go for at least one more coordinating outfit while Zoe's still game to dress up with – and like – her mommy. I figure we have a narrow window for this sort of thing, and I'm game as long as she is. I'm kind of dying over this flawless Hanna skirt and coordinating girls pillowcase dress, but they're pretty pricey so I may end up back at H&M instead.
What do you think – have you ever done matching outfits with your daughter? If not, would you consider it now that there are so many cute options this year? Whether you love or hate this trend, I'd love to hear your thoughts in the comments below!