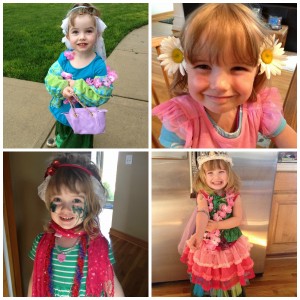 I've been doing this mom thing for a while now, and I have an observation: kids' clothes are awesome! Especially toddler girl stuff. I can't tell you how many times I've wished that the soft, comfy outfits, sassy colorful tutus, and super-fun light-up shoes I buy for Zoe also came in mom sizes. Of course, it helps that Zoe seems to have insanely awesome style. She does things with creative layering that I would never dream up. She's been dressing herself for a while now and I still can't believe some of the amazing ensembles she comes up with. She even helps me get dressed sometimes.
I'm particularly sad this year because I just realized it won't be long before Zoe sizes out of Carter's completely. I can't imagine not having this awesome, comfortable, EASY brand as a staple of her wardrobe. Since she was born, I've relied on their super-soft, comfortable and easily coordinated pieces. Her first year of life, Zoe mainly wore Carter's onesies and adorable "ruffle butt" pants. By year two, she mostly wore their cute tunic-and-leggings combos. By year three, she was pretty obsessed with dresses and tutus, typically with Carter's leggings or capris underneath, except in summertime when we do bike shorts.
Now, we're headed back toward fall and I'm looking forward to some more adorable Carter's leggings and tunic dresses. Why do I love their clothes so much? For the above mentioned reasons – especially how simple it is to mix and match pieces – plus their sizing is so incredibly true. Zoe has always fit perfectly into the Carter's size immediately ahead of where we are age-wise. At 3 months, she fit their 6 months. At one year, she fit their 2T stuff… and so on. That's why I say we're close to sizing out (although on their website they have cute outfits in kid sizes 6-7, so I have longer than I originally thought).
How much would I LOVE to find a brand like this one for me – a brand with soft, cute, comfortable, stylish separates that are interchangeable and easy to live, work and play in.  I guess the closest thing I've found is Hanna Andersson – and I do love their stuff too, for both Zoe and I, although it's pretty pricey. One of my favorite things about Hanna is how durable the clothes are, and the fact that their designs plus generous sizing allow outfits to fit little ones for quite a long time – often more than a year. Another thing I love is their "match with me" line which usually includes a few mother/ daughter coordinating dresses – great for those family portrait sessions!
Stride Rite Disney Princess Wish Lights shoes are the next thing on my mommy wishlist. Okay, maybe I'm a sucker for marketing, but these shoes are so cool! First, they're gorgeous to look at – a mary jane style sneaker with iridescent sequins and a little light-up Ariel gem at the toe. But it gets better. Not only are these light-up shoes (always a favorite with the toddler and preschooler set), the little light-up princess gem changes from white to pink every 2,000 steps, at which point the wearer is supposed to make a wish. So, several times a day she can see her shoes light up pink and remember to make a wish. How sweet is that?! I love that the more steps she takes, the more wishes she can make. Anything that incentivizes activity is good, right? Sure, these shoes are pricey but if you go to Stride Rite during BOGO promotions (which is going on right now, for the record), you can usually end up okay. We paid full price for these babies, but to me they were worth it. I absolutely love the Ariel wish lights shoes and WISH they made them in my size!
I guess I'll keep on questing for my heart's desire: a brand that makes super-soft, comfy and stylish clothes for me that are as cool as everything Zoe wears. I stumbled upon this mom's start-up business making playdresses for moms – these look pretty close to what I'm looking for! I've signed up to support her business and get a dress, so when I get mine, you can be sure I'll let you know about it here.
How about you – have you found the perfect mom brand that is cute, fashionable, easy to mix and match, and not at all frumpy or uncomfortable? I'd love to hear about it in the comments below!