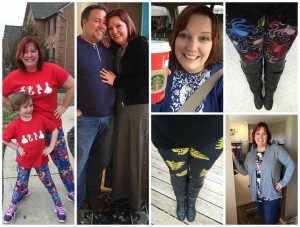 Have you discovered LuLaRoe leggings yet? If not, prepare to have your mind blown and your life changed by the discovery of your new favorite clothing line and shopping addiction. LuLaRoe is everything!
Some time ago a friend of mine reached out via Facebook and asked if I'd like to try a pair of leggings from a new line she's representing. She sent me some information and I'll admit, I was intrigued. She described clothes that are:
Designed by an experienced fashion industry vet
Only available for purchase through individual consultants
Soft, stretchy and comfortable
Made in a variety of small-run prints so you may never see the same print twice
Designed to fit every woman in a wide range of sizes (XXS through XXXL)
Plus adorable kids leggings, tops and dresses too, making possible fantastic mommy and me outfits (not that you know anyone who would do that… who, me?!)
She had me at soft, stretchy and comfortable – plus I liked the prints thing because I have a habit of falling into a deep fashion rut of solid colors mixed with a few stripes. So, I was eager to check out her wares. I went to a pop-up shop she held at a home in Columbus and I fell hard for LuLaRoe. Disclaimer: she also gave me a free pair of leggings in exchange for writing about LLR. But you know me well enough to know that I wouldn't rave like this unless I truly was in love with a product! It's been a few months now and I'm still hooked – and my wardrobe has grown considerably thanks to my LLR obsession.
Here's what I love most about the leggings, tops, dresses and skirts from LuLaRoe: the unbelievably soft fabrics, the wide range of colors and prints, the fun and confident styles, the flattering cut and fit of all the pieces, and the uniqueness of it all – the fact that you may see another woman in LLR leggings (and you'll get pretty good at spotting them!), but you'll almost never see anyone in your exact pattern or print. The funniest thing is, I am pretty sure I wished LLR into existence via this blog post back in 2013 where I wished for exactly this concept.
So now, here's my beginner's guide in the form of five tips for someone just entering this fun new world:
1. Get to know your friendly local LuLaRoe consultant well. You'll want to visit her often to check out her latest prints, try on new items you haven't experienced yet and stay in her good graces so she may even hold special items she knows you're looking for – like a hot new print you've seen online. Janelle is my original consultant and the person who first introduced me to LuLaRoe and I am loyal to her! I do buy from others online, but Janelle is my fave and I'll only host LLR parties through her.
LLR consultants know that their customers may buy from others, because not every consultant carries the same styles, sizes or prints – there's a ton of variety in this line. A great LLR consultant will keep you loyal by learning what you love and letting you know anytime she gets that in – like my awesome matching mommy-and-daughter octopus leggings Janelle got in and held for me!
2. Try on every LLR item and know your size – then you can shop around for prints. I'm a TC (tall and curvy) in LLR leggings, a L in the wonderful Irma tunic shirt, a L in the maxi skirt, and an XL or 2XL in the slinky, body-con Julia dress. Now that I know these sizes, I can look online for prints I'm coveting in a particular style and size. Consultants don't get to order by print, and they don't know what they're getting – so if you fall in love with a particular print, you have to shop around a bit to find them. Where can you do this shopping around? Great question!
3. Join LLR groups on Facebook to see the latest prints and styles. There are tons of groups on Facebook where you can connect with other consultants and LLR fans to find exactly what you're looking for. Even if you only plan to shop through your consultant, it's fun to be on the cutting edge and know what the fresh new designs are each season. That way, you can ask your consultant to be on the lookout for them in your size! My favorite group, "LLR Swappers," is gigantic – close to 40,000 members – and is not run by consultants or LLR. It's a great place to learn more about the styles and prints you may want to find – and also a great place to find them.
4. Host a party for the best deals. Like any good clothing line, LuLaRoe is not cheap – so if you want to earn free or discounted clothing, the best way is to host a pop-up boutique at your home. There's no cost to you and the benefits are many. I loved hosting my first party with Janelle last year and look forward to hosting another sometime this summer or fall. I sold enough leggings and other clothing items to earn FIVE free items for myself! It doesn't get much better than that – and my friends were all super happy with their purchases, too.
5. Watch out for unicorns. The LuLaRoe world has a fun hidden culture all its own, and the stars are the unicorns – a term for prints which are really rare or hard to find, or which are in such high demand that they sell almost immediately. These "unicorns" often end up on Ebay for exorbitant prices (a practice which is universally looked down upon in the LLR communities) but may be a good route if you find a pattern you absolutely have to have.
Then, there are also actual, literal LuLaRoe unicorns – as in, little tiny horned horses – who show up on the leggings from time to time! Sometimes they are worked into the pattern in an obvious way, and other times they are hidden within an otherwise unrelated design. I have started a collection of these leggings and I'm somewhat obsessed – I can't help myself when I see another mini hidden unicorn staring up at me from an adorable pair of leggings!
If you don't have a LuLaRoe consultant and want one, reach out to my pal Janelle and she will give you the scoop about what's available. Or, if you want to dive right in and become a LLR consultant – she's your gal for that, too.
Have I missed anything? What's your favorite thing about LuLaRoe or your favorite item of their clothing? I'd love to hear your LLR unicorn stories – and see pics of your most treasured LLR items – in the comments below or over on Facebook.