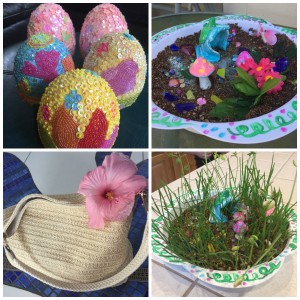 Once upon a time, I used to blog on occasional Fridays about some of my favorite things. I fell out of the habit – but let's get back to it, pronto! I definitely have some fun spring-themed favorite things to tell you about.
1. Godiva beaded eggs. If you only think of Godiva for chocolate, you'd be right – and wrong. Each spring, Godiva comes out with an absolutely exquisite sequined egg. I've been collecting them for about six years. Each year the egg is different and they're all gorgeous. One year, the eggs didn't meet Godiva's high quality standards so they shipped them all back to China and didn't come out with a jeweled egg that year. I was so sad! I love my fancy Godiva egg collection and can't pick a favorite. I'm always eager to see what the design is when spring rolls around. They come stuffed with Godiva assorted chocolate eggs, but in my mind that's just a bonus. Oh – and these things sell out, so if you want one, be sure to check the Godiva site (or your local shop) in early March or you could miss out.
2. Fairy garden. Spring means planting gardens, but in Ohio we typically have to wait until mid May for that. A great way to bring spring indoors and start your gardening early – at least on a mini scale – is with this adorable Enchanted Fairy Garden from Amazon.com. We've given this as a gift to several friends, and we have one ourselves that we love. It's so fun to see things grow – almost overnight! And the little planter and fairy accessories are fun to decorate, arrange and rearrange. There's even glitter – which makes everything better, obviously.
3. Spring (eternal!) lips via Lipsense. A few friends had told me about Lipsense, the lipstick that lasts all day with no smudging, smearing or fading, but I was skeptical and put off trying it. Lipsense is not cheap but it definitely lives up to the hype – I tried my first color earlier this month and now I'm hooked! What better way to freshen up your look for spring than with a new lip color you can put on in the morning and enjoy all day long – even through eating, drinking and kissing! Have you tried Lipsense yet, or run into its avid fans? They're everywhere. 😉
4. Mommy & me Lularoe collection. Just when I think I couldn't love Lularoe any more, they came out with a new mother/daughter line of coordinating and matching looks for 2017 in spring florals and stripes. LOVE! Of course Zoe and I had to have a new pair of adorable matching tops. They arrived just in time for Easter this weekend, and we'll also rock them for Mother's Day!
5. Spring line from Stella & Dot. Spring is a great time to freshen up your accessory collection, and that's why Stella & Dot comes out with a big line refresh every spring. This year was no different and there were some wonderful new additions – plus the new summer line (a smaller collection than spring) is also out now. I'm in LOVE with some of the new pieces. My two new faves, one from spring and one from summer, are the Ellie Hobo bag and the Tresse statement necklace. Take a look and see what you think – and don't forget to let me know if you'd like to place an order!
And a bonus one! I got our dogs new matching spring collars from Blueberry Pet on Amazon. They have an awesome selection, but I went with a gorgeous pastel floral because duh, spring. So far the girls (and our groomer) just love them!
How are you welcoming spring? I'd love to hear in the comments below.