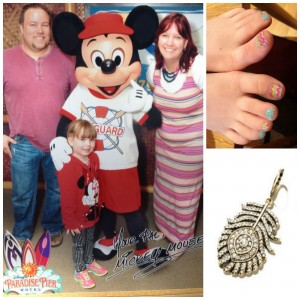 It's time for another installment in my Friday Favorites series. If you like this post, check out the others that came before!
Spring is finally making a slow return here in Ohio. I am all about it, because it's been a cruelly long winter. Here are some great finds I've discovered lately to help make my long-awaited spring even sweeter.
The perfect (and I do mean perfect) pair of earrings. I wish I could tell you that you can find these too, but alas, they are no longer available. However, I found mine on Ebay, so if you fall in love as I did, haunt that site and don't stop until you've found them! These are incredible, vintage-looking rhinestone feather earrings that I scored for under $10. Believe it or not, they are from Avon's Mark brand. Talk about the find of a lifetime. I love and will treasure these earrings! A girl can look for years and not find something so perfect at such a great price.
Maxi dresses everywhere. Thank God these were not just a passing fad, but are in fact here to stay. All hail the all-forgiving, all-concealing maxi! I've scoped adorable maxis online at Lila-Rose and Be Inspired, but I've also seen 'em in person at Old Navy and Target. I loooooove me a gorgeous floral print maxi with a chambray shirt knotted in front, or a black and gray stripe maxi with black cardigan over it for work (in fact, I'm wearing the latter as I write this). What could be better than yoga-pants comfort yet a look that is stylish and chic? I'm wearing one of my favorite (Target) spring maxi dresses in this Disneyland pic from our recent spring break getaway.
Groovy shades. For about ten years, I've coveted an over-priced pair of Maui Jim sunglasses for NO other reason than they remind me so much of the beautiful island of Maui. I've never been one for high-end stunna shades simply for status, but these things are uber polarized and simply rock. Well, I finally got my beloved Maui Jims this year. You see, I accidentally put too much in my healthcare flex spending account, and at the end of the 2013 plan year I had to spend a couple hundred bucks in a hurry! Hence, gorgeous new Maui Jim "Punchbowl" shades for Lara – and in a lovely pale turquoise hue. I absolutely love them.
Flawless lips. I'm not a big make-up person – in fact, I kind of love that bare faces are in style – but I do adore a mostly natural, yet slightly glam lip. Enter my new find from Clinique, the most exquisite, all-season lip product ever: Black Honey Almost Lipstick. Not quite a lipstick, but not glossy enough to be an overly-annoying lipgloss, it's absolutely flawless in every way. Don't be put off by how dark it looks in the tube – this sheer shade is basically the color your naked lips WANT to be on their best day. I've been told it looks good on everyone regardless of skin tone, and I believe it. A quick google search will reveal that bloggers everywhere – even our oh-so cynical friends at Jezebel – fall all over themselves praising this product. It's been one of Clinique's top 10 best-sellers for years with good reason. Treat yourself, you won't be sorry.
Stylish toes. Am I late to this one – does everyone in the world already about Jamberry nail wraps? Well, I'm glad I finally got on the train. I "attended" a Facebook party for Jamberry and fell in love with the designs and the concept, although I remained a wee bit skeptical. Now that I've experienced the application process, I'm officially a huge fan. I did Zoe's little toes and can't wait to do mine this weekend! Zoe loved her toes at first, but unfortunately, she has since pulled her wraps off. I'm hoping once she sees mine on, she'll want hers on again. It's pretty easy and the more you do it, the easier it gets!
There you have it – five things I'm loving right now. What about you – what's on your mind, skin or bod now that spring has finally rejoined us? As always, I'd love to hear in the comments below!