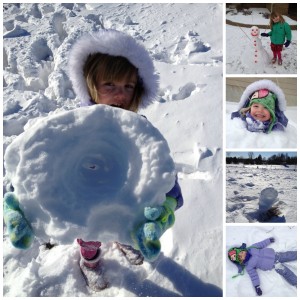 As I've written before, I don't enjoy winter – I survive it. Sometime right around the day after Christmas, the novelty and beauty of snow wears thin for me. Usually I plan a mid-winter escape to somewhere a bit warmer just to give myself something to look forward to.
But it's really, really hard to remain a killjoy about winter when you have a little one in the house who is utterly stoked to go outside and play in the snow!
My favorite winter delight this year is Zoe's pure, unadulterated joy over the white stuff, icicles and everything else related to it being so cold out there. It's hard to resist! Even with the ungodly cold of this year's #PolarVortex, when it was quite literally too cold to go outside, we still found ways to entertain ourselves and keep from going crazy. We took trips to Menards to run amok in the aisles, spent time at our favorite pet store hugging the critters, and browsed the new Cabelas near us where Zoe made herself quite at home in the various sleeping bags and tents set up around the store.
The Disney movie Frozen was a huge winter bonus for us – we've seen it twice in the theatres and, thanks to an Internet copy of questionable origin, we've been able to watch it dozens more times in the warm comfort of our own home. In addition, Zoe got the soundtrack for Christmas so that is always on in the car. We all know the songs by heart.
We've made both snow ice cream (our chocolate version involved a bowl of freshly fallen snow with some hot fudge mixed in – delicious!) and instant frozen yogurt treats (simply drop any flavor of yogurt in spoonfuls on a plate, then put it outside for a few moments when the weather is below zero).
But I think the true highlight of winter 2014 for our family has been the mystical, almost eerie appearance of snow rollers all over our neighborhood and much of the midwest this week. Snow rollers, or snow donuts as they are also called, are amazing! This unbelievably rare and cool meteorological phenomenon made national news as it apparently hasn't happened at this magnitude in a very, very long time. We had small ones on our front lawn, but I took Zoe down to our local park to experience fields full of snow rollers. There, we got to pick them up, hold them, crush them and – Zoe's favorite new pastimes – eat and stomp on them.
I'm still longing for spring. I'm still never going to be a so-called "winter person." But I have to admit, as cold as it's been and as long as it seems to be stretching out (how many days do we have left until spring?!), this winter has definitely had its share of unexpected delights and wonderful moments. I can't complain too much.
That said, I am definitely getting excited for our March trip to LA to see my family, the sun and of course DISNEY! How about you – what's been your favorite part of winter 2014, and what's getting you through til spring? I'd love to hear in the comments below.