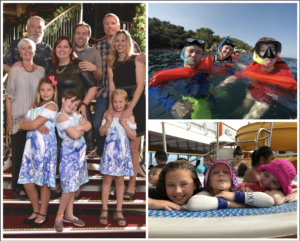 We had a blast with our extended family cruising the Mexican Riviera over Christmas 2017 on the Norwegian Star. If you're looking for a trip the whole family will adore – from kiddos to grandparents – consider a cruise. Modern cruise lines truly offer something for every age and interest!
The route
We flew to Los Angeles a few days before Christmas, spent a night at my folks' house and then set out with them the next morning for the LA cruise terminal to board the Norwegian Star. We planned to meet my brother, SIL and their two daughters – Z's beloved Cali cousins – aboard ship. We settled down for a nice lunch in the uber-fancy Versailles dining room, and no sooner had we ordered than the rest of the Cali crew arrived and the party could really start!
Our 7-day Christmas cruise took us south along the Mexican Riviera to Puerto Vallarta, Mazatlan and Cabo San Lucas. I loved each stop but I have to say the ports were not even a highlight for Z – she loved the ship itself so much, she never wanted to leave! We booked shore excursions for two of our ports and did our own DIY shore excursion in Mazatlan. My folks, bro and his fam have done this exact Mexico cruise three other times – and E and I have done it ourselves with them once pre-kids, many years ago – so we all had some familiarity with both the ship and the ports of call.
The cabins
We were pleasantly surprised by how live-able our balcony stateroom was for three people. Z had a little pull-out couch bed right next to ours so we all slept comfortably and there was still room to breathe. Honestly, anytime we were in the cabin, I was out on the lanai overlooking the waves and watching for dolphins, sea lions and whales. I absolutely love cruising as long as I have that ocean-view cabin with balcony! There's nothing more soothing for me than being gently rocked to sleep by the sound and rhythm of ocean waves.
The Cali cousins had their own cabin next to ours (adjoining with their parents), so Z spent a ton of time with the girls in their cabin. She even considered having a sleepover with them, but ended up hanging out with them til late and then coming back to our cabin to sleep. It's probably for the best – not sure they would have gotten any sleep at all if the three of them bunked in together!
My folks splurged for an oversized suite at the back of the ship and had a great view and larger balcony, but they barely spent any time in the cabin so I'm not sure it was worth it. The ocean-view balcony cabins we had were just fine as far as I'm concerned! We all loved the fabulous little towel critters made by our cabin steward each day when he tidied the rooms.
The food
I really enjoy the food on Norwegian cruises. It's so kid-friendly and enjoyable! Z was always able to find things she loved at the buffets for breakfast, lunch and dinner. While I personally prefer the non-buffet restaurants, it was nice to be able to get the cousins fed first at the buffet and then send them off to the kids club so the adults could enjoy a nice sit-down meal with table service. In addition to the buffet, we all enjoyed meals at Versailles, O'Sheehans, Ginza, Moderno, Aqua and Le Bistro. Z still craves the yummy deluxe breakfast buffet with fresh fruits, pastries and "mashed potatoes" (aka whipped cream) galore.
The fun
If you ask Zoe, her favorite things about the cruise were having fun with her cousins in their cabin, the hot tubs, the pools, the kids club and all over the ship. Having all three girls on the cruise together was a joy for everyone, and we got fantastic photos every single day – both our own and the ubiquitous professional photographers' snaps.
Each night after dinner, we all headed to the Stardust theatre for wonderful evening performances by musicians, acrobats, dancers, singers and magicians. It was like a taste of America's Got Talent live on stage every night, and we loved it! As part of the kids club program, all the kids learned and practiced a circus routine and put on a big show on the last day at sea on that very same Stardust theatre stage. That was another highlight for sure.
In addition, there was a musical group, the Astorga Latin Duo, who performed nearly every afternoon or early evening on the cruise and quickly became the girls' favorites. Anytime Carla Astorga was singing, the girls had to be front and center, dancing along to the music. Carla soon called the girls by name and brought them up on stage to dance with her, making Z and her cousins feel like rock stars! I wish she had a CD because we surely would have bought it – she has an absolutely amazing voice.
Another fun activity on the last day at sea was a painting class. I had intended to take it with Z, but they were short on space so I gave up my spot and simply watched and photographed her painting instead. I enjoyed it just as much that way – and I'm sure my canvas never would have turned out as great as Z's! I loved seeing our little artist do her thing and the end result, a beautiful sunset painting, is a lovely memory from our time on the ship.
The ports
As for our time off the ship, I loved each stop in Mexico. Christmas Day we docked in Puerto Vallarta and went ashore en famille for a fun shore excursion day visiting Yelapa and Majahuitas. First, we boarded a catamaran motor boat to Majahuitas Cove for snorkeling and sea kayaking, which we all enjoyed very much. While deep water snorkeling off the boat, Z, E and I got to see an octopus and parrot fish interacting. They may have been dancing, fighting or playing – we weren't sure which, but it was so cool to watch and seemed fairly amicable! We had lunch aboard the boat, entertainment from the wacky crew headed by "Sexy Alan," and then motored over to Yelapa, a tiny jungle village with a steep, dirt road climb up to a picturesque waterfall.
E and Z opted to stay on the beach at Yelapa cove and play in the waves, but the rest of the family embarked on the Yelapa village/ waterfall hike. I took tons of photos and video – it was picturesque and beautiful, but also a pretty close-up look at extreme poverty. We ended up hiking back down to the beach after the waterfall, where I met up with E and Z who were having a blast playing in the waves! We all ended up getting pretty roasted that day – I always forget to dry off and reapply sunscreen. Oops! After our time at the beach, we headed to the Yelapa dock where we waited for the catamaran to pick us up and take us back to the Norwegian Star. All in all, a very fun day for the whole gang. Back on the dock by the ship, we shopped a little at the market and picked up a couple of adorable little jeweled turtles made from onyx and Mexican opal – I just love them!
Our second port was Mazatlan the very next day. There was a nice market right on the dock next to the ship with many vendors and fun opportunities to barter and buy goods, plus my brother and SIL knew where to hop a ferry to a lovely little beach known as Stone Island. For just $2 each, we ferried over to a gorgeous sandy beach with restaurants all along the shore so we could take our pick of where to sit down for chips, salsa, guacamole and cervezas. Loved it! This time, my folks, Z and E had opted to remain on the ship and enjoy the pools so I took this day trip with my bro and his fam. I enjoyed our time on Stone Island and we were visited by many vendors while we sat and enjoyed our drinks and snacks. I ended up buying a few small souvenirs to take back to Z and we met a giant iguana – the biggest I've ever seen – appropriately named Godzilla.
Once I got back on the ship and found E and Z, I convinced her to disembark with me and go to the little nearby market, where she was delighted to see how far her spending money went in Mexico! She got a couple of adorable little hand-made dolls and I bought some sugar skull decorations for my office. Love shopping in Mexico and anywhere you can buy fun, pretty hand-made goods and experience a bit of the local culture!
Our third and final port was Cabo San Lucas, one we had been looking forward to all year because of our planned excursion: swimming with the dolphins! I had done this once before, 10 years ago at another Mexican port, and our Cabo Dolphin encounter was also a great experience. Cabo has such a fun party vibe, but it's also far more touristy than the other stops on this cruise. Z loved her dolphin and elected to hold onto her fin as she dove to the very bottom of the pool – way deeper than I'd ever feel comfortable going, but Z did great! We got some terrific photos with our dolphin and enjoyed our time hugging and swimming with her.
Once we showered off, we found our way back to the ship and stopped for lunch and some souvenir shopping. That's where I picked up my favorite Mexican candy, Jamoncillo de Leches (Mexican milk candy). Yum!
We enjoyed a couple more days at sea as the ship powered back up north to Los Angeles. Three ports didn't seem like quite enough for me – we enjoyed a fourth stop very much when we did this Mexican Riviera cruise with Norwegian back in 2007 – but fortunately the days at sea were super fun so we didn't miss much.
I should note that the ship's staff and crew put on a fabulous Christmas celebration on board, including gifts and photos with Santa, Christmas caroling in the atrium and more. It was a festive week and we enjoyed being with our Cali family for Christmas, since it doesn't happen too often!
All in all, it was the "best vacation ever!" says Z, who has certainly been on some pretty incredible vacations – so she should know. What do you say – do you enjoy cruises? Have you taken a cruise with your immediate or extended family? I'd love to hear about it in the comments or over on Facebook.