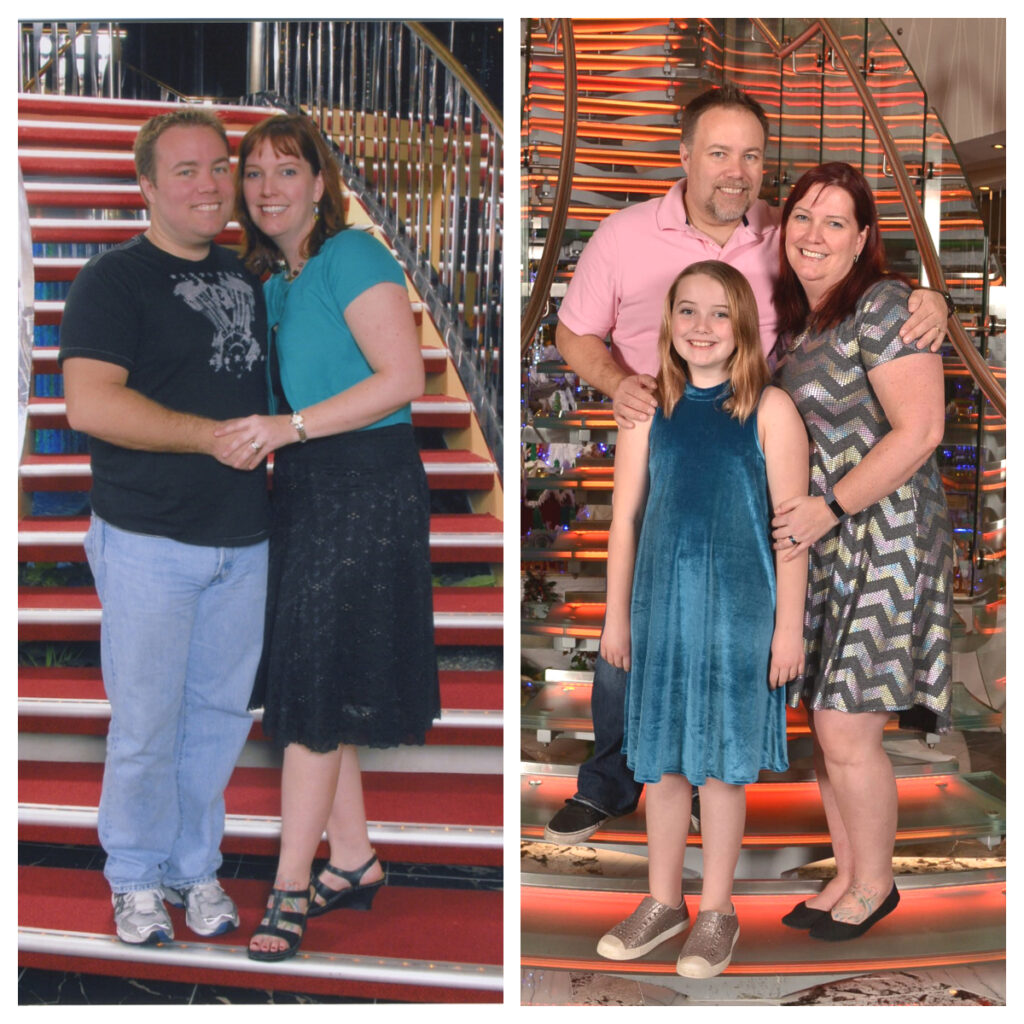 This time last month, our lucky little fam joined my parents and the rest of my family (my brother, SIL and their two girls) on a Norwegian Christmas cruise to the Mexican Riviera.
We all know this particular cruise itinerary well, and we love it!
While traveling at Christmas is not for everyone, Z and I absolutely thrive on it. We had an early Christmas celebration just for us three, and then E and I wrapped up our respective work obligations and we headed to Los Angeles.
There, we reunited with our Cali crew for a day or two, adjusted to West coast time and boarded the Norwegian Joy for our cruising adventure.
It's worth noting that our two prior cruises (2007 and 2017) were on a standard-size cruise liner: the Norwegian Star. While that ship certainly seemed big enough for its 2,348 passengers and 1,031 crew members, it is dwarfed by the massive super-ship we experienced on this cruise. One of Norwegian's newer ships, the Joy holds 3,804 passengers and 1,821 crew members. In short, she's a behemoth!
Bigger isn't always better
Our entire family had a great time on the cruise and, especially since it was a gift from my folks, I never want to seem ungrateful. That said, I also want to be honest in my reviews here – so I must mention that E and I weren't necessarily super-fans of the super-sized ship.
More passengers meant more lines anywhere we went and also necessitated making reservations well in advance for all meals (outside of the buffet), shows and other activities on board. It also meant we missed out on our first choice of shore excursions, although I have no complaints about that because we ended up loving our whale-watching tour in Puerto Vallarta.
Bottom line, if you're wondering whether to opt for a standard size cruise ship or one of the newer mega-ships, I'd say read the reviews on Cruise Critic and just know that more passengers can mean more crowds and hassles.
Ode to Joy
Some of our favorite things about this cruise were similar to our past experiences on Norwegian. The ship is not just big but beautiful, with enough gorgeously appointed decks, restaurants, bars, lounges and nooks and crannies that we still found new-to-us areas even right up until the end of our cruise.
The Observation Lounge was one of our favorite relaxation spots and we only discovered it on our last sea day. Stocked with an honest-to-goodness Starbucks cafe and tons of seating options with panoramic ocean views, this lounge is a truly lovely place to while away your time at sea.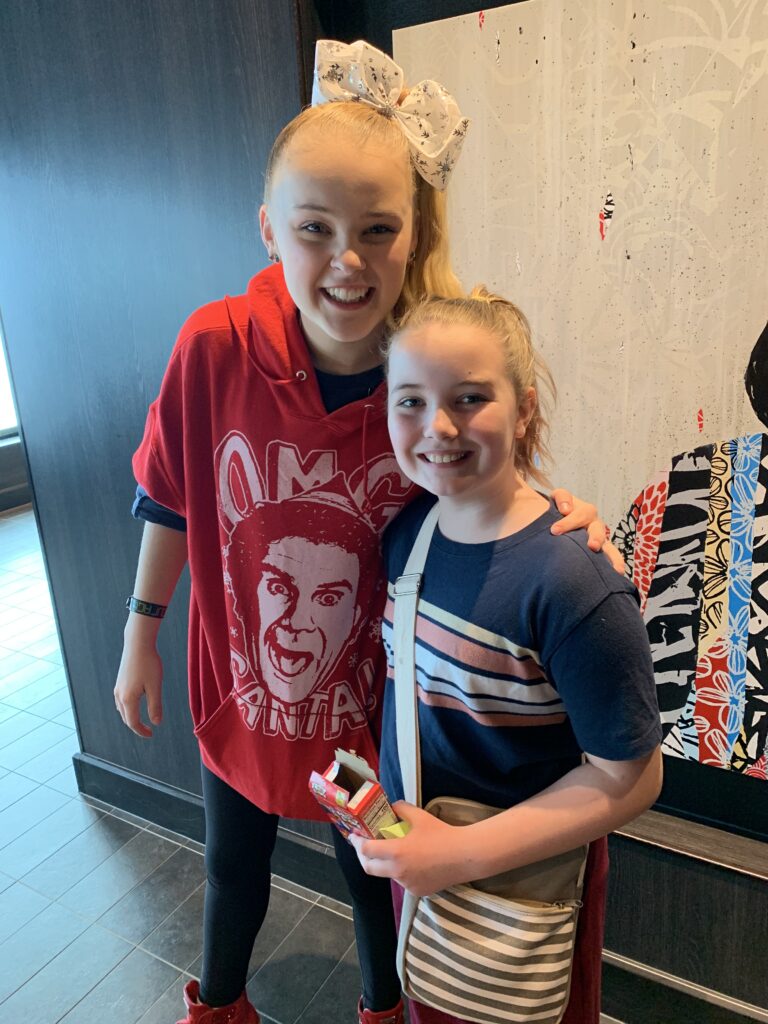 Norwegian offers fun painting classes, so Z spent one morning at sea painting a gorgeous sunflower. As an added bonus, rising star Jojo Siwa was on our cruise too, and she happened to sit right next to Z in the painting class. Talk about an unexpected cruise highlight!
Our family loved the two evening shows we saw in the Joy theatre – Footloose (based on the Broadway musical) and Elements, which was more of a Cirque du Soleil style extravaganza.
During the days, Z and her cousins adored the hot tubs, pool area and slides, although it's worth noting that one of the Joy's two small pools and its most exciting, over-the-edge water slide are reserved for adults only.
Food, glorious food
Meals are always a highlight on any Norwegian cruise. On the Joy, the included (aka free) restaurants were terrific, with three ornate main dining rooms (Taste, Savor and the Manhattan Room) offering first-class table service, plus the casual Garden Cafe buffet and several other options we never even got to.
Then there were the specialty restaurants, which each took cuisine, service, theming and decor to an even higher level.
Our little fam really enjoyed our specialty meal at La Cucina, where we dined on Italian food al fresco style out on the deck. The sunset and Cabo San Lucas views combined to make it one of the prettiest dining settings I've ever experienced. We also had a fun, casual meal with all 9 of us together at Q, the barbecue specialty restaurant, where the comfort food was a huge hit for all ages and the country band was a festive (if a bit loud at times) accompaniment.
Our surprise favorite meals of the trip came from a corner of the buffet known as "A Taste of India," where we experienced fresh, delicious and flavorful Indian food that was among the best we've tasted anywhere. The Indian corner became our standard go-to for most of us adults at both breakfast and lunchtime – it was that good!
Fun on the high seas
As far as entertainment options, E, Z and I fell hard for the Galaxy Pavilion – a super modern video arcade where all the games incorporated fully-immersive virtual reality (VR). We tried a few different games in there, settling on the 7D VR Dark Ride and the Jurassic Park VR Jeep as our favorites.
Z also played "Walk the Plank" which involves walking along a balance beam while the VR headset tells your eyes and brain that you're actually hundreds of feet up, walking a tightrope between skyscrapers to save a kitten. She loved it and did in fact save that ornery little kitten!
One sour note on our second to last sea day was a negative experience with the Joy's electric-powered race cars. Norwegian was the first cruise ship to install a race track at sea, and Z was excited to try it. I signed E and Z up for a double so they would be in the car together, but our first disappointment was that they canceled the double car runs and downgraded us to a single ride for Z alone.
Then, the crew members in charge of the Speedway rider safety briefing had strong accents so Z was not clear on instructions, and when she asked questions they expressed clear annoyance with her. Not a good start.
She got a bit flustered and either had equipment trouble or simply couldn't get the hang of the pedals – but either way, her car wouldn't go and she got stuck out on the track with the other race cars whizzing by her. I asked a crew member to help her and was given an annoyed one finger up in the air to tell me to wait.
I kept an eye on Zoe through the glass and when I saw her little face growing red under the helmet, I knew she was getting pretty upset. So I asked again, in a louder and clearly frustrated tone, WHEN was someone going to help my daughter?!
Only then did a crew member walk out to the track where she was stuck, help her get the race car going and then wave her off to the side to get out. Yes, that's right – after all that, she didn't even get to have her full turn.
I was furious that they had treated her so unfairly and demanded a refund, which we promptly got – but even at that, they were not apologetic and seemed not to understand that this was a customer service fail (or perhaps they just didn't care).
I will say this was the only bad service we got on the whole cruise – the rest of the crew members were superb. It really seemed that the crew members working the Speedway are not good with kids and perhaps should be reassigned to an area where they won't have to deal with them.
First stop: Cabo san Lucas
The Joy stopped at three ports along the west side of Mexico known as the Mexican Riviera. Cabo san Lucas was our first stop, arriving into port early on Christmas Eve morning accompanied by a gorgeous, fiery sunrise. We also saw whales spouting the moment we looked out of our balcony that morning.
Cabo has always been a favorite of ours due to the gorgeous views, abundant sea life and close proximity to La Paz where we have spent so many wonderful sailing vacations.
We didn't have an official shore excursion planned for Cabo, but instead got off the ship and wandered through the marina seeking out our own DIY adventure. Having been here before, we knew there would be dozens of locals offering glass-bottom boat tours of the sights, and our goal was to get one of them haggled down to $10 per person (the price we paid several years ago).
As it turns out, we were only able to negotiate the rate down to $12 per person – but that's still a great deal compared to the full-price shore excursions booked through NCL. We had a lovely glass-bottom boat ride to see loads of tropical fish plus sea lions, pelicans, Cabo's amazing scenic coastline and iconic arches, and some exquisite beaches.
Our driver would have gladly dropped us one of the beaches, but then you end up having to pay again in order to get a ride back to the dock – so we decided to stay in the boat and skip the beach that day.
After our tour, we wandered the town of Cabo a bit to shop and then stopped for a snack of chips, salsa and guacamole at one of the open-air cafes. I even got to take advantage of a little free wifi – it was nice to check in on email and social, plus post a few photos to Instagram!
Merry Mazatlan
The next day, Christmas morning, found us cruising into the port of Mazatlan adorned by a lovely, pastel sunrise.
After some Christmas festivities onboard – including a visit with Santa and elves for cookies and a gift, and then a stop at the interdenominational church service with my Mommers – Z and I headed ashore. Instead of an official (expensive) shore excursion, once again we opted to go it alone and simply shop a little on our own in the cruise terminal market.
Z and I shopped til we dropped – and also got her hair completely braided by some awesome local ladies with lightning-fast fingers. Then, once I got her back on board and into the pool with her cousins, I took E back down to the Mazatlan market to browse around.
I simply hadn't had enough – I love the colors, energy and culture of Mexico. I could have wandered around that market all day! E and I shopped a while, then had a drink at a cafe – and enjoyed some more free wifi – before heading back onto the ship to join the others at the pool.
That night, all nine of us enjoyed a festive family dinner together at one of the main dining restaurants (I'll admit, I couldn't tell Taste and Savor apart, but it was one of those and it was lovely).
I've already blogged at length about all the fun we had at our third port, Puerto Vallarta, so I won't go into any additional detail here. I will say that was the only port where we chose an official shore excursion and we loved it! NCL does a great job with the on-shore activities and even though you pay more, you also have a lot more confidence that things are going to go smoothly and get you back on the ship in time.
So, there you have it – a recap of our latest and greatest cruising adventure. Do you love cruises too, and what was your favorite cruise line and itinerary? I love dreaming about future trips, but hubby has made it clear he's all done with cruises for the immediate future. They're just not his thing.
I'd love to hear your cruise stories in the comments below or over on Facebook!