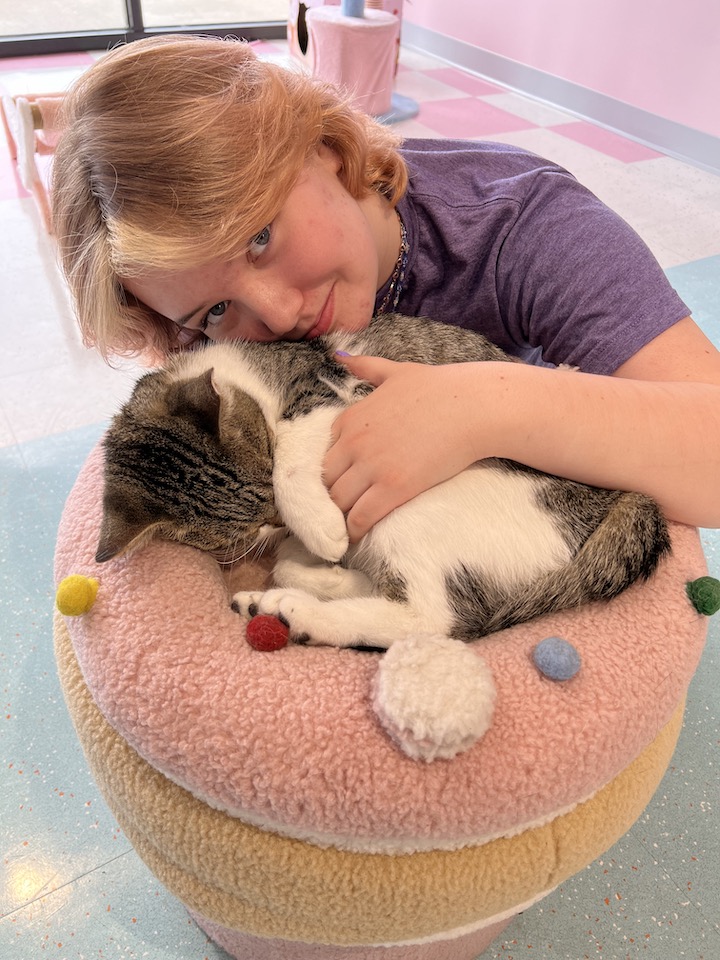 If you love cats, bubble tea and adorable cafes almost too cute to believe, have we got a treat for you.
The new Kitty Bubble Cafe in Clintonville is literal perfection – or dare I say purrfection – in absolutely every possible way.
The decor, theming and details of both the cafe side and the cat room side are lovely, kawaii (Japanese for ultra adorable) and kitty-themed.
In fact, this place is so cute that you may want to coordinate your outfit accordingly before you go. I'm not saying I did that. Okay fine, I totally did it!
The bubble tea itself is delicious, adorably named and served in perfect, cat-eared cups. We highly recommend the Brown Toe Bean, which is black milk tea with brown sugar boba (that are PINK!) and a delicious milk cap.
And best of all, assuming you've made a reservation online ahead of time, you can pop over into the cat room side to enjoy your refreshment with feline friends who are living their best lives in the most adorable and cat-friendly setting imaginable.
Z and I loved absolutely everything about this place. I loved that even someone with cat allergies could stay on the cafe side and just enjoy watching the kitties through the peep holes. A few of the cats LOVED sitting by the peep holes and watching visitors on the cafe side, too!
Kitty Bubble Cafe thought of everything. Even the cat room rules are cat-centered and not visitor-centered; no picking up the cats, no petting the cats who are relaxing up high on the cloud-platforms because they are clearly opting out of visitor interaction, and no running or bothering the cats.
Kids are allowed but only with close supervision. While we were there, a few younger kids came in but they didn't stay long as it can be hard for young kids to follow rules like no chasing, only gentle play and no picking up.
This would be an incredible place to bring a book and enjoy a quiet read in the company of delightful cats and with a delicious bubble tea in hand. It costs $15 per hour to hang out in the cat room, and it's free to visit the cafe side and peek into the cat room through the windows.
The bubble tea is slightly more pricey than at a typical bubble tea place, but considering how gorgeous the decor and theming are, including the cups themselves, I didn't bat an eyelash at the cost.
Z and I will absolutely be back. The staff were friendly and super knowledgeable about each cat's personality and back story. The cats seemed truly happy and had so many fun enrichment and exercise opportunities. The cats also have a separate, private room they could go to for litter box purposes or just to get away from the visitors.
When I die, I want to come back as a cat at Kitty Bubble Cafe! In the meantime, I'll just enjoy being a customer.