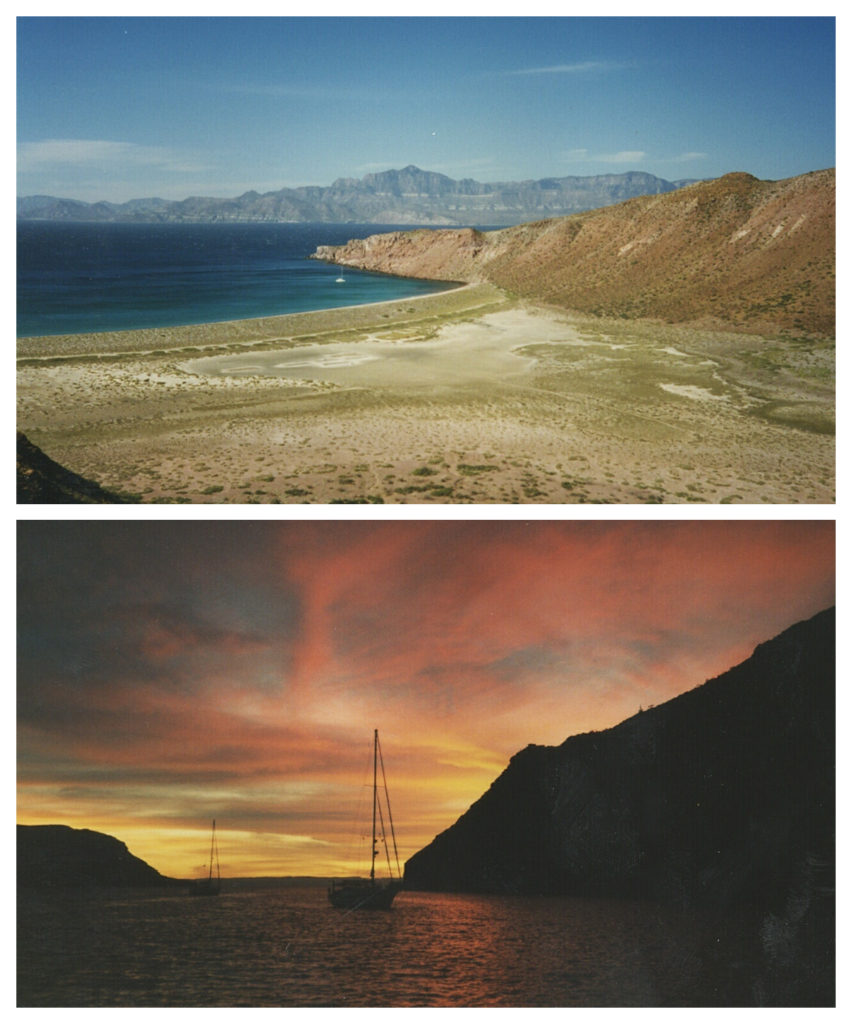 I've been pretty blessed to travel to some amazing places in my lifetime thus far, and y'all know I just looooooove to reminisce about past travel.
In fact, dreaming and waxing nostalgic about past trips is almost as much fun for me as planning and fantasizing about future trips!
Certain places really do stay with you, though.
The South Pacific was so idyllic, so preternaturally beautiful, that it is seared on my retinas forever.
Israel was a spiritual and cultural wonderland – utterly unforgettable in every way.
Maui will always have a place in my heart, and more than likely will end up on my skin as part of my forever art collection one day.
But there's another place… a small seaside town in Baja California, Mexico on the Sea of Cortez, far off the usual tourist track, that I actually still dream about sometimes. I haven't been to La Paz in years, and I may never go back. Still, that area of the world is a place that was once very familiar and dear to me and will always be a treasured memory.
Soon after moving to LA in 1994, my parents got a sailboat very much like the one we had all through my childhood. They even gave it the same name! But not many years after getting the sailboat, they realized keeping it at the marina in Redondo Beach was pricey and they weren't taking it out enough to make it worth the cost. That's when my Dad decided to move it down to La Paz, Mexico and charter it out as a vacation yacht through the Moorings.
While their sailboat was chartered out to vacationers throughout the year, we made it a point to go down a couple of times each year and sail her ourselves through the Sea of Cortez. I was fortunate enough to go with my family on three occasions: spring break 1996, Christmas 1996 and Christmas 1998.
It's crazy that a place I visited only three times in my mid to late 20s is still so memorable to me – but I can picture it perfectly!
I remember La Paz as a tiny, seaside fishing village with few visitors and hardly anyone who spoke English. It was always sunny and hot, with a dazzling blue sea and friendly shopkeepers. It is there I remember having the best chips and salsa of my life while sitting in the sun in sight of the beach, outside a restaurant not far from the marina.
Wikipedia tells me that La Paz is a bustling state capital now, with a booming ecotourism trade, but I find that hard to believe. I remember it as a sleepy little place, all bright sun and no shadows with an unforgiving desert climate. I remember a cool local pottery place, which apparently is still open. My kitchen is still graced by several gorgeous plates and bowls we bought there.
Our sailing vacations in the Sea of Cortez were altogether magical and memorable – we saw giant rays, dolphins and more. We snorkeled off shore, swam in 1,000 feet of water behind the boat on slow sailing days, and had incredible mountain-climbing adventures on the rocky, desert terrain at each of our island stops. But for some reason, what I remember most were those moments when the boat was docked at the marina and we got to meander into town and explore La Paz. Perhaps it felt like an escape after being cooped up on a sailboat with my family for a week or more!
I've been relatively close to La Paz on two other occasions, when our NCL Mexico cruise took us down to the Sea of Cortez with a stop at Cabo San Lucas in both 2007 and 2017. And in fact, we'll be there again this Christmas when we all board the NCL Mexican Riviera cruise one more time. I wonder if there's enough time on that port day for us to take a side trip over to La Paz, so I can lay eyes on this adorable seaside village once more?
No… perhaps best not to. If La Paz has grown and developed as much as Wikipedia says, I may be better off with my memories of a small, simple seaside village without a hint of tourism or tackiness.
What travel destinations have stayed with you the longest – and do you long to go back, or are you content to remember them fondly? I'd love to hear your travel tales in the comments below or over on Facebook.