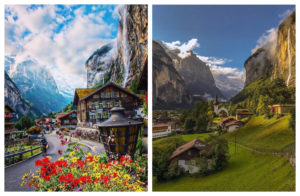 I have a crush. There, I said it.
I can't stop thinking about my magical crush and daydreaming about visiting someday. I search online for videos, read articles, drool over photos and keep lists of things I want to do together.
My crush is on the country of Switzerland, and more specifically, on a little valley town called Lauterbrunnen in the Bern region. This is no passing fancy: I AM IN LOVE.
I first stumbled upon images of Lauterbrunnen and its Alpine cliffs and 72 waterfalls on Instagram. I started following the hashtag #Lauterbrunnen and the rest is history. I can't stop fantasizing about being in such a beautiful place!
Since we just had a fab trip to Europe last year, I have to be very patient and bide my time. There's no way we're going back again for at least a year – possibly more. So I will use this time wisely to build out the amazing Swiss vacation itinerary of my dreams.
I actually LOVE planning travel way in advance, so it doesn't bother me at all to have to wait. I've been known to plan and dream about trips for years in advance – so I am an old pro at this. Heck, I longed to go back to England for more than 20 years before we actually took the trip!
My first step in traveling to a totally new-to-us place is usually to crowdsource ideas among my friends on Facebook, who are a pretty well-traveled bunch. Typically, I ask my parents' thoughts as well, since they are the most world-traveling people I know. And lastly, I'll spend hours surfing the 'net for vacation p0rn… aka blog posts, articles, videos and photos of my newfound country crush.
Oh, Lautenbrunnen, you fairytale vision. I'm coming for you. I already have some ideas about where we might stay (a centrally located mid-range to high-end hotel or an AirBnB), how I want to get there (Alpine cog train, of course) and even a few things I want to do there.
I don't think I'll have to work too hard to get my sweet little fam on board. Once I show Z these photos, she'll be as smitten as I am. And that's before I even tell her about the adorable Swiss cows and Alpine mountain goats!
Travel daydreams are a great way to make it through a long, cold and grey Ohio winter. Do you like to plan trips way in advance, too – and do you have a current country crush or dream future vacation destination? I'd love to hear about it in the comments below or over on Facebook.
And if you liked this post, be sure to read about our adventures in Europe last year!