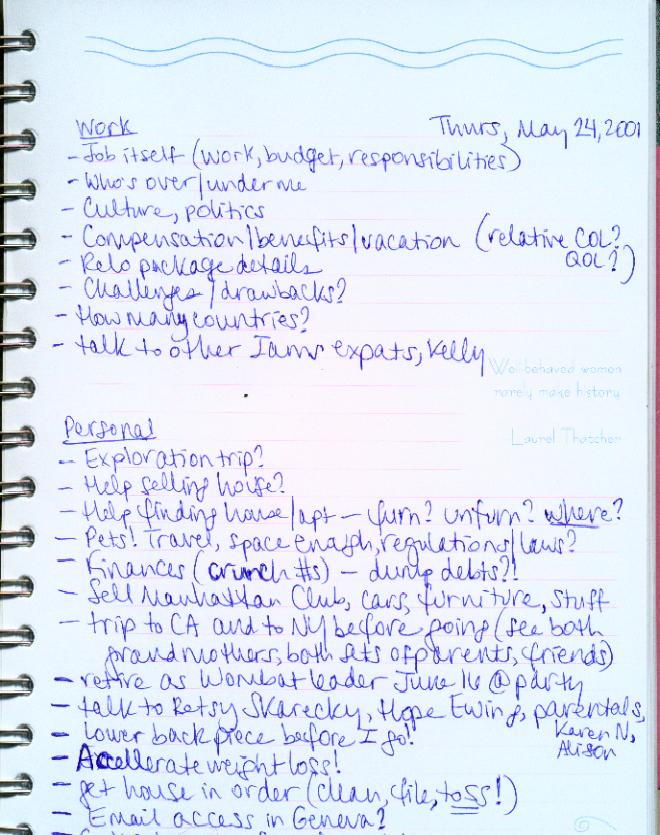 Long ago, before I met E or became a mom, I went on a solo travel adventure to Geneva, Switzerland. It happened because I was interviewing for a job there.
At the time, I was working as the communications manager for a global pet food manufacturer in Dayton, Ohio. A position opened up for a similar role at our European headquarters in Geneva, Switzerland. My boss recommended me for the position and facilitated an introduction with the hiring manager.
In the later summer/early fall of 2001, I flew by myself to Geneva and spent four days interviewing for my dream job and exploring the town. I was fairly confident I was going to get the offer – and I was eager to accept!
If I had gotten the job, I would have moved to Switzerland for a period of two to four years – possibly even more. I started making lists, like the one above, to help me wrap my head around all that would be involved in moving out of the country for an international assignment.
But during that time, a catastrophic global incident occurred which impacted air travel and international relations like nothing ever had before. It resulted in my company putting hiring on hold for a time, and then ultimately opting to hire a European for the job rather than an American. You'll remember the event – it happened on 9/11 of that year.
Sometimes I stop and wonder how different my life might have been if I had actually been offered that international role and moved to Switzerland.
At the time, I was devastated that such a terrible tragedy had occurred on American soil – and, selfishly, that the resulting global business climate put the kibosh on my European dream job. Maybe on some level, I was also a tiny bit relieved because my marriage was on the rocks and I didn't like the idea of moving to another country where I knew no one outside of work.
Now, of course, I am very thankful that my life didn't take that particular path. Instead, I found my way to E and Z. Happily, I wouldn't change a thing.
It is wild remembering back on that trip, though, because in many ways it was the adventure of a lifetime. I remember that the company flew me to Switzerland in business class, making for a very luxurious travel experience.
They put me up in the incredibly elegant and upscale Hotel President Wilson, an iconic hotel right on Lake Geneva and perfectly situated for exploring the town by foot. I rented a car, but I found driving in Switzerland incredibly confusing as my French was very rusty and I know zero German. Instead, I opted to spend most of my time walking around town.
I spent one whole day interviewing, touring the office and having dinner with the hiring manager – but the other three days, I was on my own.
I spent a couple of afternoons in my gorgeous hotel suite eating room service and watching German MTV – I was fascinated and mesmerized by the European VJs and music videos, so different from what we saw in the U.S. I fell in love with German rap music on that trip!
I remember the bathroom in my lake-view suite was the largest and most opulent I'd ever seen in any hotel up to that point in my life. I felt like Madonna every time I took a shower.
One afternoon, I met up and hung out with a few young Americans who were in Geneva working as au pairs for wealthy families. I found them online in a chat room while googling about life experiences of Americans in Geneva, and they were happy to meet up and share stories. They both liked Geneva well enough, but had many tales about au pair life that made me glad I'd never chosen that path!
They ended up taking me to a Swiss McDonald's at about 10 pm, which is where I learned that the McDonald's experience can be very different in other countries. Case in point: mayo and vinegar were the condiment options for fries, instead of ketchup!
I didn't buy any souvenirs while I was in Geneva, because I assumed I'd be back again to live there for a few years. I remember walking up and down busy main streets and quiet side streets, taking photos and trying to imagine myself as a Swiss resident. Housing is extremely expensive in Geneva, as is everything else, so I knew I'd likely end up renting a small apartment. It would have been a tough adjustment after living in a spacious American home in Ohio!
I took my rental car out a few times to drive into the mountains and see the surrounding countryside, but each time I got nervous and afraid of getting lost, so I ended up coming back to my hotel without seeing any real sights. I did enjoy walking down to beautiful Lake Geneva and enjoying the famous, iconic fountain and the flower clock – and I had a few good meals in little cafes in downtown Geneva.
On my flight home, I had a layover in Paris at Charles de Gaulle airport, which tickled me as I had not yet visited France. All in all, the trip was a wonderful experience and I'm so glad I went for it, even though the job never came through.
What an amazing travel adventure to have been flown to Europe for such a first-class adventure at no cost to me! I highly recommend it.
International travel by myself was exciting and a little scary. I'm so grateful that I had the opportunity to take the trip, see beautiful Geneva and have those experiences. I haven't been back to that part of Europe since, although Switzerland is certainly on my travel bucket list.
Have you ever traveled by yourself to a far-off, wonderful place for business or pleasure, and did you find it to be a fabulous experience too? I'd love to. hear your exotic solo travel tales in the comments below or over on Facebook.