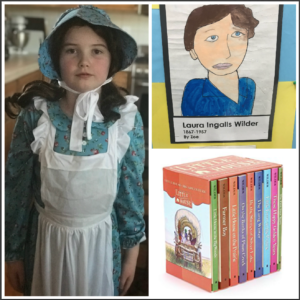 An old standby from my childhood has become a cherished staple in our house this year: the classic Little House book series by Laura Ingalls Wilder, and the late 1970s/early 80s TV show based on the books.
We unfortunately began 2018 with a lot of illness and missed school, so Z has plowed through more seasons of the TV show than I'd like to admit. Likewise, we've read through six of the books and are continuing to read them together nightly. I love the sweet, old-fashioned values showcased in both the book and show – it's been really refreshing to immerse ourselves as a family in such wholesome content.
The real things haven't changed. It is still best to be honest and truthful; to make the most of what we have; to be happy with simple pleasures; and have courage when things go wrong.
~Laura Ingalls Wilder
In fact, Z even chose Laura as her "important person" for her second grade Biography Night presentation in April. She dressed the part, painted a portrait of Laura in her later years, and gave a wonderful talk about the author and her life as a pioneer on the American prairie. It was a definite highlight of her school year so far!
As we've worked our way through six of the Little House books (and counting) and about as many seasons of the beloved show, I've been keeping notes about why I love this material so much, including making a list of my favorite lessons from the show. Here they are, for your reading pleasure:
Life (on the American prairie or even today) has its ups and downs. Although it's a happy and positive show overall, there are certainly many mishaps, strokes of bad luck and even tragedies in the Little House stories. It's a good reminder that bad things can happen to anyone – and that it's how we respond and react that defines who we are and how well we'll bounce back from hard times. These are timeless lessons.
Family is everything. No matter what befalls the Ingalls – from countless moves across the country, to narrow escapes from wolves and bears and bad storms, to poverty and even hunger and near starvation – the family sticks together, focuses on their love for one another and perseveres as a unit. The love of Laura for her sisters and parents is so heartwarming to read about and watch on screen. Pa and Ma are a wonderful role model of a happy, healthy marriage and devoted parents. And as long as they're all together, nothing can bring the Ingalls family down for long.
Bullies are the worst. From the "big boys" in Almanzo's story, Farmer Boy, to the bullying ways of bratty Nellie (and later her adopted sister Nancy) Olson, bullies are not tolerated in this series. It's a good reminder that there have always been bullies – and there have always been plucky, feisty girls like Laura ready to stand up to them. Laura's multiple take-downs of nasty Nellie, including my favorite when she purposely directs Nellie to wade into a leech-laden shallow pool, make for simply joyful reading and viewing.
No one is perfect. I love how human the Ingalls family is – how they each have fully developed characters with good qualities and flaws. No matter how perfect Mary may seem in the early books and shows, we soon learn that even Mary has a temper. Laura is perfect in her imperfection – as hot-headed and stubborn as she is courageous and fierce. Pa is perfectly wonderful, but even he is stubborn and makes many poor choices as he treks his family across the American prairie in search of his dream homestead.
Money doesn't make you happy. If there is one abiding truth in the books and show, it is this one. The Ingalls face poverty and near-poverty nearly every step of their lives, but they are far from poor and truly happy. Nellie Olson and her parents are the wealthiest family in town, but miserable. Time and again in the books and show we see that true wealth comes from kindness, hard work and being good neighbors.
"There's no great loss without some small gain." Another way of saying "Every cloud has a silver lining," this is another great truism from the Little House stories. No matter how dark their lives may seem in the moment, the Ingalls family are always able to find some bright spark of hope to hold onto. Some goodness always comes out of even the worst situations.
Manners matter. Laura, Mary and their sisters may be "country girls" (a rude term Nellie Olson uses to look down on their prairie ways), but they have impeccable manners thanks to Ma. They know how to put on their Sunday best – hair ribbons and all – and use their best manners. My own sweet 8 year old has learned some wonderful manners and polite ways from watching the TV show!
Be happy with less. Perhaps one of my favorite Little House lessons, this is never more evident than in the many Christmas stories contained in the books and show. Laura, Mary and the family make do with so very little – and yet are delighted and enchanted with just a penny, home-made mittens or a peppermint candy stick as Christmas gifts. Many times reading the books or watching the show, my daughter has noted "Wow, I have so much compared to them – I should be so grateful for all I have!"
Have you read the Little House books or watched the remastered show, available on Amazon? I'd love to know what other classic books and shows from your childhood have been a hit with your modern kids of today!