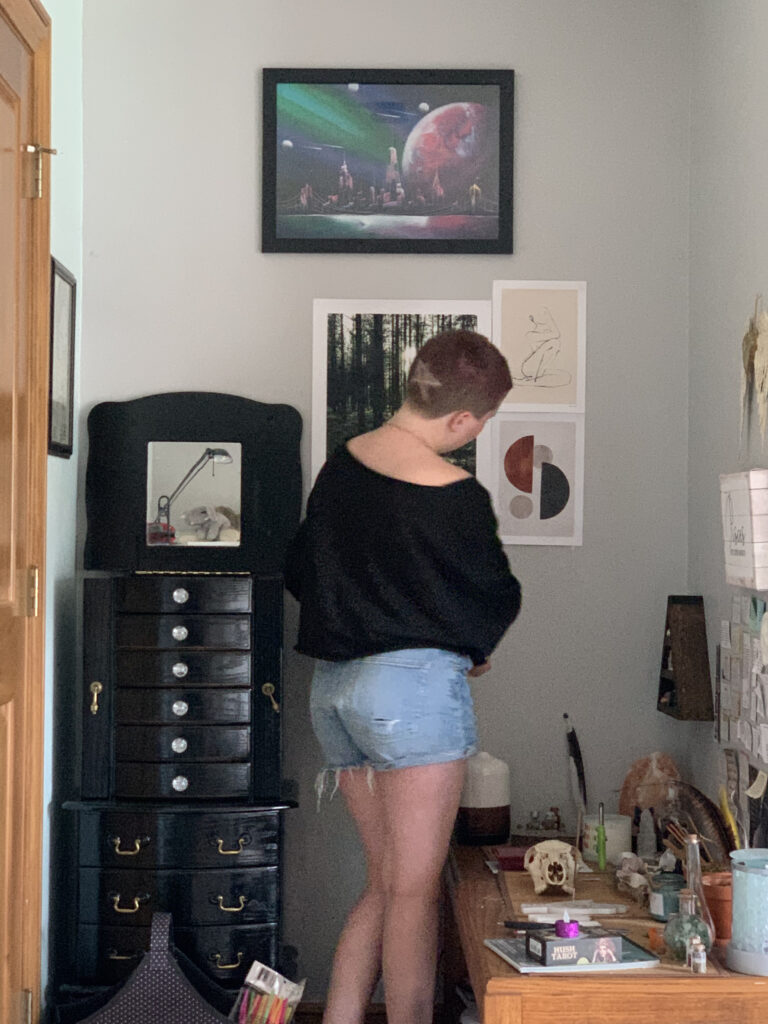 Tweens love to decorate and change up their rooms more than just about anything else – and PosterStore.com is my new favorite resource for affordable, great quality posters and frames.
Xage hasn't always loved to change and decorate their room. In fact, that room had the same look and feel for about ten years. It had a lot of pink, a fair amount of green and the exact same comforter/sheet set for about a decade. Let's be honest – they didn't sleep in there much back then.
Over the years, we transitioned their sleeping arrangements from crib to toddler bed to full size bed, but the overall look and colors of the room stayed the same as when it was Xage's baby nursery.
That is, until last year, when Xage got the interior design bug and decided to completely elevate their room's look.
First, they painted it all new colors with E's help. The room was totally transformed by a sophisticated palette of light gray, pale blue and butter yellow.
Xage also got all new bedroom furniture as part of their room makeover. Some of you may remember my constant griping on Facebook about customer service issues related to their new loft bed!
Today, Xage has great basics in place but still likes to change up the wall decorations and art. Their wall decor has been through several metamorphoses and iterations, from fabric wall coverings and hexagonal stick-on mirrors to a DIY photo collage wall to faux ivy and fairy lights draped artfully around the room.
Xage's latest interior design phase, and perhaps my favorite, involves creating a beautiful, understated gallery wall with Scandinavian-designed art prints and posters from PosterStore.com. I'm so glad we found this eco-friendly site because their poster and print quality is great, prices are reasonable and the selection is sure to please anyone in your family. They release a new poster collection every Tuesday.
Best of all, the Gallery Wall section of the site offers wonderful inspiration to match any taste or style, along with tons of ideas for how to hang and group framed art for your own home gallery wall tailor-made for your home.
To create a gallery wall in your own home, simply go to PosterStore.com and choose a variety of coordinating posters or prints. This is super easy as they have so many to choose from in similar color palettes and moods.
Then, select frames that will also go well together – or you can go for the frameless, collage look like Xage opted to do. The prices on the site are great and I'm pleased to be able to offer my readers a 50% discount code, lara50, through September 2.
Once you receive your order in about a week or so, lay everything out with something on the corners so they straighten out. Put the art in the corresponding frames (or go frameless like Xage). Then group your art together on the floor until you're happy with the order and arrangement. Some people like art prints all in a row, while others (myself included) prefer a seemingly random grouping.
There is great debate as to how much space should be left between and around your art in each grouping. I vary it depending upon the art and the wall space, BUT I make sure to always keep spacing consistent within a grouping.
Once you have your desired art grouping, start re-building it on the wall. There are some great Youtube videos on exactly how to do this, but in my experience once I have the arrangement looking good on the floor, it's not hard to recreate it on the wall. You may want to take photos of your floor grouping with your phone so you have that to refer back to as you're hanging posters on your gallery wall!
We're so pleased with the way Xage's gallery wall came out. It's not exactly how I would have done it – I would have opted for frames and some space between each print, personally – but I love that it reflects Xage's artistic vision and creativity. It's their room, after all.
Interested in getting some sustainably produced, high-quality prints and posters from PosterStore.com? Be sure to use code lara50 for 50% off posters (not including selection posters) from August 26th – September 2nd!
And make sure to come back and share a photo of your gorgeous new gallery wall.
Disclaimer: This blog post was generously sponsored by our friends at, you guessed it, PosterStore.com! All opinions are my own and their prints and posters truly are awesome.