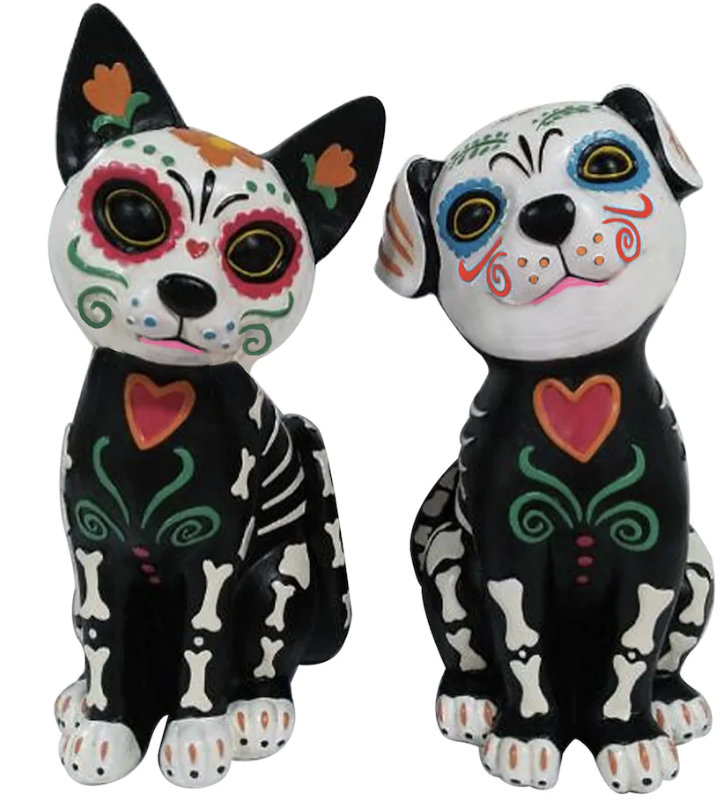 I've had two experiences recently which truly made me appreciate those caring souls who have dedicated their lives and careers to customer service.

One experience was on a small scale: I wanted to order a particular product rather than leaving it up to chance, and it took a human touch and some excellent customer care to make it happen.

The other experience was a far larger purchase and resulted from a company error. In this instance, I grew angrier than I've ever been with a company as I battled with various customer service reps over a period of weeks until I finally found someone with the caring and power to do something to help us.

In both cases, compassionate and committed customer service reps saved the day and gave me a human connection with their brands or companies that I will never forget.

Here are the stories. Buckle up – this could be a long one!

My quest for a Day of the Dog statue
I'll start with the shorter story, which happened just last week. I found the most adorable Day of the Dead pet statues from the Michaels website. The statue came in both cat and dog styles but you couldn't specify which one – you just had to "get what you get and not get upset."
I loved them both, so I ordered two, hoping I'd get lucky and receive one of each. The site made it clear that you can't pick which one you get – they share the same SKU, so the product just comes in style "assorted." It's one of those situations where you have to be okay with whatever comes.

Well, my two statues arrived and they were even cuter in person – but alas, they were both cats. I didn't get mad or upset, but I did become determined to somehow, someway, get my hands on the dog statue.
I took one of the cats back to my local Michaels store and asked if they knew how I could get my hands on the dog one. They suggested I call around to the other local Michaels, which I did with no luck.
Then, I called Michaels customer service and explained the whole story to the rep, Lisa. She checked in their system and explained why they can't let me order the dog specifically: because the products share one SKU so there's no way to specify in their system that I want the dog statue.
That's when I asked if there's a way to put me in touch with someone who works in the warehouse. I explained that it would only take a human being a little time to check the inventory, find a dog statue and send that one to me instead of a random one. The rep totally got what I was saying and agreed that, theoretically, it should be possible. Lisa said she would make some calls and send me an email with an update
Sure enough, she soon emailed and said she had found someone in the warehouse who could pack my order by hand. She told me to order the item again through the website as usual, then email my order number to her. Her warehouse contact would then look for my order number and pack it specifically by hand, ensuring that I get the dog statue of my dreams.
Lisa from Michaels Customer Care was the hero who made this happen. I love that she seemed almost as excited as I was to have found a solution – and when I got my beautiful Day of the Dog statue this week, I made sure to follow up with her to let her know. She was awesome to work with. It's just a small purchase, but it made me love Michaels even more.
Cheers to getting exactly what you want thanks to a little human interaction and connection!
The angriest I've ever been with a company
On the opposite side of the experience spectrum, we just got through the most challenging customer service experience of our entire lives. Thankfully, it had a happy ending, in which we ultimately experienced truly great and meaningful customer service to resolve our issue.

Getting to that point, though, was VERY difficult, frustrating and trying. I'm sure part of the reason it infuriated me so much was that this is the year of Coronageddon, when we are all just barely hanging in there on a good day.
But let me start from the beginning and paint the picture. Our beloved daughter turned 10 this year and decided she wanted to "yeet" all her old little-girl furniture and get a whole new room with an all-new look. We agreed it was time, and so a multi-stage, TV show-worthy room makeover began.
First, we began searching for the perfect loft bed. It had to be high quality, gorgeous looking but also sturdy and safe. Ideally, we wanted something that is not designed for kids, but rather a teen or young adult oriented loft bed that would carry her through to her college years.
It took us a while to find the perfect loft bed, and during the search, Z and her dad worked on painting her room with an updated, sophisticated and serene pallette of the palest grey, yellow and blue. It looks incredible.
I then found the loft bed of our dreams: a Pottery Barn Kids x West Elm mid century modern number with an actual staircase instead of the typical ladder. It is beyond gorgeous and Z freaked when she saw it. It's far taller than the typical kids loft bed and opens up a whole new mini room underneath. And, it had a matching and equally lovely mid century modern dresser, which naturally we also had to have.
This furniture was not cheap – in fact, it's way more than we wanted to spend – but it was so perfect for Z's style and aesthetic, and we knew that we'd never have to buy her furniture again because she will love it into her adulthood. We placed the order August 16 from the PBK store at Polaris. We knew it might take several weeks to get to us, and we used that time to finish styling her room and selling her old little kid furniture via Buy/Sell/Trade.
When about three weeks had gone by, I began calling PBK to find out when to expect our furniture. I was told that we would receive an email around this time to arrange delivery, so I was a little concerned that I hadn't heard anything.
My contact at the store assured me that I should hear something soon, but I still had zero communication from PBK about delivery. I called them daily until someone knew something. That meant likely 7 or 8 calls from me, but never any calls or emails from them, despite promises made.
Finally, it was September 18: delivery day! E and I were thrilled. It happened to fall on a day Z was at school, so it couldn't be more perfect. We thought we'd have everything installed and assembled by the time she got off the bus – we couldn't wait for our big reveal!
The delivery folks brought the furniture in. They assembled the dresser; it is gorgeous and we love it. BUT… then, they broke the news to us that the loft bed has no hardware in any of the boxes. It can't be assembled without hardware. The delivery guys told us to call customer service. They assured us that likely the parts will be found and another team will come out to assemble the bed within days.
That began an absolute nightmare. Z's old mattress had been removed from her room in preparation for the loft bed, so she had nothing to sleep on. The loft bed was in several oversized boxes in our garage so my car had to sit out in the driveway. And, my multiple calls and emails per day to PBK customer service were met with zero helpfulness and no solutions.
Bottom line: no one at the enormous company known as Williams-Sonoma knew anything about how to get us the missing hardware that should have been delivered with our expensive loft bed. We were told different tales by various customer service reps: that the hardware was being shipped to us, that it could not be found, and that it may in fact be "unavailable."
After multiple confusing phone calls that went nowhere, I wrote a scorched earth email that afternoon and copied everyone I could find in customer care at Pottery Barn Kids, Williams Sonoma, West Elm and more. I explained the situation and our frustration. I begged someone to call me with answers.
Instead of a human response from any of the companies, all I received was an automated response apologizing for our concern and asking for photographic proof to back up our "areas of concern." In other words, it was a standard auto-response they would send to someone complaining about damaged furniture. But our furniture wasn't damaged – it couldn't even be put together, because it had no hardware!
I was beyond furious. Amidst the multitude of reps I spoke with across multiple days, I found one bright spark, Brittney with PBK customer service. She seemed like she cared. She tried to help. But she could only get us so far, because the company still seemingly had no idea where the parts were or how to get them to us.
I spent literally hours of my time on the phone with various customer service reps from PBK and Williams-Sonoma. I grew so annoyed with having to tell our story over and over and with the seeming ineptitude and lack of communication within that enormous company!
Then, just as I was nearing the end of my rope and about to completely blow my stack and demand a refund and/or just set the PBK boxes in our garage on fire, my savior arrived in the form of Mike, a senior lead on the retail customer service team at Willams-Sonoma.
Mike admitted that he didn't have any answers for us at first, but he committed to working to find us the hardware and get our loft bed assembled. He promised to call me every day with updates. He gave me his email, phone number, work hours and assurances that he would get this problem solved.
Mike was the first true spark of hope that this loft bed might someday come together. He was true to his word and called me daily. He sounded like he really got our frustration and annoyance. He told me constantly how sorry he was that we'd had this experience and that he would make things right.
He eventually found where the loft assembly parts were – at a warehouse in Vietnam – and he had them shipped to us as quickly as international mail would allow. The parts arrived on September 29 and, rather than waiting for a PBK assembly team to come back out and put it together, E put the loft bed together himself (a three-man job, according to the instructions).
The end result: Z's loft bed is perfection. Z is elated. E and I are relieved and happy. And Mike the customer service lead is a champion indeed for resolving that nightmare. He had empathy, he cared and he did whatever he had to in order to get the parts to us as quickly as possible. Mike had the perfect combination of customer focus AND the power to actually do something about it. We're so glad he was able to turn our situation around, get Z's bed completed and ultimately ease our massive frustrations with the company.
So, there you have it – two customer service experiences that I've had this year that made a truly memorable impact! Have you had any stand-out customer service experiences this year? I'd love to hear your rants or raves in the comments below or over on Facebook.