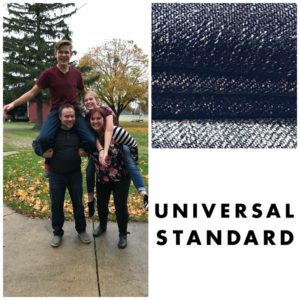 I love it when brands I care about do good things. And it's #GivingTuesday today – something I didn't realize until I opened Facebook and Twitter this morning – so this is a timely post.
This week, I got an unusual email from one of my favorite clothing brands, Universal Standard or US (I've blogged about their amazing denim before). With a subject line of "Free jeans from US," I was quick to open it – as theirs are my absolute favorite jeans – ones I can wear while goofing around with family, as in this photo from our early Thanksgiving celebration!
The email read:
"Send US 2 pairs of jeans that you want to toss, and we'll recycle them with Blue Jeans Go Green™ – a program that turns old denim into much needed denim insulation that's used to build homes.

In exchange, we'll send you a new pair of our denim – for FREE."
It almost seemed too good to be true, but I followed the instructions and ordered myself a brand new pair of US jeans in a colorwash I've been eyeing – paid only $10 for shipping – and now I'm awaiting the shipping label I will use to send my two pairs of old, outdated or too-small jeans to US. Then, they'll send me my brand new pair!
The program was available for one day only, or for the first 1,000 customers to respond. I'm thrilled that I hopped right on my email that morning!
This program is a huge win in so many ways. First, it will recycle jeans that are cluttering up space in my home, and which I will in all probability never wear again anyway. Second, the repurposed jeans won't end up in a landfill as they otherwise might. And third, the insulation that is ultimately made from the deconstructed denim will go to good use and may even be donated to Habitat for Humanity or otherwise worthwhile civic and community building projects.
I already loved US, and now I just love them even more. I'll wear my free jeans with pride. I just wish I could send them more than two pairs of jeans. I probably have 10 pair lying around here waiting for me to be a size 8 again – and that's just not in the cards for me, at this point!
Thanks, Universal Standard, for the opportunity to participate in this great program.
Have you heard of other brands doing cause-marketing partnerships and promotions like this? I'd love to hear about it in the comments below or over on Facebook!