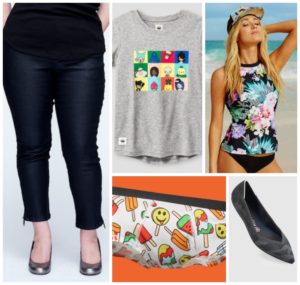 As you may have figured out by now, I'm a huge fan of direct selling companies like LuLaRoe, Agnes & Dora and of course, my own personal side hustle, Stella & Dot. That said, I still do a fair amount of shopping at stores and online, too.
So, for today's edition in my Friday Favorites series, I'm going to focus on some of my favorite online shopping purchases and discoveries. Ready, set… shop!
Universal Standard – US is a clothing company with simple, gorgeous, seasonless designs that are well-made and both look and feel terrific. They make effortless, high-quality clothes that typically were not a possibility for fuller-figured gals in the past. They are extremely body-positive and have a unique guarantee on their core designs: if your body size goes up or down for any reason within a year of purchase, they'll replace it in your new size. Genius.
I have two pairs of jeans from Universal Standard – the Meuse and the Seine – and both were life-changing for me. Comfortable, stylish and they look (and make me feel) like a million dollars. Game-changing.
Rothy's – Have you seen these stylish flats pop up in a sponsored post on your Facebook feed? Boy, did they target the right girl – I've already bought the dark camo pair, I'm in love and plan to buy more.
Rothy's are flats designed to be as stylish and sexy as a heel, but with the comfort of a walking shoe. They feel like a dream – and best yet, they're made from recycled plastic water bottles! If you don't believe me, see what The New York Times had to say about Rothy's.
Target's Toca Boca line – If you've got kids under 9, you probably know about Toca Boca's amazing series of apps. Now, their fun and smart sensibility has translated to a line of back to school clothes and accessories for Target. These will likely sell out fast, so be sure to check the site or your local store soon.
My favorite thing about the line is that it's essentially genderless – almost everything works for boys, girls or those who don't feel they fit in either category. Annoyingly though, Target is still merchandising them as either boys' or girls' – most likely because that's just how the world has always been set up.
Hapari swimwear – If the idea of stripping down to a swimsuit and heading to the pool makes you shudder with horror, it's time you treated yourself to a new suit from Hapari.
I am by no means at my sveltest (although there is iron under these curves, I swear!) but my new Hapari suits make me feel awesome. They have something for every body – my Mommers is tiny and ended up ordering herself a suit like mine because it's so darn cute! I especially love their tankini tops that offer full coverage – like a sleeveless t – in super cute designs. I've got to keep the art collection out of the sun!
There you have it – my summer list for online shopping that will put a smile on your face. What are your favorite places to shop online and treat yourself? I'd love to hear in the comments below or over on Facebook!