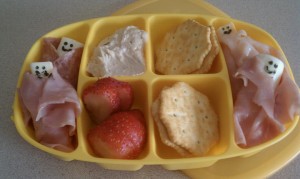 I love food, and I love blogs, so it's only natural that I have a large number of favorite food blogs. In today's Friday Favorites post, I'm sharing my most beloved food blogs – some of which are popular, and some less well known. Bon appetit!
The Disney Food Blog. I absolutely love their tagline: "food IS a theme park." How true that is! The Disney Food Blog offers in-depth news, reviews, and information about food and restaurants in Disney's parks, resorts, and cruise ships, along with reviews and photographs of and about anything food-related in Disney parks, resorts, movies, and events. If you love food as much as I do, you should never travel to any Disney location without first checking out the best places to eat, drink and snack. Believe it or not, there's some great food to be had at Disney! This marvelous blog is how I found out about the wonderful Tusker House character dining buffet at Disney's Animal Kingdom, where we recently had an awesome African-style lunch as well as magical Disney character encounters with Donald, Daisy, Goofy and Mickey himself. This blog is also where I go to lust after amazingly creative and delicious Disney cupcakes.
What's Good at Trader Joe's. This blog is exactly as it sounds – they try and then review all the various yummy things you can buy at Trader Joe's. And really, it's brilliant in its simplicity,  because who wants to  buy something only to find out it's no good? I have gotten some great tips from this blog for new things to try from TJ's. If you love to shop at TJ's, you'll love this blog! Warning, if you don't have a TJ's near you, don't bother reading this blog – it will only frustrate you to read about all the yummy goodness that is out of your reach.
Bakerella. Here's another great blog tagline: "sweet inspiration and fun baking ideas." Bakerella is full of beautiful pictures of scrumptious sweets, with recipes and simple how to instructions for how you can try to do it yourself at home. Bakerella invented cakepops and literally wrote the book on them! That's all you really need to know. If you love sweets and especially adorably presented sweets, you'll love this blog. However, don't hold yourself to the standard of trying to get your own goodies to look this perfect, or you may end up driving yourself nuts. Just enjoy her perfect pictures and tell yourself yours taste just as good even if they don't look the same.
Biting the Hand that Feeds You. This is a blog all about feeding toddlers – something I need help with on a daily basis, personally! She provides great recipes, adorable ideas, and clear how-tos. Best of all, everything seems simple and reasonable enough that your average mom (meaning me) could probably pull most of it off, unlike other certain food blogs that seem way outside the realm of possibility (*cough* Bakerella *cough cough*).
Bent On Better Lunches. More cute food here, but with a focus on keeping things healthy and nutritious, too. Love the presentation ideas – makes packing a lunch more fun for the whole family. She is great about telling you where you can buy some of the cute props she uses, as well as giving detailed explanations for how you can follow along at home. I can't wait until Zoe is old enough to appreciate some of the tricks I'm learning from blogs like this one! Check out her blogroll at the bottom for more Bento lunch sites with great inspiration, too.
Muffin Tin Mom. As I soon learned when I became mom to a toddler, muffin tin meals are a simple way to serve food to kids. The small size of the muffin cups make great portion sizes for little mouths, and the presentation makes the food more fun – especially if you use themes, different colors, and cutesy props. This blog is full of ideas for doing just that. Your kids will love it! And you'd be amazed how many blogs there are on this exact topic – you can find links to loads more from this one.
I hope you've enjoyed reading about my favorite food blogs – you'll have to let me know what you think of them. What are your favorite food blogs?