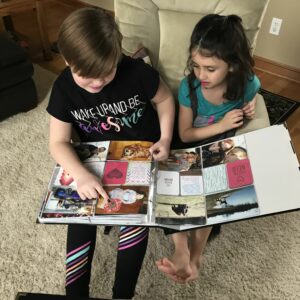 If you're like most people, you have a phone or hard drive overflowing with photos that you haven't organized or done anything with. Or, maybe you've printed actual photos, and now you have boxes full of them that you've never put into albums.
Bottom line: you want to do something MORE with your family's photos, but you're not sure what.
One fun solution is scrapbooking or memory keeping in some form or other. It's been my favorite hobby and pastime for about 20 years. Each month, I organize my digital photos and pick the best shots – typically about 100 per month. Then I print those highlights and slot them into plastic photo album pages, adding colorful journaling cards so I can write about our family's memories and stories. That's it – easy peasy!
But I get it – if you're just starting out, it can feel overwhelming. Like, you're not sure where or how to start – and the sheer volume of photos or how "behind" you feel can make it all feel daunting and impossible.
Believe it or not, it's relatively easy to get started with a family photo organizing and memory keeping/scrapbooking habit. I started out back in the 90s with traditional scrapbooking (remember Creative Memories? I used to sell the stuff!). That route can be admittedly time-consuming and fussy because of all the stickers, pretty papers and embellishments that are involved. 
Some time ago, I evolved my practice and started using Becky Higgins Project Life, which has simplified things considerably. Now, I capture my family's entire year of photos in two to three albums per year – and I keep up almost in real-time. Well, typically I'm about a month behind. So if it's October now, I'm likely scrapbooking our September memories.
Once you get into a rhythm, it becomes really easy to keep it going. And it's so motivating to see your family albums on the shelf and be able to take them down and flip through beautiful photos and happy memories whenever you want to! It's even more heart-warming when you see your kids do it. It's also just a fun and creative outlet and stress relief valve for me.
I made a video about how I use the Project Life system and how I got started with traditional scrapbooking – so take a look sometime if you'd like. And, in the meantime, I'll share a few tips for beginners looking to get started with your own memory keeping.
Start by organizing your photos. I'm an iPhone girl and take most of my photos that way, so I simply have iCloud set up to upload and back-up my images on an ongoing basis. Then I sit down monthly, look through all the photos and "heart" (aka favorite) the ones I consider my best of the month (usually between 60-120 photos per month unless we've taken a trip, in which case it can be double that much). I then move all those favorites to an album for future reference ("Best of September 2019") and also upload them to my photo printing site (I currently use Amazon photo). I order prints of the ones I want, and then share the online album with family members far away.
Once the prints arrive, I sit down with my Project Life album and slot the photos into the protective pages in chronological order, being sure to add decorative cards and journaling cards as well as any other memorabilia (ticket stubs, programs, etc.) that feels like it would be good to save.
Ideally, I would journal each month as I'm sliding the photos in, but I'll be honest – often the journaling has to wait until winter when I spend more time sitting on the couch and can catch up with all the months I've neglected to fill in! Journaling is super important – it allows you to tell the stories behind the photos – but it can also take a while.
2. Spend a bit of time organizing your memories, too. There are some memories without photos that you want to hold onto and remember. This could be times you didn't have a camera or iPhone handy – or simply things that happened that didn't present a photo opportunity. Sad or bad things often don't result in us taking photos – but they are still important to remember and chronicle in a family memory book.
So, I try to make notes in my planner each month of things we'll want to journal about in the family album – both good and bad. At the end of each month (or sometimes at the end of the year!), I look back through my planner and transfer stories and memories over into the journaling cards of the Project Life photo album. 
3. Pick a system that works for you. Traditional scrapbooking is a fabulous creative outlet but can be overwhelming and expensive, both in time and financial resources. I tend to only use traditional scrapbooks now for special, out of the ordinary albums like a special trip or vacation. I use Project Life albums for my everyday family memory keeping. I also use digital photo books for trips, family gifts or any other scrapbooking needs.
Do you have a dedicated space in your home where you can leave your scrapbook albums out and add to them (photos or journaling) as you have time? This make it a lot easier to keep up with things. If you have to put them away in between working on them, you're much less likely to keep up with your albums.
4. Start with something small. If it seems way too overwhelming to start with daily life scrapbooking or memory keeping, then pick something simple like a one-time trip or vacation you want to remember and keep close.
Travel albums are a great way to start because the number of photos can be a lot more manageable. Then, once you have one or two travel albums finished, you may find you've fallen in love with the process and decide to pick up the daily life memory keeping habit as well. 
That's how I tackle my family's photos and use a combination of Becky Higgins Project Life, traditional scrapbook albums and digital photo books to keep our memories handy and accessible in a tangible, beautiful way.
How do you manage your family's photos – do you create memory books, scrapbook albums or something else? I'd love to hear from you in the comments below or over on Facebook!