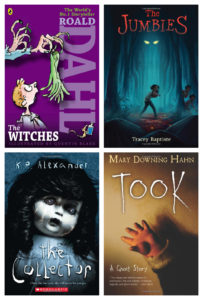 It's almost Halloween, so what better time to share our SCARIEST and creepiest favorite books. I can remember loving to read scary books as a kid, too.
Lately, Z has gotten into reading really scary books – sometimes so creepy that we can't even read them at bedtime. (My take on this is that pretty much anything that gets her to read for pleasure is okay by me!)
Without further ado, as part of my Friday Favorites series, here are our favorite creepy reads. Warning: these are definitely intended for the middle school or late grade school set. Younger or more sensitive kids may NOT do well with these books (or even their creepy covers, in some cases!)
The Witches by Roald Dahl. This classic is not for the faint of heart – it starts out "This is not a fairytale. This is about real witches." Dahl's witches are an evil, child-hating lot but the book is infused with marvelous dark humor. This book started Z and I on our path of reading creepy, spine-chilling tales together at bedtime! We've read this together twice and I'm sure we'll read it again. Other dark, delicious favorites by Roald Dahl include The Twits and Matilda.
The Collector by KR Alexander. Z fell in love with this Scholastic book fair find based on the unbelievably spooky cover alone. Each chapter drew us in further until we were shivering together, spellbound and dying to see what would happen next. This was a VERY scary read and we had to read some of it in bright daylight as a result!
Took (A Ghost Story) by Mary Downing Hahn. Z brought this one home from the school library and literally would NOT put it down until she finished it. It was one of the first books she read all on her own without me at all – in fact, I still have not read this one myself. She described it to me and it sounds absolutely terrifying. She was obsessed with it though and immediately asked for more books by the same author!
The Girl in the Locked Room (A Ghost Story) by Mary Downing Hahn. This ghost tale is also very spooky but has lovely characters who are artfully written and parts of it actually made me quite teary-eyed. It has quite mature subject matter so is not for young kids – but it's such compelling reading that at one point Z was several chapters ahead of me. This is a favorite I'm sure we'll read again.
The Jumbies by Tracey Baptiste. I loved this book for so many reasons – not the least of which is that there are no white characters! Set in Haiti with wonderful characters, cultural insights and a gorgeous seaside setting, it's chock full of thrills, chills and terrifying monsters known as "jumbies." We have yet to read the sequel, Rise of the Jumbies, but I've already downloaded it onto my Kindle.
So there you have it – enough spine-tingling reads to get your middle-schooler or advanced grade-schooler reading avidly late into the night. Just don't be surprised when they want to sleep with the light on or come get in bed with you when they're scared silly by these books! And if you're like me and rely on the Switch Witch tradition to get rid of excess Halloween candy, then these would make a wonderful switch gift for your kiddos.
What spooky books have you found for kiddos who like a good scare? I'm all ears – leave me a note in the comments below or over on Facebook.