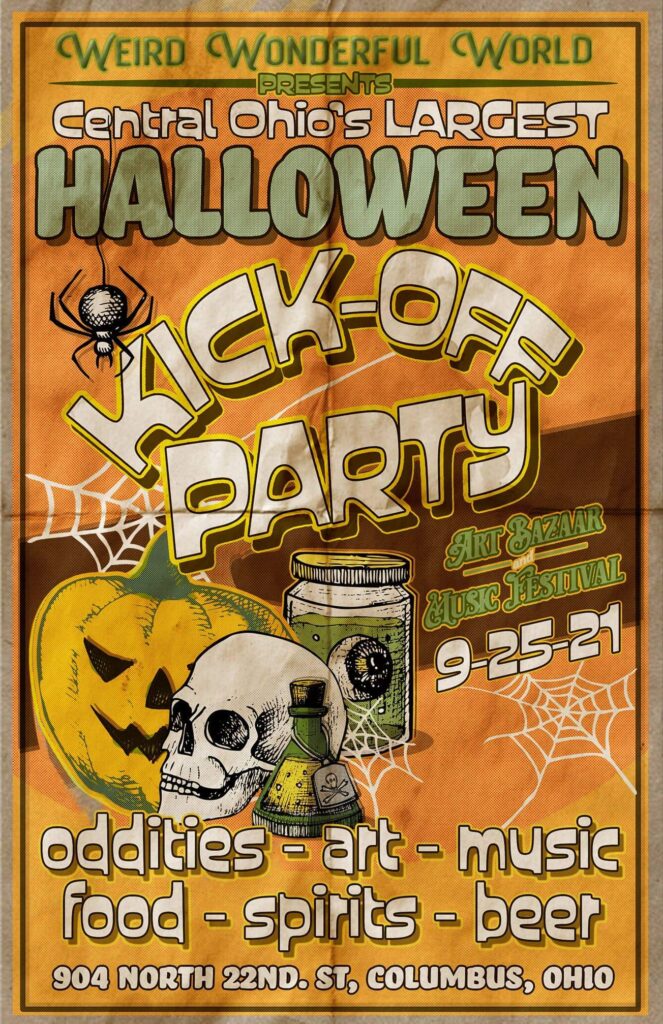 At our house, we like to keep things a little spooky year-round.

We love skulls, skeletons and other traditionally Halloween-y stuff. Xage likes to read tarot cards. We love to read scary books.
And we look for ways to celebrate the spooky season all throughout the month of October, not just on the last day. Heck, sometimes we plan our Halloween costumes for the following year before this year's trick or treating is even over.

That's why we are beyond excited for the Weird Wonderful World alternative art bazaar this September. This new Columbus festival looks edgy, alternative and maybe a little spooky – just the thing we need to usher in our beloved Halloween season!
Weird Wonderful World is being hosted at RedTree Tattoo Gallery at 904 N. 22nd Street in Columbus on Saturday, Sept. 25, 2021 from 10am-10pm. You can purchase tickets at Ticketmaster.
I'm especially psyched for this event because it can be tough to find creepy, edgy and spooky stuff for kids. I like to celebrate Xage's edgy, goth predilections – but at the same time, I don't want to expose her to anything truly terrifying like a professional haunted house.
I'm delighted to share the news about the Weird Wonderful World art bazaar. The combination of edgy art, vendors, oddities, music and food trucks sounds like a definite win to me. There will also be live circus-style and burlesque performances.
If all this wasn't enough, the special guest and MC will be Sam Jones, star of 1980's epic movie, Flash Gordon. And, Durb Morrison and the folks at RedTree Tattoo are the masterminds behind the amazing Hell City tattoo shows, so you know this event is going to be epic!
When I asked one of the organizers whether this is considered a family friendly event, she said a resounding YES. In fact, the Weird Wonderful World will actually have Trick or Treating for the kids. The first 100 kids through the door will receive a free Weird Wonderful World treat bag, and the vendors will all have candy at their booths for the little ones.
Does it get any better than Trick or Treating a month before Halloween even starts? I told Xage about this event and they said a very definitive "we're in." Get your tickets so you can be in, too!
I'm sure this event won't be for everyone, but if it looks like something you'd be into then we'll see you at the Weird Wonderful World art bazaar on September 25. Xage and I can't wait. We'll be the ones dressed in all black! Err, then again, maybe we should try for a different color if we want to stand out.
But we'll definitely be there!