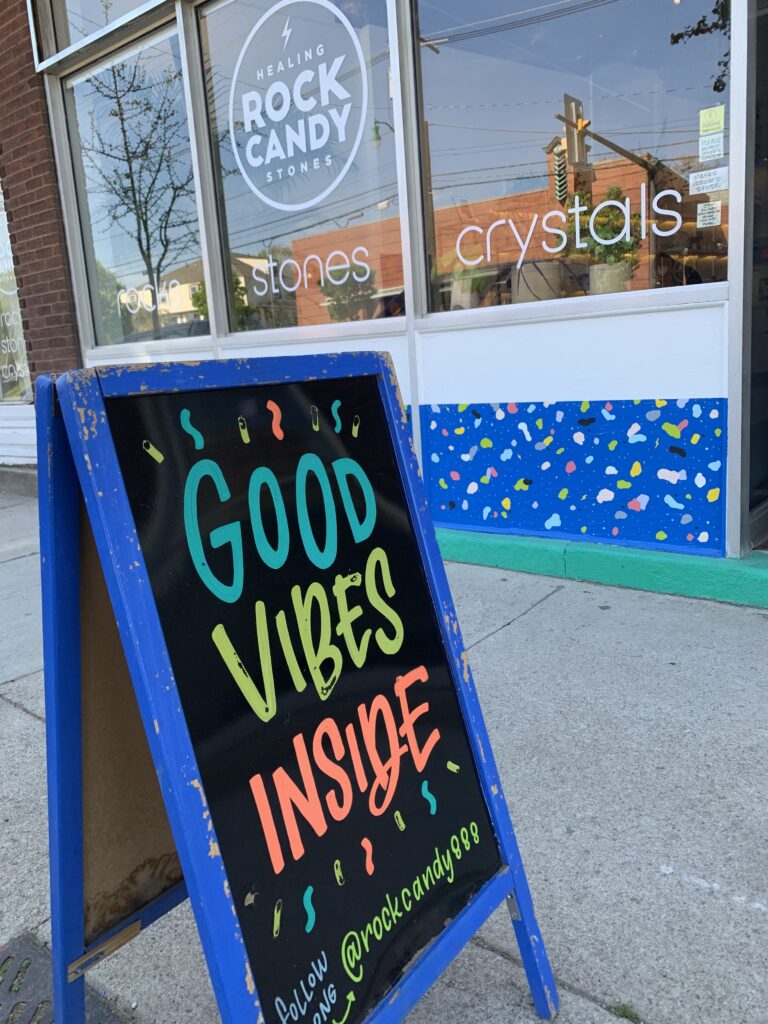 Did anyone else discover a new hobby in 2021? We did.
For Xage and I, this year's bright spot so far has been hunting for and collecting healing crystals.
Xage has always been a rock and gem collector out in the wild; that started pretty much as soon as they could walk.
We've also always loved gem mining at Olentangy Caverns. It's one of the only activities that they loved as a small child and still adore today.
But early this year is when we discovered the joy of wandering through an actual crystal shop and selecting one or two rocks that truly speak to you. I credit Stems & Stone at Polaris Fashion Place with sparking our mutual crystal obsession back in January.
Since then, we've made it our mission to compile a list of, and visit, every crystal, rock and gem shop in Columbus. We still have a few outliers to check out, but our favorites thus far are detailed below.
We've done the work so that you can benefit from our newfound knowledge of where to find the best healing rocks. Some of our favorite crystal shops are old, others are new and all have something bright, sparkly and blue… or just about any other shade of the rainbow you might want.
Are you ready? These are in no particular order. We love them all!
Best crystal houses & rock shops in Columbus
Rocks with Sass (Westerville). New as of February this year, Rocks with Sass is woman-owned and amazing. This little shop has a robust online business and is now also open to the public by appointment only. This is literally the most gorgeous crystal and stone showroom imaginable, with lovely decor and a selection of high-quality rocks that is second to none, as well as something for every budget. It's also a great place for beginners as they provide excellent educational materials both on the website and in person. If you plan to shop at only one place on this list, you'd do well to start here.
Pearls of Wisdom (Clintonville). At the other end of the spectrum, this is a new age shop and independent bookstore that has been around for a long time. They too have an impressive array of rocks and crystals in all price points, and a pretty cool vibe in the shop with areas to sit and relax. I especially love the pyramid display and the crystal gallery/ museum room. Don't forget to check out the free bucket in the corner for kiddos – each small person gets to reach in for a free rock. Xage is not yet too big to pass up an opportunity for a free stone!
Something Special Shoppe (Westerville). This old-fashioned rock shop has been around for 40 years but is a total – wait for it – hidden gem. (Come on, you knew I had to do it somewhere in this post!) They specialize in unique rock and mineral specimens from around the world. They have real-deal lapidary supplies and tools, as well as rocks upon rocks galore. Some of my favorite finds here are vintage tumbled glass pieces, which look and feel exactly like true ocean-found sea glass. They also have a large selection of tiny, hand-carved stone animals from Peru. I love that almost every rock here has a tag stating where in the world it's from. This shop feels like a true treasure hunt every time we go.
Rock Candy Healing Stones (Clintonville). Specializing in "tools that entrain our bodies to match their vibration," this gorgeous little shop is relatively new and also newly expanded. They have a beautiful selection of high quality stones, the decor is amazing and the overall vibe is just lovely. I could happily spend all day working here and they wouldn't even have to pay me a cent. The energy is as glorious as the rocks they sell! They also have gifts, local art and other cool new age items. You will be asked to don disposable gloves before touching anything – but that way you know that no one else has touched the precious crystals that you purchase here.
Stems & Stone (Polaris Fashion Place). How can I not include the shop that started us on this fun and amazing path? Stems & Stone is fabulous in every way and not the kind of place you'd expect to find in a traditional shopping mall. Whether your love is plants or crystals – or both, as in my case – you'll find an amazing selection of beautiful items and a super cool vibe. This is another shop where I'd like to just sit down, relax and spend a few hours reading in a corner. Better yet, I'd love to have the owner redecorate my space to be this cool! The bonus here is that the shop is both Black-owned and woman-owned. My favorite way to shop!
One other fun thing to note about our newfound crystal and rocks hobby is that it makes for a really fun adventure anytime you're traveling by car. Going to a new town or state? Look on Yelp to see if there's a nearby crystal shop. Rocks and stones – whether found or bought – make the best souvenirs. That's all we brought back from our Wild West spring break trip.
If you're local to central Ohio, be sure to check out my complete list on Yelp of other rock, gem and crystal shops in Columbus and the surrounding areas. If I've missed any of your favorites, please be sure to let me know so I can add them to the list and review them on the blog soon!
If you're a crystal lover, what's your favorite stone and why? If you haven't discovered this fun hobby and obsession yet, what are you waiting for? Time to raise those vibrations and feel amazing!