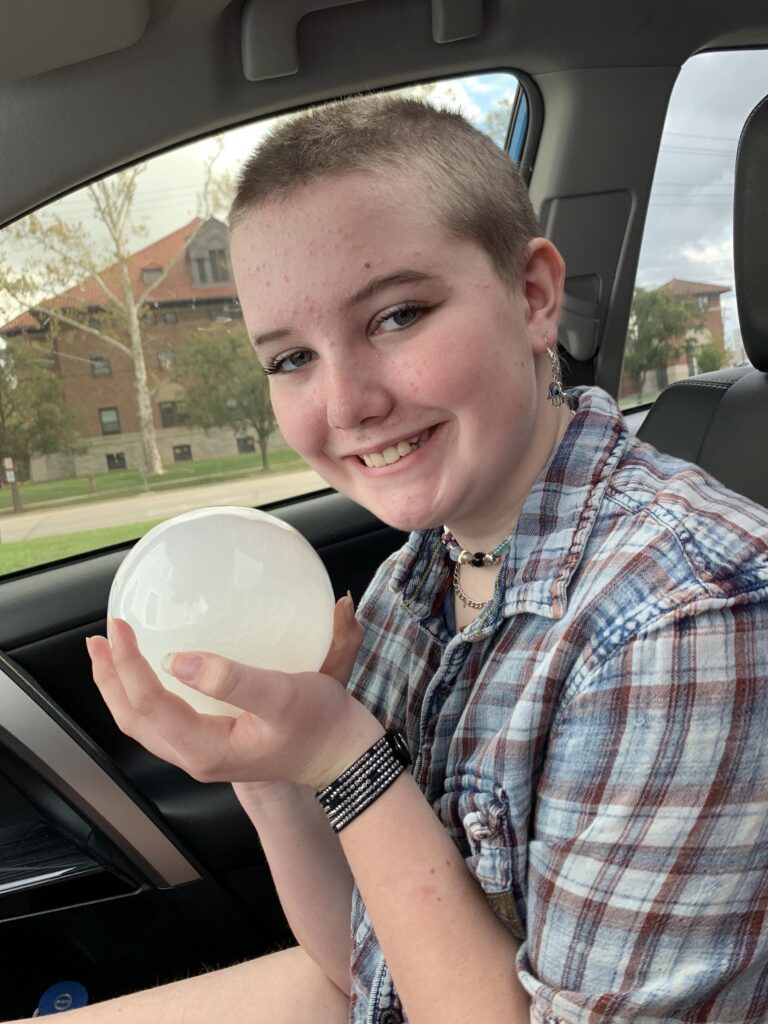 We may be in a whole new year, but Xage and I are still mad about healing crystals.
We went crystal crazy last year, and our passion for healing rocks and stones continues into 2022.
Let's face it, the world needs good vibrations, higher elevations and positive manifestations more now than ever.
Several people thanked us for our post about the best crystal and rock shops in Columbus, so we figured we would keep the love coming. There are so many great, local small businesses selling healing stones!
Here is part two of our Columbus – and thereabouts – rock and crystal tour:
Blissful Trends in The Shops at Worthington Place, formerly known as Worthington Square Mall – Xage and I love to head over to this little mall for lunch followed by a browse through the cute little shops. Not only is there a great Learning Express (think fidget toys and Squishmallows), but there's also Blissful Trends – an adorable gift shop with an incredible crystal selection. From a wide variety of tumbled stones to points, spheres and healing crystal jewelry, I think you'll be pleasantly surprised to find such a lovely selection inside a small mall. I know we were!
Raven's Cauldron in Delaware – Are you ready for a drive up north? It's worth it, trust me. Xage and I were SHOCKED when we walked into Raven's Cauldron for the first time. They have multiple rooms FILLED with every type of crystal you can imagine – and some you've never even dreamed of. This is where I first saw and held Orca agate, which is on my crystal wish list for 2022 because it is spellbinding. Ravens Cauldron has something for everyone and every price point. Xage scored a massive (I'm talking almost as big as their head) selenite sphere here for quite a reasonable price. If you love crystals, you gotta check them out!
WitchLab in Columbus – If you're into spooky stuff, you will adore WitchLab. It's like the set of a horror movie. This place is a total witchy vibe and I'd recommend it for middle schoolers and up; I wouldn't take very little kiddos as they might get scared. WitchLab doesn't carry a ton of crystals, but they do have some beauties – including large Caribbean calcite points that call to me every time I go. They also have some unique offerings like mini penis carvings in multiple crystal options. Perfect if you're looking to manifest a Mr. Right or some BDE in your life this year, I guess?! I picked up a tiny glass jar of Herkimer diamonds here and they sparkle deliciously on my windowsill.
House of Ravenwood in Yellow Springs – Here's another shop that is well worth the drive – in fact, why not make a day of it, since Yellow Springs is one of the coolest shopping and dining destinations in all of Ohio. House of Ravenwood has been around for years, but I never ventured in until last summer. It looks tiny from the outside but it's like the magical tents in Harry Potter; inside, it contains rooms and rooms chock full of gorgeous crystals. I bought some fluorite points here that are still the most exquisite fluorite specimens I own. The rocks and stones selection is dizzying!
Blessed Be in Grove City – This is a tiny little shop full of witchcraft supplies like candles, herbs and tarot cards. And yes, they also have a lovely selection of crystals – including one whole shelf of crystal skulls which caught my eye. Most of all, we were impressed with the kindness and knowledge of the staff here. They were happy to help and full of incredibly useful information. We will definitely be back!
There you have it – the second installment of our central Ohio (and slightly beyond) rock and crystals tour. Would you believe, the tour continues and there may have to be a third post? I've already heard of a few other crystal shops we need to check out!
We have some big travel plans this year, so hopefully we'll be doing some crystal and rock collecting in all corners of the planet. Crystals are one of our favorite souvenirs to bring back from trips!