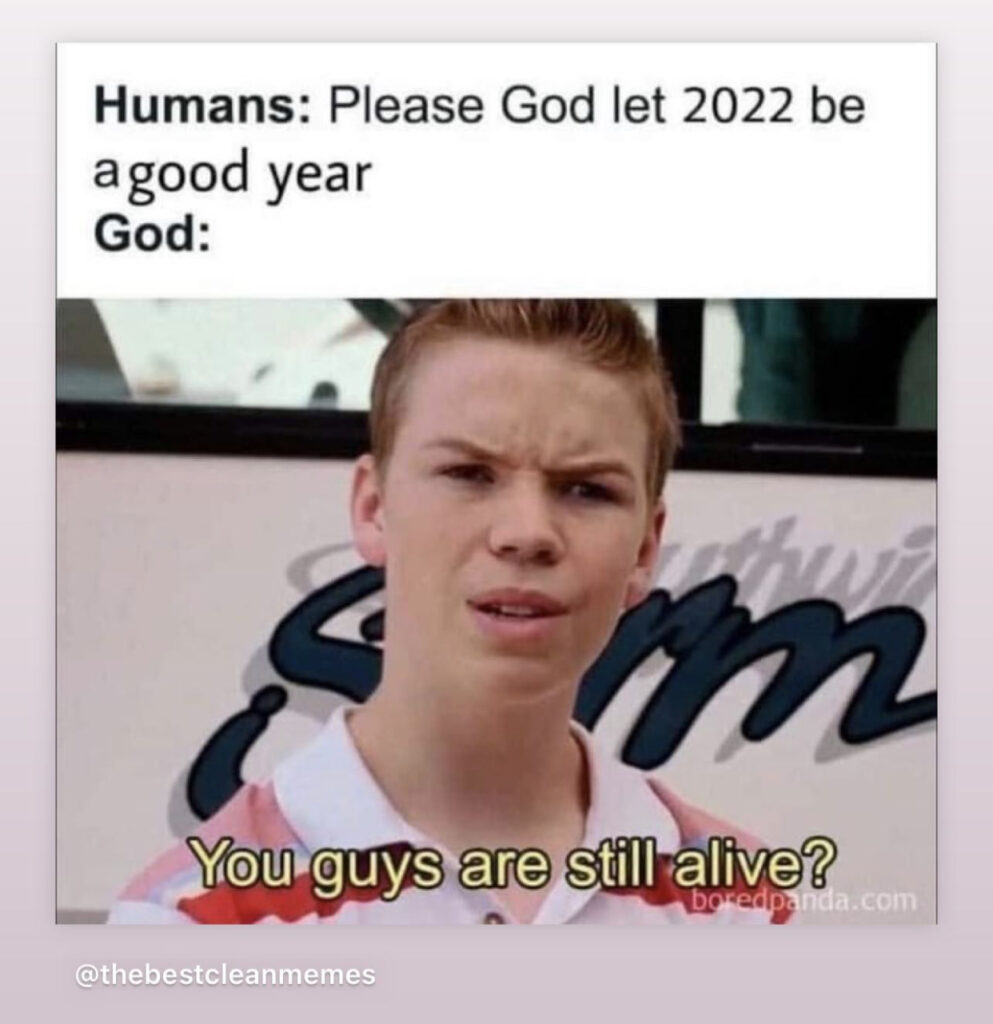 Is it too early to start talking about the new year?
I recently got a marketing email with the headline "Products so great, you'll forget about 2021!"
But it's doubtful that anything could make me forget about this year.
Just as 2020 was unforgettably bad due to the rapid onset of the global Covid pandemic, 2021 has been unforgettable for our family for equally awful, yet far more personal, reasons.
It's honestly been a sh*t show.
Maybe that's why I'm especially excited for the new year.
2022 has to be better, right?
Although the meme above is worrisome (yet hilarious), here are my top 10 reasons why I'm personally excited for '22:
1. 22 is my lucky number. Ever since I can remember, 2 has been my favorite number. And since 22 is two of my favorite, that's always been my lucky number. I've actually won decent amounts of money twice while gambling on black 22 in roulette! So how can the year '22 be bad. It's going to be lucky and awesome, clearly.
2. I don't know about you, but I'm feeling '22. Yes, that's right: this year has its own T-Swift song! I've always loved 22 and you'd better believe I'm going to be singing it at the top of my lungs on New Year's while dancing in my refrigerator light. Have you ever noticed how many Taylor songs involve dancing around the house? I just love her.
3. We're traveling BIG again. We barely traveled at all in the past two years thanks to Covid and family health stuff. It is time to get our travel on, dust off our passports and see some amazing sights! I'm currently planning a trip to Costa Rica for our little fam's spring break. There's also an extended family get-together happening in Kauai in July. Rainforests, volcanos and beaches, oh my!
4. Very Peri, baby. Pantone released their color of the year for 2022 and I'm obsessed with it. Periwinkle happens to be my favorite color of all time. The 2022 hue is a particularly gorgeous shade of periwinkle called Very Peri. I could not be more jazzed! I think I'm ready to paint my bathroom this color, that's how much I love it.
5. No new tattoos in '22. I am ending this year by finishing up my beloved right arm sleeve, so it's time to press pause again on my tattoo collecting. Believe it or not, I'm actually happy about that! Tattoos are painful and expensive. I absolutely adore having them, but I don't love getting them as much as I once did. Instead of monthly tattoo sessions, I'm looking forward to saving more, traveling more and getting massages and mani/pedis again.
6. I'll turn 52. I love even numbers and this age has my favorite number in it, so I know it's going to be a great year for me personally. I'm relaxing into my 50s like a warm bubble bath. Plus, I'm manifesting an awesome 52 in '22 with a ton of crystals and the best of intentions. It's basically a sure thing!
7. Tuesday 2/22/22 is literally a 2's day. Okay, this kind of relates back to #1 above, but as a word nerd AND a lover of the number two, I have to imagine that I'll throw a little party at my desk at 2:22 on 2/22/22! Come on, you have to admit it's kind of cool.
8. Xage will turn 12. I don't know why, but 12 seems like such a cool milestone year for a kiddo. It's sort of an iconic age, no? I love Xage at every age and the older they get, the more they grow into their own awesomeness. I look forward to Xage developing more confidence in themself and their own amazing abilities in 2022.
9. More cool fun in '22. As rough as this past year was for our little fam, there were some definite high points, too. We discovered so many amazing places and events right here in Columbus. First and foremost is the Mystic Market – I can't wait for many more fun weekends with our Mystic Market fam in '22! I also look forward to round two of our crystal tour with Xage, more visits to Airhouse, more thrifting dates and more family date nights at Carfagna's Italian theme park.
10. Lambo will turn one and settle down. Ahh, Lamborghini – our beloved pandemic puppy. The one who made me swear I'll never get a puppy again. The one who made me finally feel empathy for the people who return puppies to the shelter saying "I'm sorry, I just can't." I get it now, people. Puppies like Lambo can make you age ten years in a day. She is the most rambunctious, destructive, joyful, mischievous, demonic horse puppy ever! I adore her. I just can't wait for her to reach an age where she will mellow out a bit. Please, let that happen in 2022.
There you have it – my personal reasons for looking ahead to '22 with excitement and the confidence that it's going to be a great year. I am manifesting with crystals, friends. It's bound to happen!
Do you have your own reasons for feeling good about the new year? I'd love to hear them in the comments below, on Instagram or on Facebook.