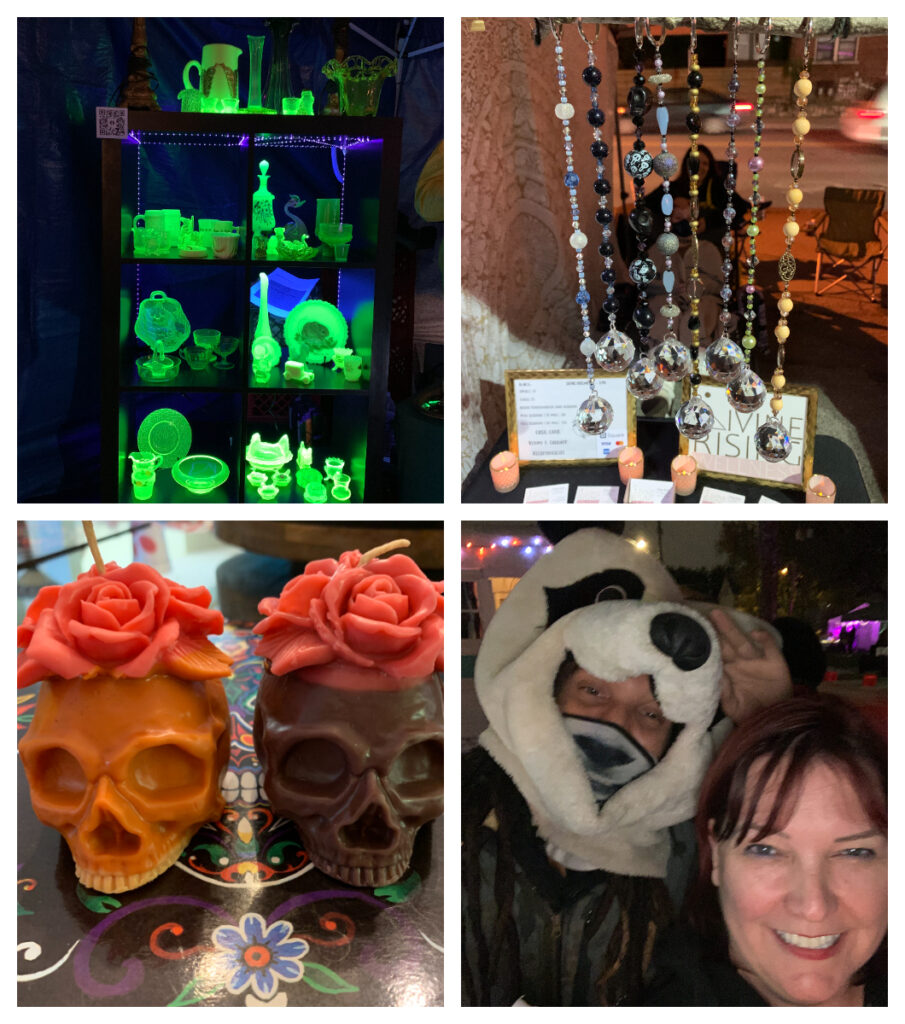 We love farmers markets.
We love night markets.
But we love the outdoor Mystic Market at Sohud Collective downtown best of all.
The first time I wrote about the Mystic Market, we had only experienced it as customers. Since that time, we've had the wonderful experience of being welcomed into the Mystic Market family as vendors.
That's all thanks to Xage, our talented and sensitive middle-schooler. They started creating and selling art during the pandemic – and they also learned to read tarot cards.
Mystic Market is the perfect venue to connect with other like-minded creative souls who appreciate Xage's unique abilities and whimsical creations.
Xage's Creations has shared a booth at the last couple of Mystic Market events and we've had an absolutely incredible time getting to know the organizers, attendees and our fellow vendors. It's honestly been a highlight of not just our fall, but this entire year.
If you've never been to the Mystic Market, here are my top five reasons to visit us there this Sunday, Halloween, from 1 to 9 pm.
The people. From the market's organizers, Lyndsey and Cat, to all of our fellow vendors, we've never met a more kind, inspiring and generous group of creative souls. Xage and I have shared booth space with both Ariana of Restless Youth Apparel and Mike of Parking Lot Art, and they were delightful. We've also gotten to know other fellow vendors and all are authentic, genuine and welcoming. The Mystic Market community truly feels like a family by this point.
The crystals. There are many cool wares to be found at Mystic Market, from vintage clothing to delicious baked gods. My personal favorites, of course, are the sparking displays of healing crystals, rocks and gemstones. There are always multiple crystal vendors and each one features different offerings so be sure to check out everyone's goods before making your purchases. I picked up a gorgeous healing crystal bracelet at one of our first Mystic Market events so I can manifest all day long while wearing it. My business has been booming ever since!
The art. Of course I'm a little biased, since my baby is one of the market's resident artists, but if you love eclectic art this is definitely the place to find it. From the colorful murals on the walls surrounding the vendors, to the art created and sold by the Mystic Market participants, there is an abundant flow of creative energy. The overall aesthetic here is fire. Come get your aura painted by Xage, purchase a unique objet d'art from one of the market's other creators or simply immerse yourself in the experience of being surrounded by mystics and visionaries.
The experiences. At Mystic Market, you can treat yourself to a tarot card reading, reiki session, acupuncture, Access Bars, intuitive henna painting and so many more magical, energy-infused encounters. You can also learn a lot – like about vintage, glowing uranium glass from the Mathues. After dark, the market has even more to offer with light shows, a fire pit for dancing around, live performers and the Mayor's unique light show box which has to be seen to be believed. We've never encountered anything like the Mystic Market experience. It's a truly special place and no two Mystic Market events are quite alike.
The vibe. As you probably can guess from my reasons listed above, the Mystic Market has the most incredible vibes around. When you visit, you will leave Columbus behind and feel yourself traveling through time, space and another dimension. Okay, maybe not everyone will experience that – but that's how sacred, otherworldly and special the vibe feels. All of the players, pieces and parts of the Mystic Market add up to so much more than I can put into words. Just come out, have an open mind, howl at the moon and feel your vibrations and mood rise!
If all that is not enough to entice you, I was thrilled to see that traditional media outlets are finally beginning to pick up on the awesome phenomenon that is the Mystic Market. It has received accolades from OSU's the Lantern and 614 Now. We also met a 614 photographer at the most recent market; Xage and I were photographed so it will be fun to see if that ends up in an upcoming issue!
Most of Ohio has a short trick or treat window of two hours, so even if your neighborhood is trick or treating on Sunday, you still have plenty of time to come down to the Mystic Market before or after the candy fest. And, vendors will have candy at our booths on Sunday so you can continue the sweet quest at the market.
Follow the market on Instagram for real-time updates about weather-related date, time or location changes.
We hope to see you at the Mystic Market!