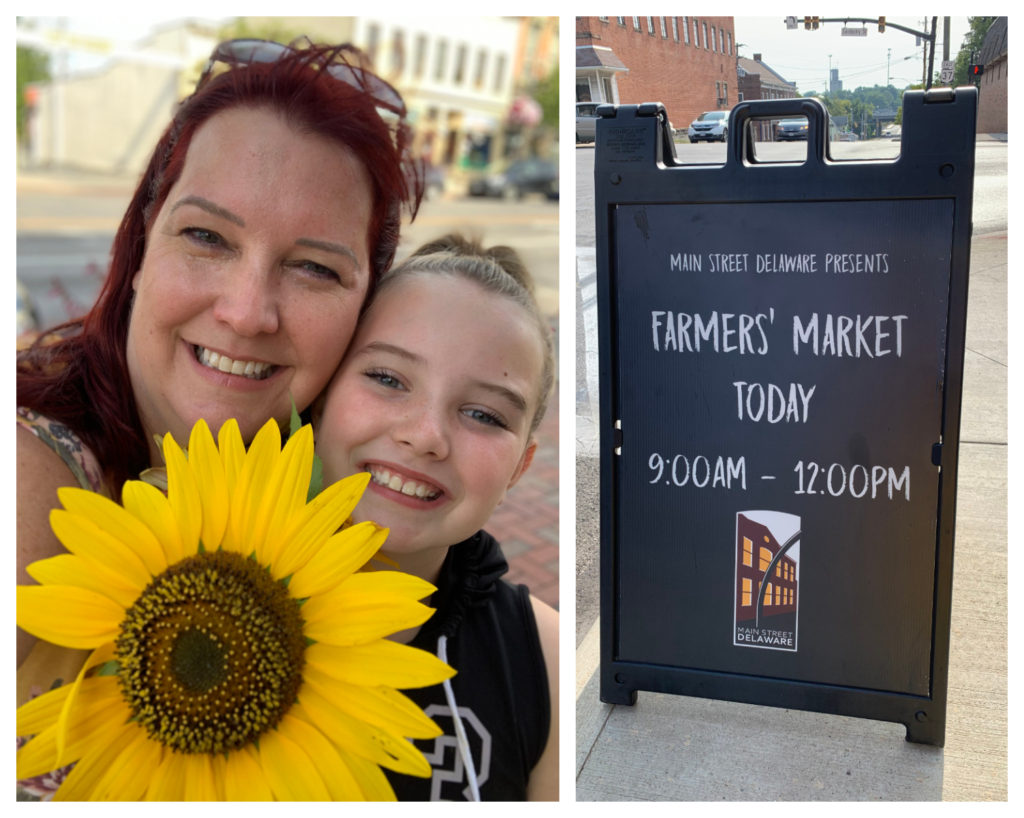 I've written before about how much I love farmers markets. Seriously – we here in Ohio are so blessed with an abundance of wonderful farmers markets in adorable towns. You could probably visit a different one every day of the week if you wanted.
My personal favorite time to hit a farmers market is on the weekend, so I can relax, take my time and really make a moment of it.
I like to stroll through and leisurely peruse each vendor's offerings, taking pictures, enjoying samples and ultimately circling back around once I decide on the two or three things I want to purchase and take home. Am I the only one who loops through twice – I have to see all the goodies before I make my mind up about what I want to buy!
I love how the offerings at farmers markets can be different each week, even if the vendors are the same. Pro tip: take cash as most vendors at farmers markets prefer this, although many do take credit cards these days.
My two favorite farmers markets right now are not the obvious ones. I feel like everyone I know goes to the Worthington, Powell or Westerville farmers markets – and those are great. But sometimes, you just don't feel like fighting a crowd, am I right?
My two favorite farmers markets are not as busy or well-known and just feel more relaxed. Saturday mornings from end of May through end of October, my favorite place to be is the Main Street Delaware farmers market. We head up to downtown Delaware about every other weekend to walk the farmers market "strip." Zoe's favorite part is petting all the puppies there with their people – but she enjoys the baked goods samples, too. It's worth noting this farmers market also happens on Wednesdays from 3 to 6 pm, but we haven't made it on a Wednesday yet.
The Delaware farmers market is where I get my favorite Del City Farm cookies and organic microgreens, plus a myriad of Amish goodies, fresh flowers and produce from multiple farmers and my new favorite cherry pistachio energy bites from Berg River Farms. I love supporting small businesses in my local area – and the produce, foods and treats are all so fresh and delicious. Parking is free and easy, too – really, it's just a great experience from start to finish.
But say you didn't get up, ready and out of the house early enough on a Saturday morning to make the farmers market in Delaware. Hypothetically speaking, this may have happened to us once or twice. If that happens, I'll wait until Sunday lunchtime and roll downtown to the North Market farmers market. (Boy, did it feel odd to type market twice in a row like that!)
As if the North Market isn't already awesome on its own – their little farmers market out front is a lovely added bonus on Saturday mornings and Sunday middays, from June through October. This is where I discovered the wonderful Berner's Free Range Farm, which is where I buy fresh eggs whenever I can. Funny that I had to go all the way downtown to find a local, humane egg producer just minutes from my front door – but how would I have found her otherwise?
The North Market farmers market is also host to From Scratch Cupcakes, a young (20 year old) baker who started her business when she was 13 in her parents' kitchen, and who makes the most exquisite cakes, cupcakes, cookies and confections you can possibly imagine. Well worth a visit – and follow her on Instagram if you want to drool at your desk.
I feel like these glorious late summer and early fall weekends were literally created just so more of us would stroll through our local farmers markets and treat ourselves to some delicious home-grown or home-made goodies.
Which is your favorite farmers market, vendor or treat? I'd love to hear your farm-fresh stories in the comments below or over on Facebook.