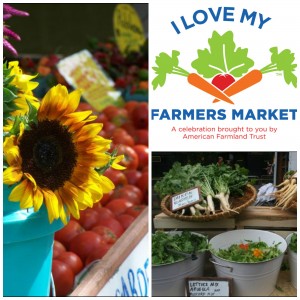 I just found out that this week (August 4-10, 2013) is National Farmers Market Week. I can't think of a better reason to get out and enjoy one of my favorite things to do in summer – visit a farmer's market!
Columbus is an absolute mecca for farmers markets. I love how they are all spread out on different days so you really could visit a new one each day if you wanted to. The Columbus Dispatch has a fantastic, interactive online database that enables you to find a farmers market by name, location or day.
My personal favorite is the farmers market that comes right to my office door: the Easton Farmers Market at the wonderful retail paradise where my agency happens to be headquartered (Easton Town Center). There's nothing like being able to go for an afternoon stroll on Thursdays and find fresh tomatoes, greens and much more – often picked just that morning. Every time I go, I find something new, fresh and local to fall in love with at this market!
I also love visiting farmers markets on Wednesdays with Zoe in tow, because I feel it's a wonderful opportunity to get her excited about fresh fruits and veggies. Sure, she's more attracted to the booths with baked goods (especially cupcakes!) at the moment, but she will also put a hurting on a pint or quart of just-picked, farm-fresh strawberries. There are always free samples to be tasted and usually there are fun things for her to do and see – or live music, which is her favorite.
In celebration of farmers markets in general, here's a collection of cool links and info about these local gems:
1. Here's a very cool resource from The New York Times: a farmers market recipe generator. Just click on the fresh ingredients you picked up at your local farmers market, and let the randomizer do the rest!
2. Here are details about the America's Farmland Trust summer-long celebration, "I Love My Farmers Market"
3. Here's a list of the top 100 farmers markets in the US
4. Here are the top five states right now in the farmers market celebration
5. And, last but not least, here are the top three farmers markets in Ohio.
Will you be visiting an Ohio farmers market this week? Which one is your favorite and why? I'd love to hear in the comments below.