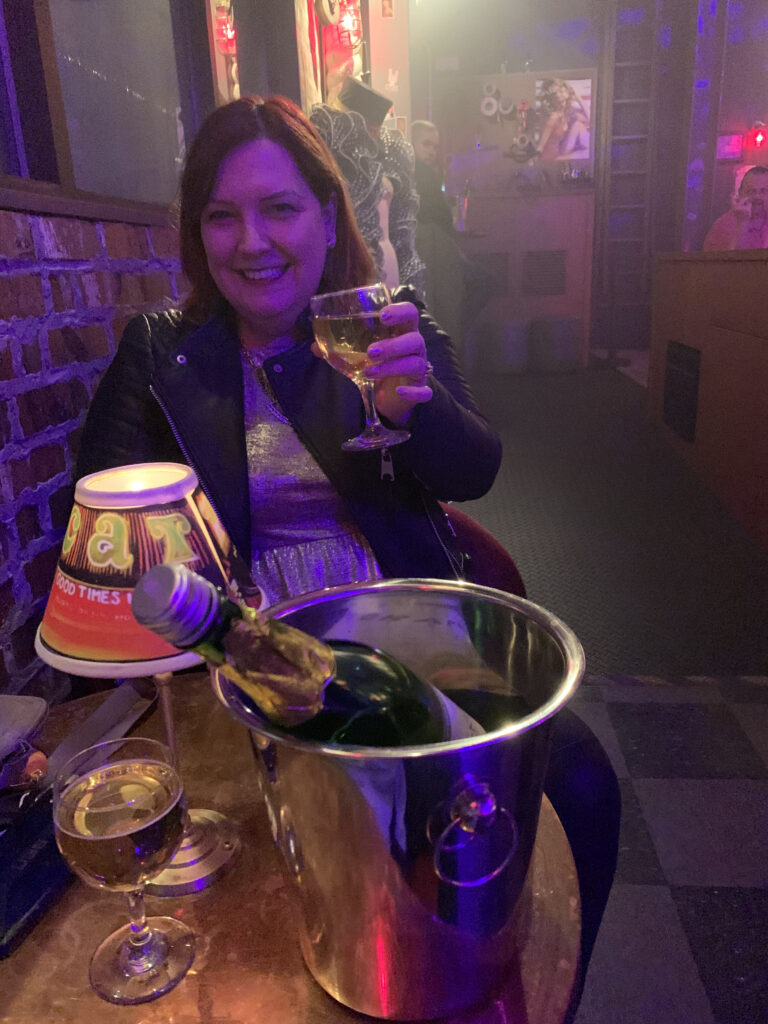 Our first date night of 2021 was a three-course dinner, sparkling nonalcoholic bottle service and an incredible burlesque show at the only hidden speakeasy supper club in Columbus.
It's safe to say our date nights will all be downhill from here!
Seriously though, hubby and I had an amazing, unforgettable evening at Ivan Kane's Forty Deuce.
I had been to the Forty Deuce downstairs cafe before and even got to tour the burlesque club as part of the pre-grand opening event for local bloggers and influencers. Still, getting the live show and upstairs supper club experience blew me away!
If you're not familiar with burlesque, it's very different from going to a strip club. American burlesque is a true art form dating back to the 1860s.
Modern burlesque involves talented performers, extravagant costumes and tons of over-sized personality. Performers do a gradual striptease to music but do not take everything off – plus there are usually other tricks and performance elements included to wow the crowd.
We were fortunate to see international model and burlesque star Cervena Fox perform, so we got to see an exquisite black feathered fan dance as well as a literal fire show. We also thoroughly enjoyed Michelle Mejia, one of the Forty Deuce troupe members, who was unbelievably athletic and literally ended up ziplining over the audience's heads during her performance.
Forty Deuce is the coolest club I've ever visited, including big name nightclubs in Las Vegas and New York. Ivan Kane thought of every detail, from an incredible wrap-around stage to themed art lining the walls. The hidden speakeasy entrance through the kitchen is the icing on the cake.
And speaking of cake, you should know that if you dine at the Forty Deuce downstairs cafe, which is a family-friendly destination well worth a visit in its own right, each milkshake comes with a piece of cake on top. The presentation is out of this world and a must-visit for your family's next special occasion.
So there you have it: over-the-top burgers and milkshakes downstairs, or an upscale three-course meal and burlesque show in the secret speakeasy nightclub upstairs. Have you ever heard of a more unique and exciting date night destination in Columbus or anywhere?
Hubby and I both give Forty Deuce two thumbs-up and I personally can't wait to go back. You really feel like you're in a big city or exotic locale. It's wonderful to realize that Columbus, Ohio truly has something to offer that you can't even find in LA, Vegas, NY or Miami.
What has been your favorite local date night experience, and have you been to Forty Deuce yet? As always, I'd love to hear your comments and ideas in the comments below or over on Facebook.