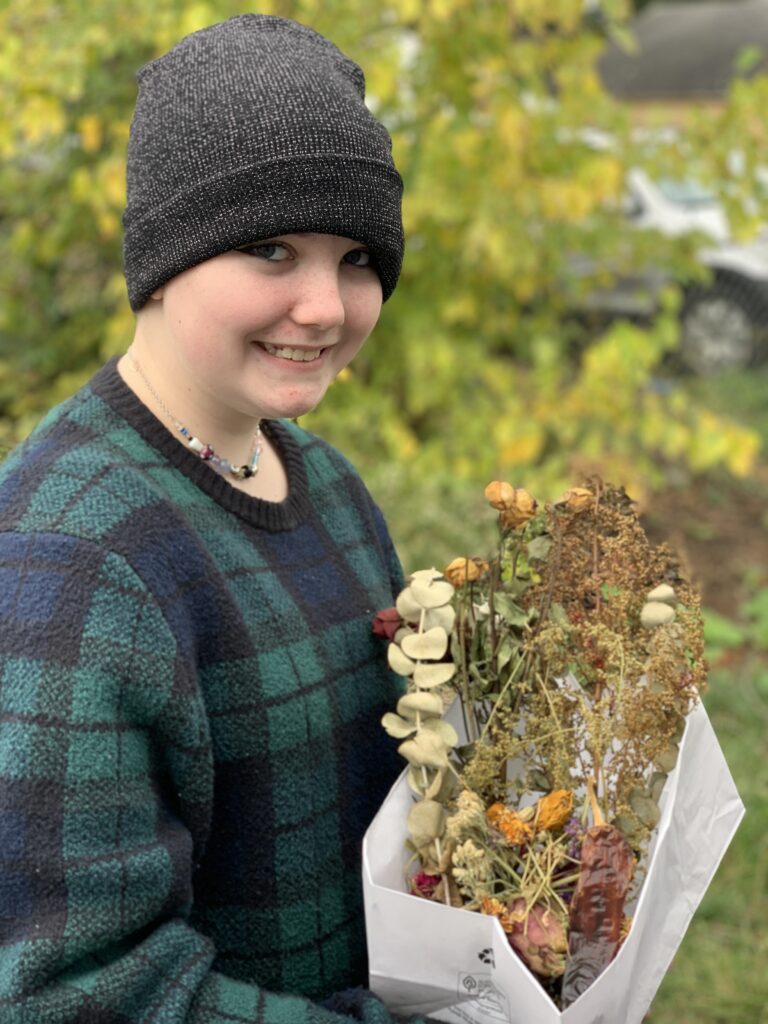 Alexa, play "Thriftshop" by Macklemore and Ryan Lewis.
Although that iconic song came out in 2012, it wasn't until this year that Xage and I finally got into this popular shopping trend.
Thrifting is simply shopping at a thrift store, garage sale or flea market where you'll find previously-owned items at discount prices.
When Xage was little, I used to find clothes for them at Once Upon a Child, a local kids' reseller. I also sold a ton of little Xage's gently used clothes back to OUAC; it was a good arrangement. I wouldn't really call it thrifting, though, since I typically found outfits not separates.
In my mind, the art of thrifting truly takes place when you purchase separate items of clothing and build a killer outfit from them.
That just happens to be a particular skill of Xage's. In fact, every time I take this kiddo thrifting, they end up with amazing looks that all go great together. They have the gift of thrift, for sure!
Thrifting is Xage's favorite way to shop – especially with their own money. They know that they can get far more clothes, and at far better prices, at Goodwill than at the mall.
Take this wonderful plaid sweater they are wearing in the photo at left. They found that in the Goodwill men's department and paired it with vintage jeans found in the women's department. A thrift shop is a nonbinary young person's dream!
I asked Xage if they would provide a few tips on how to be a good thrifter, so here they are:
Know your aesthetic. Have a good sense of your overall style or look. Xage is so much better than me at this! They build mood boards on Pinterest to hone their aesthetic, and that way they know immediately when they see an item of clothing whether or not it fits that desired look. That's how they end up with a closet of items that all go well together – and an overall look that is always cool and stylish.
Follow influencers whose style you admire. The TikTok generation certainly has no shortage of influencers to emulate, but there are influencers of every kind gracing Instagram and the other social networks. Find a handful of style bloggers or vloggers to follow who will give you fashion ideas that suit your age, body type and style. I have personally found some great style influencers to follow using hashtags like #50andfabulous #styleafter50 #curvystyle and so on. Another tip is to figure out who your favorite style influencer follows – then follow them, too.
Know the best stores, then keep checking back. The thing about thrifting is it's a treasure hunt so it's hit or miss; there are no guarantees. Know where your best options are for thrifting, like second-hand stores and flea markets near you. Then frequent them often! You never know where the treasure is going to turn up next – and if you don't go, you won't know. We love the Goodwill in Lewis Center, the Mystic Market downtown and also the various Plato's Closet locations.
Online thrifting is a thing, too. Follow clothing resellers online so you can thrift right from your couch. We have a few family members who do vintage clothes reselling via Instagram: General Public Vintage for guys' sports and leisure wear and Natalie Goes Thrifting for women's fashions and accessories. We also met Ariana from Restless Youth Apparel at our favorite alternative flea market, the Mystic Market. Ariana curates some amazing looks in curvy sizes on her Depop site and on Instagram – check her out for sure.
Ignore the size on the label. Because thrift stores carry a myriad of merchandise from multiple eras, brands and manufacturers, sizes on a tag are meaningless. Just try on absolutely anything that catches your eye, whether in the men's or women's department, regardless of size. Xage has brought home amazing finds ranging in size from XS to XL. Perhaps we should all shop this way even in traditional shops. Pay no attention to the size on the label – just try on what you like and if it fits, wear it!
There you have it – a few thrifting 101 pointers that will have you well on your way to being a thrifting pro. If you have any other thrifting tips or tricks to share, we'd love to hear them in the comments below.
Happy thrifting!